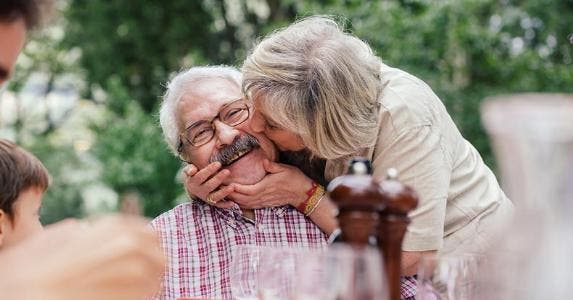 Dear Senior Living Adviser,
I am 68 years old and my husband is 66. We are both still working. He is a self-employed farmer in Indiana. I have not filed for any Social Security yet and plan to work maybe 2 more years.
In filing for spouse benefits for me, would it then reduce the amount my husband would receive when he does file for benefits?
— Donna Denouement
Sofie Delauw/Cultura/Getty Images
Dear Donna,
Filing for spousal benefits doesn't reduce the amount your husband receives in Social Security retirement benefits. For you to get a spousal benefit, he has to apply for his retirement benefits.
Changes coming in Social Security
Since he is full retirement age, he could file and suspend benefits, allowing you to claim a spousal benefit while he continues to earn delayed retirement credits on his earning record up until age 70.
With the recent changes in Social Security claiming strategies, his ability to file and suspend goes away if he doesn't take that step before April 30, 2016.
Earn delayed retirement credits
If he files and suspends prior to April 30, 2016, you retain the right to file what's called a restricted application for spousal benefits. That allows you to receive the spousal benefit while earning delayed retirement credits on your work record until age 70. You don't file for your benefits; you file a restricted application for spousal benefits.
Regular readers of this column know that I recommend that you don't just rely on the information provided by the Social Security Administration, either by contacting your local Social Security office or looking for information on its website SSA.gov.
I recommend that you work with one of the consulting services like Maximize My Social Security or Social Security Solutions to decide on an optimal claiming strategy. You'll pay their fee of $20- $250, depending on the firm and the level of service, but it could improve the dollar amount of benefits you can expect to receive over your lifetime by thousands of dollars.
Ask the adviser
To ask a question of Dr. Don, go to the "Ask the Experts" page and select one of these topics: "Senior Living," "Financing a home," "Saving & Investing" or "Money." Read more Dr. Don columns for additional personal finance advice.
Bankrate's content, including the guidance of its advice-and-expert columns and this website, is intended only to assist you with financial decisions. The content is broad in scope and does not consider your personal financial situation. Bankrate recommends that you seek the advice of advisers who are fully aware of your individual circumstances before making any final decisions or implementing any financial strategy. Please remember that your use of this website is governed by Bankrate's Terms of Use.