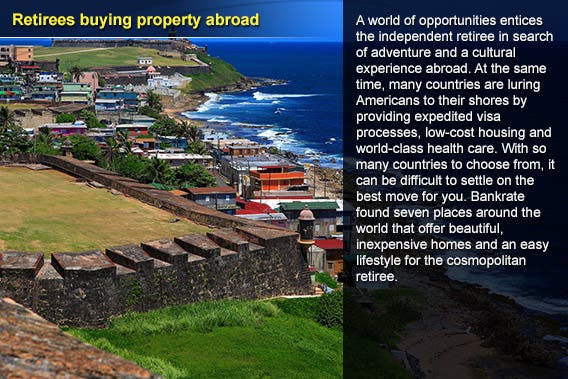 A world of opportunities entices the independent retiree in search of adventure and a cultural experience abroad. At the same time, many countries are luring Americans to their shores by providing expedited visa processes, low-cost housing and world-class health care. With so many countries to choose from, it can be difficult to settle on the best move for you. Bankrate found seven places around the world that offer beautiful, inexpensive homes and an easy lifestyle for the cosmopolitan retiree.
Cuenca, Ecuador
Weather, proximity, and low costs make Cuenca a top option for retirees looking to go abroad, says Kathleen Peddicord, author of "How to Buy Real Estate Overseas."
"Cuenca is a charming colonial and historic city," says Peddicord. "A couple can live comfortably on $1,200 per month and buy property for about $100 per square foot."
Most homes in Cuenca are colonial town houses or cosmopolitan apartments in both modern and traditional styles. "It's a real city with restaurants, a theater and lots to do, with a fast-growing community of North American retirees," adds Peddicord.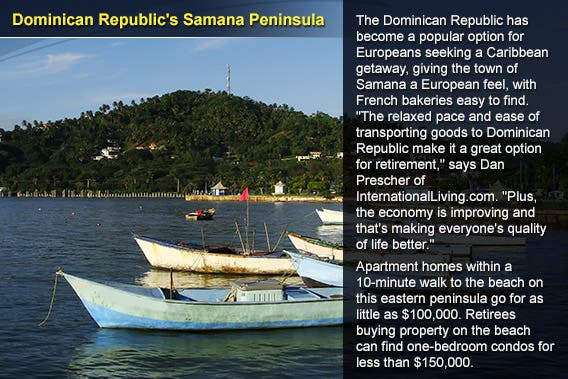 Dominican Republic's Samana Peninsula
The Dominican Republic has become a popular option for Europeans seeking a Caribbean getaway, giving the town of Samana a European feel, with French bakeries easy to find. "The relaxed pace and ease of transporting goods to Dominican Republic make it a great option for retirement," says Dan Prescher of InternationalLiving.com. "Plus, the economy is improving and that's making everyone's quality of life better."
Apartment homes within a 10-minute walk to the beach on this eastern peninsula go for as little as $100,000. Retirees buying property on the beach can find one-bedroom condos for less than $150,000.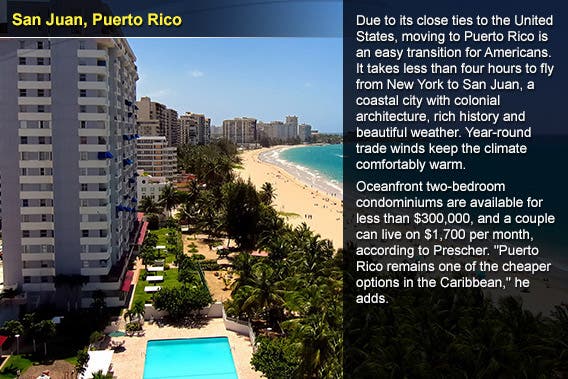 San Juan, Puerto Rico
Due to its close ties to the United States, moving to Puerto Rico is an easy transition for Americans. It takes less than four hours to fly from New York to San Juan, a coastal city with colonial architecture, rich history and beautiful weather. Year-round trade winds keep the climate comfortably warm.
Oceanfront two-bedroom condominiums are available for less than $300,000, and a couple can live on $1,700 per month, according to Prescher. "Puerto Rico remains one of the cheaper options in the Caribbean," he adds.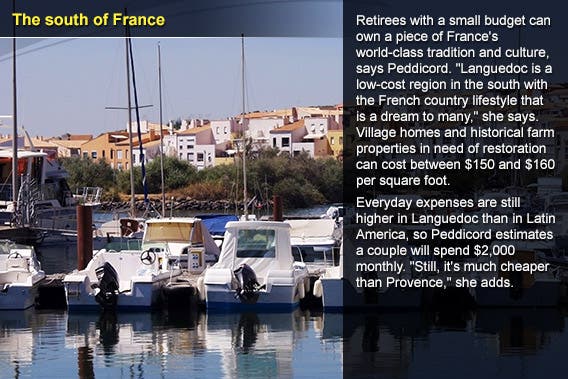 The south of France
Retirees with a small budget can own a piece of France's world-class tradition and culture, says Peddicord. "Languedoc is a low-cost region in the south with the French country lifestyle that is a dream to many," she says. Village homes and historical farm properties in need of restoration can cost between $150 and $160 per square foot.
Everyday expenses are still higher in Languedoc than in Latin America, so Peddicord estimates a couple will spend $2,000 monthly. "Still, it's much cheaper than Provence," she adds.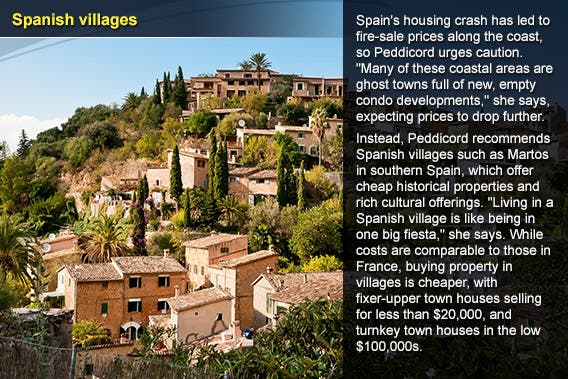 Spanish villages
Spain's housing crash has led to fire-sale prices along the coast, so Peddicord urges caution. "Many of these coastal areas are ghost towns full of new, empty condo developments," she says, expecting prices to drop further.
Instead, Peddicord recommends Spanish villages such as Martos in southern Spain, which offer cheap historical properties and rich cultural offerings. "Living in a Spanish village is like being in one big fiesta," she says. While costs are comparable to those in France, buying property in villages is cheaper, with fixer-upper town houses selling for less than $20,000, and turnkey town houses in the low $100,000s.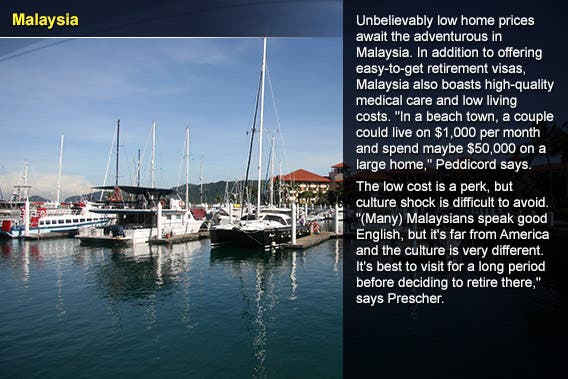 Malaysia
Unbelievably low home prices await the adventurous in Malaysia. In addition to offering easy-to-get retirement visas, Malaysia also boasts high-quality medical care and low living costs. "In a beach town, a couple could live on $1,000 per month and spend maybe $50,000 on a large home," Peddicord says.
The low cost is a perk, but culture shock is difficult to avoid. "(Many) Malaysians speak good English, but it's far from America and the culture is very different. It's best to visit for a long period before deciding to retire there," says Prescher.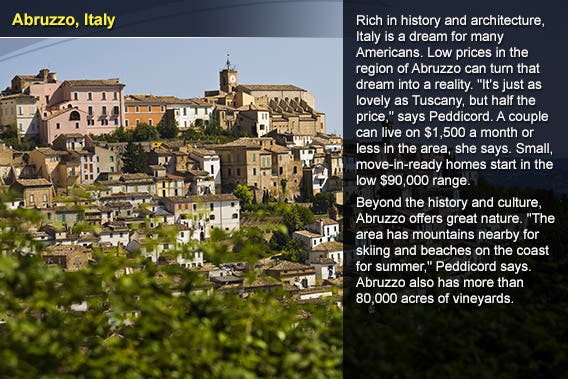 Abruzzo, Italy
Rich in history and architecture, Italy is a dream for many Americans. Low prices in the region of Abruzzo can turn that dream into a reality. "It's just as lovely as Tuscany, but half the price," says Peddicord. A couple can live on $1,500 a month or less in the area, she says. Small, move-in-ready homes start in the low $90,000 range.
Beyond the history and culture, Abruzzo offers great nature. "The area has mountains nearby for skiing and beaches on the coast for summer," Peddicore says. Abruzzo also has more than 80,000 acres of vineyards.