Total Visa® Unsecured Credit Card review
At Bankrate we strive to help you make smarter financial decisions. While we adhere to strict editorial integrity, this post may contain references to products from our partners. Here's an explanation for how we make money.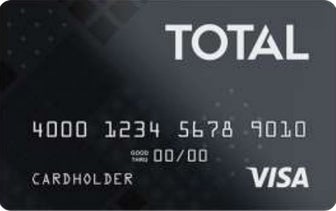 Recommended Credit Score
No Credit History

A FICO score/credit score is used to represent the creditworthiness of a person and may be one indicator to the credit type you are eligible for. However, credit score alone does not guarantee or imply approval for any financial product.
Annual Fee:

See Terms

Purchase Intro APR:

N/A

Regular APR:

See Terms
Terms and Restrictions Apply
Bankrate Rating
Our writers, editors and industry experts score credit cards based on a variety of factors including card features, bonus offers and independent research. Credit card issuers have no say or influence on how we rate cards.
Best for people with bad credit
Rewards rate: N/A
Welcome offer: N/A
Annual fee: See Terms
Purchase intro APR: N/A
Balance transfer intro APR: N/A
Regular APR: See Terms
Having a low credit can feel like being stuck in a pit of your own making with no way to dig yourself out. You can't qualify for the best credit cards or personal loans, so you have to settle for a credit card for bad credit—complete with burdensome interest rates and fees.
The Total Visa Unsecured Credit Card is not the best option in this category. Not only does the card come with an interest rate that will keep your debt piled up if you don't pay your balance in full every month, but it charges you fees at every turn.
The Total Visa card should only be an option for people with the worst credit who refuse to open a secured card—everyone else will find much better terms elsewhere.
Current welcome offer
As a credit card designed to help you rebuild your credit , the Total Visa credit card is extremely bare-bones. It doesn't offer any kind of points or cash back for purchases, nor does it come with an introductory bonus for spending a certain amount during your first few months that you see with other credit cards.
The only type of intro offer you can expect from this card is a waived monthly servicing fee for your first year. If you do decide to go with the Total Visa to help rebuild your credit, you should work during those 12 months to build a credit strong enough to qualify for a card that doesn't charge servicing fees in the first place.
Benefits
The Total Visa card has one purpose and one purpose only—rebuilding credit. Like most cards in its category, it doesn't have many benefits or features that make it attractive to most people. But, for those with significantly damaged credit, it can still help start the journey back to a healthy credit.
If you're in that boat, you're probably eager to get started and wondering how long it takes to receive the Total Visa card. After you apply, you'll get a response within 60 seconds. If you're approved, you'll get your card in the mail and be able to use it once you pay the program fee and activate the card.
Total Visa reviews show mixed feelings about using this card to rebuild, but if you use it responsibly you'll be able to graduate to a better option in no time.
Simple approval
There's very little chance that you'll be denied for this credit card. It doesn't have a minimum credit requirement and is available in most states, excluding New York and Wisconsin.
No security deposit
If you're dead set against opening a secured credit card, the Total Visa should at least get a glance from you. You won't have to offer any cash to secure your credit limit—although the cash you'll pay to cover the card's fees will add up quickly, taking away a lot of the benefit from having an unsecured card.
Reports to all three major credit bureaus
While many cards only report to one or two credit bureaus, the Total Visa reports to all three. This helps you build your credit at each one by showing them your consistent and responsible credit card use.
Rates and fees
A high interest rate and excessive fees plague the Total Visa card, making it difficult to recommend for even the worst situations.
To get started with the Total card, you'll first pay a one-time program fee of $89—and that's before your $75 annual fee is placed on your card balance. If you keep the card for longer than a year, the annual fee drops to $48, but you'll add an additional $6.95 monthly servicing fee (this is waived for the first year). The APR for this card is 34.99 percent for purchases and 34.99 percent for cash advances. While the cash advance fee is waived the first year, transactions will cost you the greater of $10 or 3 percent after that. You'll also pay an up to $40 fee for late or returned payments.
How the Total Visa Unsecured Credit Card compares to other cards for bad credit
If you're looking for a card to help you rebuild credit, you can find options with much lower fees than the Total Visa card. OpenSky® Secured Visa® Credit Card is a great option with only a $35 annual fee and a significantly lower APR. You will have to provide a security deposit of at least $200, which will serve as your credit limit.
If you want to earn rewards to balance out the high fees, you can check out the Credit One Bank® Platinum Visa® for Rebuilding Credit. This card comes with an annual fee of $75 first year, then $99 annually ($8.25 per month) and a variable APR of 23.99 percent. You can also earn 1 percent cash back on eligible gas, grocery purchases and mobile phone service, internet, cable and satellite TV services (terms apply) — a feature that very few cards in the category offer.
Best cards to pair with the Total Visa Unsecured Credit Card
If you're rebuilding your credit, it's best to keep your finances simple. Instead of pairing multiple credit cards together, focus on using one card to boost your credit to a healthier place. Once you've leveled up your credit, you can swap out your Total Visa card for one with a lower APR and no annual fee or even a card that earns cash back rewards.
Bankrate's Take—Is the Total Visa Unsecured Credit Card worth it?
The Total Visa credit card is a poor option for most people—even those in the worst credit situations. This card nickels and dimes its users by charging fees at every turn. On top of that, you'll face a high APR if you don't pay off your balance in full every month. You can find much better rates and fees with the same benefits from other credit cards.
Pros
Reports to all three credit bureaus
No minimum credit requirement
Cons
High fees
High APR
Cannot use outside of the United States