Mission Lane Visa® Credit Card review: A bare-bones credit-building option
At Bankrate we strive to help you make smarter financial decisions. While we adhere to strict editorial integrity, this post may contain references to products from our partners. Here's an explanation for how we make money.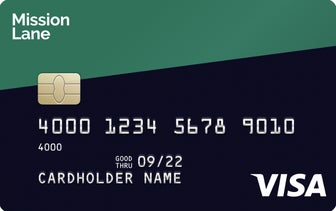 Recommended Credit Score
Fair to Good (580 - 740)

A FICO score/credit score is used to represent the creditworthiness of a person and may be one indicator to the credit type you are eligible for. However, credit score alone does not guarantee or imply approval for any financial product.
Annual Fee:

$59

Purchase Intro APR:

N/A

Regular APR:

29.99%* Variable
Terms and Restrictions Apply
Bankrate Rating
Our writers, editors and industry experts score credit cards based on a variety of factors including card features, bonus offers and independent research. Credit card issuers have no say or influence on how we rate cards.
Card Overview
The Mission Lane Visa® Credit Card lacks nearly all the bells and whistles you'd expect to find on the best credit cards, but it could make sense as a stopgap solution for someone with a bad credit score or limited credit history who's looking for a chance to boost their score without tying up hundreds of dollars in a security deposit.
The Mission Lane Visa card charges a reasonable annual fee compared to most unsecured cards available with bad credit, is laudably free of the hidden fees common among subprime cards and doesn't require you to put down any money as a deposit.
However, the card's unimpressive starting credit limit and annual fee—however low—mean a secured credit card will likely be a better way forward, offering more flexibility at a lower cost, even if you have bad credit. And if you have fair or average credit, you can definitely find a lower-cost, more lucrative unsecured alternative.
Want more details? Jump to the following sections:
What are the advantages and disadvantages?
Advantages
Available with a less-than-ideal credit history, making it a decent entry-level card if you need to build or rebuild your score
Since it's an unsecured card, you won't have to tie up any money in a security deposit just to get started
The annual fee is relatively low compared to many other unsecured cards available with a damaged credit score
You can be considered for a higher credit limit after six months of responsible card use and on-time payments
Disadvantages
Carries a sky-high APR, even for a credit-building card, making it a risky choice if you're inexperienced with credit or struggle to pay off your balance each month
Plenty of secured cards charge no annual fee, and since your security deposit is refundable, will be less costly than the Mission Lane card
Minimum starting credit limit of $300 isn't particularly impressive
A deeper look into the current card offer
Quick highlights
Rewards rate: N/A
Welcome offer: N/A
Annual fee: $59
Purchase intro APR: N/A
Balance transfer intro APR: N/A
Regular APR: 29.99 percent (variable)
Cardholder perks
As you might expect given the Mission Lane Visa card's nonexistent rewards, the card is also lacking when it comes to extra benefits. Aside from the $0 deposit requirement and potential credit-building benefit, the card offers only a handful of shrug-worthy perks.
No security deposit required
Perhaps the Mission Lane Visa's most appealing feature is its $0 deposit requirement. You'll get access to a minimum credit limit of $300 without putting down any money beyond the card's $59 annual fee.
While there are plenty of no annual fee secured cards, you'll typically have to fork over a deposit of at least $100 to $200 to get started. And though such deposits are refundable should you close your account or upgrade to an unsecured version of the card, they can still be a roadblock if you're short on cash or would rather have ready access to that money. This could make the Mission Lane Visa a better short-term fit to help you work on your score before you move on to a more rewarding and lower-cost card.
Chance at a credit limit increase
Though you may start out with a credit limit as low as $300 on the Mission Lane Visa (a common starting limit for unsecured credit-building cards), the issuer gives you a chance to increase your credit limit by demonstrating responsible card use. If you make your card payments on time for at least six months, you'll be eligible for a higher limit at no additional cost.
While this is a common timeframe for getting a credit limit increase, many subprime issuers offer no explicit guidelines about when or whether you can get a higher limit. This is worth keeping in mind as a higher limit should make it easier to keep your credit utilization ratio—the amount of money you've borrowed relative to your total available credit—in check, which can help fast-track your credit-building efforts.
That said, a secured card will likely give you more control over your credit limit, since the amount you put down as a deposit typically doubles as your credit limit. If you have the money to spare and opt for a secured card that lets you put down a large deposit, you can get a matching credit limit and enjoy even more credit utilization breathing room.
Mobile app and financial tools
Along with 24/7 support and account access via the Mission Lane website and mobile app, you can take advantage of some of the issuer's financial planning and education tools to track spending and monitor your credit score and credit utilization. And, as every credit-building card should, Mission Lane reports to all three major credit bureaus.
Basic Visa benefits
As a standard Visa card, the Mission Lane Visa automatically comes with a handful of benefits for cardholders, including zero liability for fraud, a 24/7 pay-per-use roadside dispatch and 24-hour support for lost or stolen cards. These are some of the bare minimum benefits you should expect with a credit card, however, so the Mission Lane Visa doesn't earn any special praise with their inclusion.
Rates and fees
The Mission Lane Visa card's $59 annual fee may put you off, but it's relatively low for an unsecured card available to people with bad credit. Plenty of unsecured cards in this category charge closer to $100 in annual fees, with some tacking on additional account activation fees and even higher annual or monthly fees in your second year. While the Mission Lane card is far from your cheapest credit-building option, its cost is not outrageous.
If you have at least fair credit, however, the Mission Lane card's annual fee will be hard to justify, as you should be able to find an unsecured card that charges a lower annual fee or no annual fee. Some, like the Capital One QuicksilverOne Cash Rewards Credit Card even offer cash back programs that give you a chance to not only cover the cost of the card, but actually earn money on top of that.
While the Mission Lane Visa card's annual fee may be tolerable if have bad credit and are set on an unsecured card, keep in mind the card could prove costly if you wind up needing to carry a balance. All cardholders face the same variable APR of 29.99 percent, nearly double the average credit card interest rate. Though a high rate is to be expected at this credit level, you should consider opting for a card that offers a range of APRs or a lower standard APR if you worry about your ability to pay in full each month.
The card also carries a 3 percent fee on purchases made abroad, so it won't be the best choice if you need a card to use overseas. If you're looking for a card with no foreign transaction fees that's available with a less-than-ideal credit score, consider the Petal® 1 "No Annual Fee" Visa® Credit Card, which charges no annual fee or foreign transaction fee, is available with poor or limited credit.
Other Mission Lane Visa card fees to be aware of include a cash advance APR of 29.99 percent variable, a cash advance fee of 3 percent (minimum $10) and a late fee of up to $35.
How the Mission Lane Visa card compares to other credit-building cards
Though the Mission Lane Visa card's annual fee may be worth it for people with bad credit who want to avoid putting down a deposit in order to build credit, it's unlikely to be your best option. A few other unsecured credit-building cards are available with no annual fee and some secured cards require a minimum deposit that's lower than the Mission Lane card's annual fee.
Mission Lane Visa vs. Petal 1 card
The Petal 1 card is one of the rare unsecured cards available with poor credit or no credit history that also charges no annual fee. The card also offers a much higher range of potential credit limits than the Mission Lane Visa and most other credit-building cards: Depending on your credit history, you could get a limit of $500 to $5,000. Even the low end of this range beats out the limit offered by the Mission Lane card and could do wonders for your credit utilization ratio. Plus, in evaluating card applications, the Petal 1 card's issuer can take into account not just your credit score, but also alternative credit data like income and bill payment history, making it a good option if you've had some credit missteps but otherwise are in good financial shape.
Mission Lane Visa vs. Secured Mastercard® from Capital One
Though, as its name makes clear, the Secured Mastercard from Capital One requires a security deposit to get started, it offers a unique level of flexibility: You can put down a deposit as low as $49 and still get a $200 starting credit limit. Best of all, that $49 is refundable when you close your account or upgrade to an unsecured Capital One card. Since this minimum deposit is both refundable and lower than the Mission Lane card's (non-refundable) annual fee, the choice should be obvious.
Best cards to pair with the Mission Lane Visa card
If your goal is simply to build credit, the Mission Lane card should stand on its own, especially when you consider its annual fee. After all, there's not a ton of benefit in having the Mission Lane card in addition to a no annual fee credit-building card—you'd be better off sticking with just the no annual fee card.
But if you want to get more available credit by opening multiple card accounts, you'd do well to add a no annual fee credit-building card with rewards to the mix. A good match would be the Discover it® Secured Credit Card. It earns 2 percent back on gas station and restaurant purchases on up to $1,000 in combined spending per quarter, then 1 percent back on all other purchases. Discover will also match all the cash back earned at the end of the first year. And though the card carries a minimum deposit requirement of $200, Discover will review your account to see if you may qualify for an unsecured card after eight months of responsible use.
Bankrate's Take: Is the Mission Lane Visa card worth it?
Given its relatively low annual fee, the Mission Lane Visa could make sense as a stopgap unsecured credit-building card, but it's probably not your best option overall. While it charges fewer fees than many cards in this category, a secured card with rewards, no annual fee or a lower APR will likely save you more. And if you have at least fair credit, you can avoid both an annual fee and a security deposit. That said, the card will certainly get the job done if your goal is to build credit without putting down a deposit.