Credit One Bank® Platinum Rewards Visa review
At Bankrate we strive to help you make smarter financial decisions. While we adhere to strict editorial integrity, this post may contain references to products from our partners. Here's an explanation for how we make money.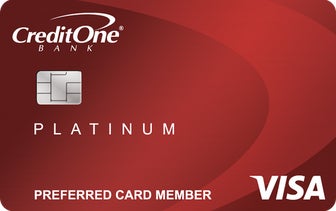 Recommended Credit Score
Fair to Good (580 - 740)

A FICO score/credit score is used to represent the creditworthiness of a person and may be one indicator to the credit type you are eligible for. However, credit score alone does not guarantee or imply approval for any financial product.
Apply Now
On Credit One Bank's secure website
Best for high rewards in select categories
Annual Fee:

$95

Purchase Intro APR:

N/A

Regular APR:

23.99% Variable
Bankrate Rating
Our writers, editors and industry experts score credit cards based on a variety of factors including card features, bonus offers and independent research. Credit card issuers have no say or influence on how we rate cards.
Best Credit One card for high cash back rewards rates
Rewards rate: 5 percent cash back rewards on eligible gas, grocery, mobile phone service, internet service and cable and satellite TV service purchases (up to $5,000 in purchases per year, then 1 percent); 1 percent cash back rewards on all other purchases. Terms Apply.
Welcome offer: N/A
Annual fee: $95
Purchase intro APR: N/A
Balance transfer intro APR: N/A
Regular APR: 23.99 percent variable
The Credit One Bank® Platinum Rewards Visa credit card appears to be a big step up from other Credit One cards due to its striking 5 percent cash back rewards bonus categories and 1 percent back on everything else. However, the card's prequalification terms show that it carries the same finicky application process as its Credit One siblings.
Rather than applying directly for the Platinum Rewards Visa card, you must submit a preapproval form that covers all Credit One Platinum cards. From there, Credit One will gauge your creditworthiness and tell you which cards you're eligible for.
The tricky terms and fees that come with the Platinum Rewards Visa card may also limit your rewards in the long run. The Platinum Rewards Visa may be better than many Credit One cards and isn't a bad option if you want an unsecured credit card with average credit or above, but knowing your goals ahead of time may reveal better options to help you build credit.
Current sign-up bonus
The Credit One Platinum Rewards card doesn't offer a sign-up bonus, which is normal for Credit One cards and other cards available at this credit level.
You'll have better luck with a limited-time offer if you have at least "good" credit (a FICO score between 670 and 739) or you're applying for a student credit card. The Discover it® Secured Credit Card is a notable exception since it will match all cash back you earn by the end of your first year.
Cash back
There is some fine print worth considering before you get too excited about the Platinum Rewards Visa card's cash back rewards rate. To start, make sure that you prequalified specifically for the Platinum Rewards Visa card—Credit One brands its cards very similarly, and you may actually have prequalified for a card with a completely different rewards rate.
Here are a few other footnotes that could impact your potential to earn rewards.
Earning cash back rewards
The Credit One Platinum Rewards Visa card earns 1 percent cash back rewards on all purchases and a formidable 5 percent cash back rewards on eligible gas, grocery, internet service, cellphone service, cable, and satellite TV service purchases. However, your 5 percent cash back rewards rate is limited to the first $5,000 you spend across these categories each year. After you meet this spending cap, your rate reverts to 1 percent back.
While this bonus category spending limit is impressive for a card designed for those with fair credit, it falls short of the rewards spending limit found on most 5 percent rotating cash back category cards (typically $1,500 per quarter or $6,000 per year). Meeting the card's rewards spending limit may also be unrealistic if you start with the minimum credit limit of $500, which drops to $405 once Credit One deducts the $95 annual fee from your available credit.
Maximizing your categories' yearly spending cap can be a challenge with these obstacles and the extra restrictions spelled out in the reward conditions. For example, the Platinum Rewards Visa's terms state that category purchases made through wholesale clubs, superstores, drugstores, bakeries/confection stores and PayPal won't earn 5 percent cash back. And although it's a Visa card, the prequalification terms state eligible purchases are defined by each merchant's "Standard Industrial Classification Code" instead of Visa's normal merchant category codes (MCCs). That means your Platinum Rewards Visa might not earn rewards at the same places your other Visa cards do.
Redeeming cash back rewards
Cash back rewards earned with Credit One cards can only be redeemed for automatic statement credits. Saving money doesn't get much more convenient than automatic credits, but you lose the flexibility from other methods like bank account direct deposits.
How much are cash rewards worth?
Credit One cash back rewards work like other cash back programs. You'll net 5 cents per dollar on 5 percent category purchases and 1 cent per dollar on other purchases.
Benefits
It would help if you also tapered your expectations when it comes to this card's added benefits. While paying with your card may offer you basic Visa perks and more cash back rewards through a card-linked offer program, Credit One's Card Protection Program could easily be more of a trap than a lifeline.
Credit One More Rewards and Visa Offers + Perks
The Credit One More Rewards and Visa Offers + Perks programs allow you to save money with select online shopping retailers by linking your credit card to these online portals, just like you would with Amex Offers or Shop Through Chase.
Both programs cycle participating merchant offers for a limited time, but More Rewards deals can earn up to an extra 10 percent in cash back rewards while Visa Offers + Perks mainly provides product discounts. Just be sure to read the offer limitations carefully.
Traditional Visa benefits
All Visa credit cards carry a roster of perks based on your credit limit. The Credit One Platinum Rewards Visa card qualifies as a Visa Traditional card, which will get you basic features like $0 liability on unauthorized purchases, Emergency card replacement, Emergency Cash Disbursement and 24/7 pay-per-use Roadside Dispatch.
Credit Protection Program
Credit One Platinum cards offer an optional Credit Protection Program, which ensures you in case you're involuntarily unemployed or disabled. By paying 0.96 cents per $100 of your standing balance on each monthly statement, your minimum payment will be waived for up to six months. Beneficiaries can also receive up to a $10,000 balance payoff in the event of death.
There are other drawbacks to weigh besides the monthly fee for carrying a balance. Your account will be frozen (except to accrue interest) once you activate your protection, but you'll have to wait 30 days to see your policy take effect. Considering these setbacks and other significant costs like compound interest, opting for another debt management plan might be a better play.
Rates and fees
If you're looking for a low-cost starter card, you might want to pass on the Platinum Rewards Visa. The 23.99 percent variable APR is well above the current average credit card interest rate. Plus, you'll have to spend at least $1,900 per year (or $159 per month) in the card's 5 percent cash back rewards categories just to offset the $95 annual fee, which also eats into your credit limit.
You may also need to pay a credit limit request fee (according to your creditworthiness) if Credit One doesn't offer you an automatic credit limit increase. A low starting credit limit could be especially dangerous since Credit One can cancel your account if you're 20 percent over limit, and the card's 3 percent ($1 minimum) foreign transaction fee, up to $39 late payment fee and up to $39 returned payment fee could easily snowball your balance given the high interest rate.
Luckily, however, the Platinum Rewards Visa offers a 24-day grace period, which isn't a given for all Credit One cards.
How the Credit One Platinum Rewards Visa compares to other cards for fair credit
The Credit One Platinum Rewards Visa card isn't a bad unsecured credit card if you have limited credit history or a damaged credit score, but there are plenty of more cost-effective options out there.
The Credit One Bank® Platinum Rewards Visa with No Annual Fee could be a better option if you can't justify a $95 annual fee. Its unlimited 2 percent cash back rewards on the same gas, grocery, cellphone, internet and cable and satellite TV purchases could also be more rewarding if you spend well beyond $5,000 in those categories each year.
The Capital One QuicksilverOne Cash Rewards Credit Card is also open to those with fair credit and its flat-rate rewards could be easier to manage. Meanwhile, the top choice for students is a no-brainer—the Discover it® Student Cash Back card offers competitive rewards and even better benefits.
If you don't fit into either camp, an unsecured credit card might not be the best fit. The Discover it® Secured card can help you improve your credit score with responsible use while earning 2 percent cash back on gas station and restaurant purchases (on up to $1,000 in combined spending per quarter, then 1 percent), plus 1 percent back on other expenses.
Bankrate's Take—Is the Credit One Platinum Rewards Visa worth it?
The Credit One Bank Platinum Rewards Visa credit card dangles an alluring 5 percent cash back rewards rate (up to $5,000 in purchases per year, then 1 percent) on major expenses like grocery, gas and eligible digital services, but the $95 annual fee and restrictive card terms can take a toll if you're building credit.
Its rewards rate may look fantastic while you're window shopping, but you can easily find well-rounded credit cards that won't nickel and dime you on your journey to a full-fledged rewards card.
Pros
One of the few unsecured cards that offer 5 percent cash back rewards for those with average credit
Comes with basic Visa benefits
Cons
$95 annual fee eats into your credit limit
$5,000 bonus category spending limit is lower than the average rotating bonus category card's rewards spending cap
Confusing application process and the card terms are riddled with fees