Costco Anywhere Visa® Card by Citi review
At Bankrate we strive to help you make smarter financial decisions. While we adhere to strict editorial integrity, this post may contain references to products from our partners. Here's an explanation for how we make money.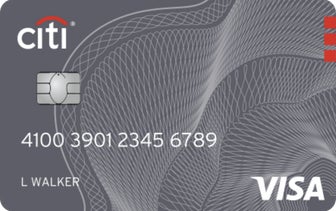 Recommended Credit Score
Excellent (740 - 850)

A FICO score/credit score is used to represent the creditworthiness of a person and may be one indicator to the credit type you are eligible for. However, credit score alone does not guarantee or imply approval for any financial product.
Annual Fee:

$0

Purchase Intro APR:

N/A

Regular APR:

15.24% (Variable)
Terms and Restrictions Apply
This card offer is currently unavailable on Bankrate. To see more cards in this category, please visit our cash back category page.
Card Overview
If you're a die-hard Costco shopper who measures your pantry and gas fill-ups in bulk, then the Costco Anywhere Visa® Card by Citi is an amazing value. Not only does the Costco card stand as one of the best wholesale club credit cards among the handful available, it's actually one of the best cards for gas on the market.
It's very tempting to pounce on a card for shopping that covers such a diverse group of bonus categories, but the required Costco membership and cash back restrictions lurking in the fine print might not make this co-branded store card worth it for some.
Want more details? Jump to the following sections:
What are the advantages and disadvantages?
Advantages
No annual fee and no foreign transaction fees
One of the best cash back cards for gas
Unlimited 3 percent cash back on eligible travel and dining on top of the gas and Costco rewards
Disadvantages
Can only redeem cash back once per year in a physical Costco store
Requires a Costco membership to apply (at least $60 annually)
No welcome offers and limited benefits
A deeper look into the current card offer
Quick highlights
Rewards rate: 4 percent cash back at eligible gas stations, including gas at Costco (for the first $7,000 per year, then 1 percent), 3 percent cash back on restaurant and eligible travel purchases, 2 percent cash back on all Costco and Costco.com purchases and 1 percent cash back on all other purchases
Welcome offer: N/A
Annual fee: No annual fee with your paid Costco membership ($60)
Purchase intro APR: N/A
Balance transfer intro APR: N/A
Regular APR: 15.24% variable
Current sign-up bonus
The Costco cash back card is one of the few retail credit cards that doesn't offer a sign-up bonus. Typically, you'll at least see bonus store credit or introductory rates.
Other no annual fee cards for wholesale club and gas rewards deliver sign-up bonuses worth at least $150 or $200. Even the Capital One Walmart Rewards® Mastercard® provides a 5 percent introductory cash back rate on in-store purchases for your first 12 months as a card member, and the Amazon Prime Rewards Visa Signature Card gives you a $100 Amazon gift card upon approval.
Rewards rate
Although the first thing that comes to mind might be groceries, Costco's card actually earns more cash back on other expenses like gas, restaurants and travel. It's a great all-around travel partner as well. Since it's a co-branded Visa card, your Costco Visa cash back opportunities are worldwide—not just storewide.
Earning cash back
In addition to the 2 percent cash back you'll earn on Costco/Costco.com purchases, you'll also earn a whopping 4 percent on eligible gas purchases (on up to $7,000 in purchases per year, then 1 percent), 3 percent on eligible restaurant and travel purchases and 1 percent on all other purchases.
However, you'll find a few caveats in the terms and conditions. For instance, though the category extends beyond just Costco gas purchases, you can't earn 4 percent cash back at other store-brand gas stations—like Walmart or Harris Teeter—or for non-vehicle gas purchases. You also won't earn your 3 percent dining and travel cash back at bakeries, some department store restaurants/cafes or bed-and-breakfasts. Oddly, these travel reward exclusions rule out commuter and train travel too.
Redeeming cash back
Maybe the most disappointing restrictions come with redeeming your Costco credit card's cash back. You're only allowed to redeem your cash back once per year, after your February billing statement. Then, you receive your rewards as a single "credit card reward certificate," which must be redeemed for cash back in-store at a U.S. or Puerto Rico Costco before December 31 of that year. Otherwise, you lose your rewards.
While maybe not a deal-breaker for those who shop at Costco regularly, this is a huge drawback. Most cash back cards let you redeem your rewards at any time (or after hitting a minimum earning) and for much more flexible options—such as a statement credit or direct deposit.
How much are the rewards worth?
Costco cash back is worth the same as with any other cash back card: 1 percentage back is worth 1 cent.
However, in this case, personal value factors into how much the rewards are worth. The earning rate is stronger than many non-store-branded cash back cards, but the inconvenient redemption process might be a deal-breaker if you didn't plan to use it at Costco as often. Consider your needs carefully, because you can't cancel your card before next February without losing your hard-earned rewards.
Other cardholder perks
Outside its fantastic rewards and the ease of using your credit card as your membership card, the Costco card's benefits are pretty slim.
Purchase protection
With purchase protection, You may be reimbursed if your purchases are stolen or damaged within three to four months after you bought them. This feature is especially handy when you're shopping through Costco's website and need delivery.
Citi Entertainment
You'll have access to exclusive "experiences" through Citi Entertainment, since your Costco Visa credit card is a Citi card. You can grab presale concert tickets, sign-up for dining or travel packages available to cardmembers and more.
Rates and Fees
There is no annual fee on the surface, but you'll have to pay for a Costco membership to apply if you're not already a member. The minimum Costco membership cost of $60 is pretty easy to offset with your high-earning cash back categories, though. You only need to spend $125 each month in your 4 percent gas category to make up for your membership fee.
Unfortunately, there aren't any zero-interest offers if you were hoping to switch balances to this card. On the bright side, the 15.24 percent (variable) ongoing APR is lower than the average credit card interest rate, and there are no foreign transaction fees to boot.
How the Costco Anywhere Visa compares to other cash back cards
The Costco card's bonus categories are competitive across the board compared to other cash back cards with no annual fee. It can be hard to find a single credit card that offers rewards on gas, dining, travel and wholesale clubs at this level.
However, the Costco card's Achilles' heel is its lackluster benefits and lower rewards rate on actual Costco purchases. Granted, many cards don't earn cash back at wholesale clubs, and the typical flat-rate card offers 1.5 percent back. But it's common for retail cards to offer up to 5 percent back at their store—including the previously mentioned Capital One Walmart Rewards and Amazon credit cards.
The closest competition when it comes to consistent wholesale club cash back would have to be the Bank of America® Customized Cash Rewards credit card. It earns 3 percent cash back in a choice category that can be changed monthly—including travel, gas and dining—and 2 percent back at wholesale clubs and grocery stores (on up to $2,500 in combined 3 and 2 percent category purchases each quarter, then 1 percent).
If you don't mind rotating bonus categories and want one of the highest wholesale club reward rates, the Discover it® Cash Back card has previously offered 5 percent cash back at wholesale clubs (up to $1,500 in purchases each quarter after activating, then 1 percent)
Card
Rewards rate
Annual fee
Welcome offer
Bank of America® Customized Cash Rewards credit card

Earn 3% cash back in the category of your choice: gas, online shopping, drug stores, home improvement & furnishings, dining or travel
Plus automatic 2% cash back at grocery stores and wholesale clubs on the first $2,500 in combined choice category/grocery store/wholesale club purchases each quarter, then earn 1%.
1% cash back on all other purchases

$0
$200 online cash bonus after spending at least $1,000 in purchases within the first 90 days.
Discover it® Cash Back

5% cash back on rotating quarterly categories (up to $1,500 in purchases per quarter after activation, then 1%)
1% cash back on all other purchases

$0
All cash back earned in the first 12 months will be matched.
Citi® Double Cash Card

Up to 2% cash back on all purchases: 1% back at purchase, then 1% upon payment

$0
N/A
Bank of America® Customized Cash Rewards credit card last updated on 05.03.21
Best cards to pair the Costco Anywhere Visa with
Your best options to couple with the Costco cash back card depend on where you do the rest of your shopping. If you do your grocery shopping at supermarkets, then you can't do much better than the Blue Cash Preferred Card® from American Express. It earns a stellar 6 percent cash back at U.S. supermarkets (on up to $6,000 per year, then 1 percent), plus it gets 3 percent back on the transit purchases that slip through the cracks in your Costco card's travel category. Keep in mind that it does come with a $95 annual fee ($0 introductory annual fee for the first year).
If you shop at superstores like Walmart or Target, a flat-rate card might be the way to go. A prime choice would be the no annual fee Citi® Double Cash Card since it earns up to unlimited 2 percent cash back (1 percent back at purchase, then 1 percent upon payment) anywhere you shop.
Cardholders that lean on the travel and dining side of their Costco cash back categories might want to consider the Capital One SavorOne Rewards Credit Card. For no annual fee, it will rack up unlimited 3% cash back on dining, entertainment, popular streaming services and at grocery stores (excluding superstores like Walmart® and Target®), plus 1% on all other purchases.
Bankrate's Take: Is the Costco Anywhere Visa worth it?
The Costco Anywhere Visa Card by Citi isn't just a great cash back card for loyal Costco shoppers—it's one of the highest-earning credit cards for gas out there. It's hard to beat the extra travel and dining categories stacked on top, but the meager benefits and inconvenient once-per-year cash back redemption process are worth weighing before taking the plunge.
Considering that there are no annual or foreign transaction fees too, the excellent cash back this card can rack up may more than make up for the required Costco membership if you have a store nearby.
All information about the Costco Anywhere Visa® Card by Citi, Capital One Walmart Rewards Mastercard, and Amazon Prime Rewards Visa Signature Card has been collected independently by Bankrate and has not been reviewed or approved by the issuer.