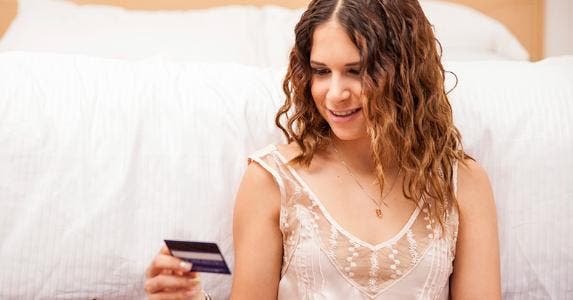 Dear Credit Card Adviser,
I just received my first credit card. It has an annual fee that is waived the first year. If I pay back my initial purchases in full and don't use the card anymore, will I still have to pay the fee after the one-year mark?
— Yulia
Dear Yulia,
Sorry to break this to you, but annual fees have nothing to do with card use. You're paying that fee essentially to have the account.
Usually there's some sort of trade-off. Annual fees are common among rewards cards, which let you earn points, miles or cash back on purchases, or secured cards, which are reserved for risky customers who need to build (or rebuild) credit.
They typically get applied to your credit card statement around 12 months after you've opened the account. You could theoretically avoid the charge if you formally cancel the card before then — and you may want to do so, considering you don't plan to use it. It's usually easier to just apply for a top no annual fee credit card to avoid this cost of ownership altogether. 
Annual fees are only worthwhile if you're reaping the benefits associated with the product. (If you're not charging, for instance, you're not earning any rewards.)
Still, there is something important to note before you cut the card: Formally closing an account eliminates the available credit line associated with it, which, in turn, could hurt your credit utilization rate — the amount of credit a lender has extended to you versus how much debt you're carrying on your cards.
Credit utilization rates are a major component of credit scores. (For example, they account for about 30 percent of the popular FICO score.)
A basic rule of thumb is to keep your debt-to-available-credit ratio collectively and on individual credit cards below 20 to 30 percent — the lower, the better.
Don't know your credit utilization? Get it and a free credit report at myBankrate.
If closing out that new card is going to send you over that threshold (and, for instance, you're getting ready to shop around for a mortgage), you may want to keep it open. If you don't have a ton of outstanding debt and you're afraid the card is going to get you into financial trouble, then you may want to get rid of the account.
If you're on the fence, there is another option.
Call your issuer and ask if it has a no-fee product with a similar credit limit that you can switch to. (You'd be surprised at how happy issuers are to do this for responsible customers.) Downgrading will allow you to keep your credit utilization ratio intact — and you'll avoid paying for a product you don't really use.
Good luck!
Get more news, money-saving tips and expert advice by signing up for a free Bankrate newsletter.
Ask the adviser
To ask a question of the Credit Card Adviser, go to the "Ask the Experts" page and select "Credit Cards." Read more columns by the Credit Card Adviser.
Bankrate's content, including the guidance of its advice-and-expert columns and this website, is intended only to assist you with financial decisions. The content is broad in scope and does not consider your personal financial situation. Bankrate recommends that you seek the advice of advisers who are fully aware of your individual circumstances before making any final decisions or implementing any financial strategy. Please remember that your use of this website is governed by Bankrate's Terms of Use.