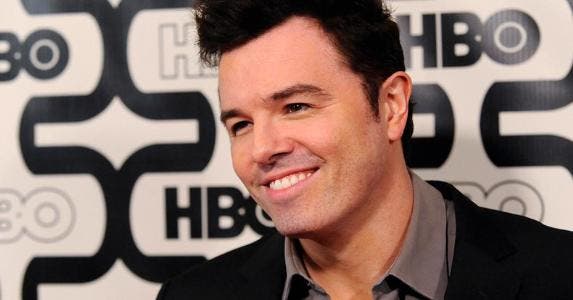 © GUS RUELAS/Reuters/Corbis
Seth McFarlane
Net worth: $194 million (as of September 2015)
Year of birth: 1973
Education: Rhode Island School of Design
---
How Seth McFarlane's net worth was built
Seth MacFarlane is most widely known as the creator of "Family Guy," a popular animated television show that first aired in 1999. That franchise has an estimated worth of $1 billion, and MacFarlane reportedly earns $50,000 off of each episode. But while "Family Guy" may be his bread-and-butter asset, it's not his only claim to fame. Born in 1973, the American voice actor, cartoonist, comedian, producer, director and actor also created animated series "American Dad" and "The Cleveland Show."
MacFarlane got his start as an animator and writer for 2 animated shows: "Johnny Bravo" and "Cow and Chicken." And in 2012, MacFarlane starred with Mark Wahlberg in "Ted." The sequel — "Ted 2" — premiered in 2015. He also starred in "A Million Ways to Die in the West" in 2014.
All of those accomplishments have brought MacFarlane's net worth up to nearly $200 million.
See how you stack up to MacFarlane's net worth with Bankrate's net worth calculator.
---
What he's up to now
MacFarlane has broken out from behind the screen and is now starring in major motion pictures. Still, he continues to work on his animated TV shows and is the voice behind Peter Griffin, Brian Griffin, Stewie Griffin, Quagmire and others on "Family Guy." On TV show "American Dad," MacFarlane is the voice of Stan Smith, Roger the Alien and Greg Corbin.
---
Accolades and awards
MacFarlane hosted the Oscars in 2013 and was also nominated for an Academy Award in the same year for "Best Achievement in Music Written for Motion Pictures, Original Song" for the movie "Ted." He's also been nominated for an Emmy nearly every year since 2000. It's no surprise that he made the 2014 Celebrity 100 Forbes List.