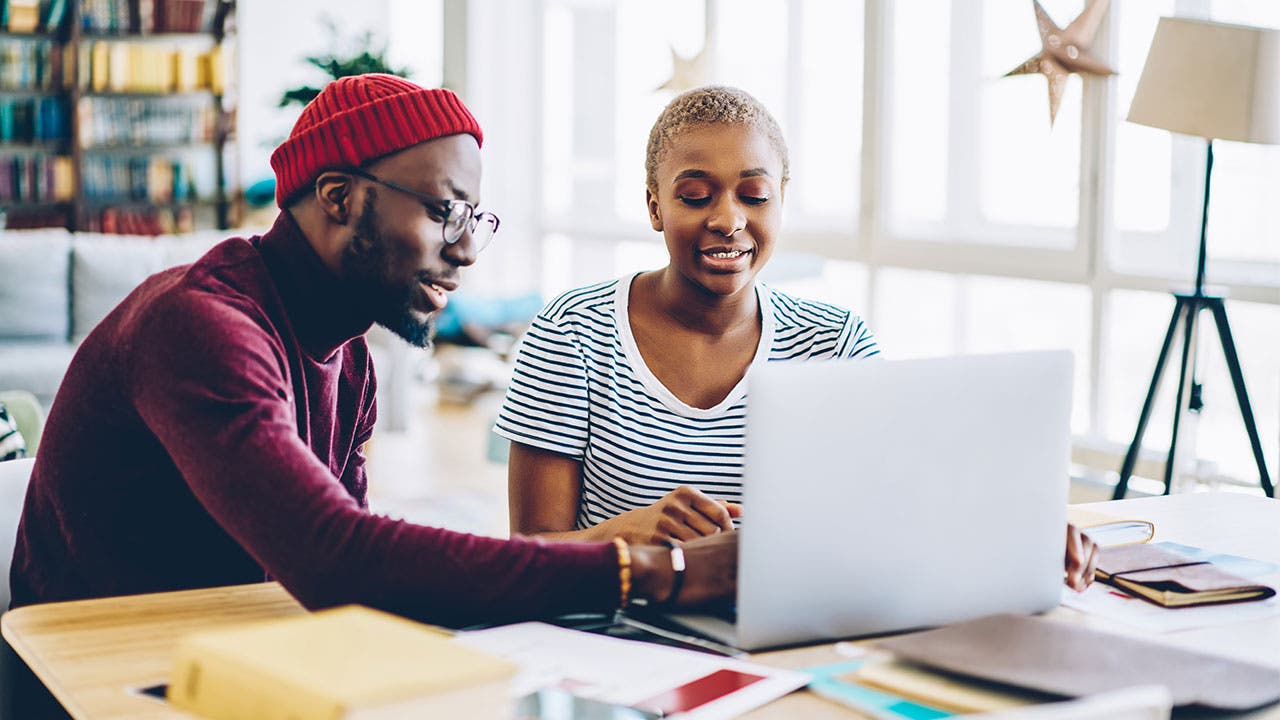 You've decided it's time to take the plunge to get a brokerage account. But the task probably sounds just as daunting as answering other big questions, like: What do you want to do with your life?
But, like anything, it's a matter of breaking down the task into more manageable bites. While options abound, you probably want an account that includes accessible educational resources, an easy-to-navigate app and website, low fees and attainable minimums — all attractive qualities if you are just getting started. Here are several options to consider.
Here are the best online stock brokers for beginners:
Overview: Top online brokers for beginners in October
TD Ameritrade: Best overall for beginners
TD Ameritrade launched its internet-based trading system in 1995.
Beyond its history, TD Ameritrade is good for beginners because of all of the information it makes available to guide you into the world of investment decisions. New investors can take advantage of all kinds of educational material the company offers, including more than 200 instructional videos, tutorials and more.
Competitive edge: It makes available a bot that you can ask whatever question you wish without worrying about whether you're getting judged for asking something "basic." You can also interact with the brand on apps you already use, like Facebook Messenger and Amazon Alexa devices.
Cost: But, isn't the cheapest option. It costs $6.95 per trade. Then again, it offers more than 550 commission-free ETFs that could help you lower the costs.
It offers two mobile trading apps: TD Ameritrade mobile and TD Ameritrade mobile trader.
Review: It earned 4.5 out of 5 stars in Bankrate's review.
Cost per trade: $6.95
Minimum balance to open an account: $0
E-Trade Financial: Best for mobile app and low costs
E-Trade is considered by many as an online brokerage pioneer.
Competitive edge: It has kept up with the times, too, offering two mobile apps. On the E-Trade mobile app, you can move money with mobile check deposit in addition to other tasks, such as track the market or trade a stock. Its other mobile app is called OptionsHouse by E-Trade, and it represents an acquisition E-Trade made in 2016.
Cost: The cost, however, is steeper than some other options. A standard trade costs $6.95 plus $0.75 per contract. If you make more than 30 trades per quarter, you will get a discount and pay $4.95 plus $0.50 per contract.
On the other hand, E-Trade offers a large menu of commission-free products, including more than 250 ETFs, giving you options to keep down costs.
Importantly, it also makes available all kinds of content to help you understand what you're doing — videos, articles and live education sessions included.
This isn't the cheapest option for trading, but the educational materials and its consumer-friendly apps can be a big help to novices.
Review: It earned 4 out of 5 stars in Bankrate's review.
Cost per trade: $6.95
Minimum balance to open an account: $500
Ally Invest: Best for commission-free ETFs
What is now known as Ally started off as General Motors Acceptance Corp, or GMAC, and it served the auto industry.
In time, it started offering consumer-facing products, including mortgages. Then, it bought TradeKing and launched Ally Invest in 2017.
Competitive edge: In the past, the account was criticized for not offering commission-free ETFs. But this summer, Ally Invest addressed the shortcoming by adding more than 100 commission-free ETFs to its trading platform.
You can also access your account on Ally's mobile app to do tasks like get quotes and make trades. The direct bank is also widely recognized for its excellent customer service and its progressive digital banking features.
It also offers a resource center with helpful content written in a more enjoyable way than most — think headlines like: "What Mutual Funds and Pizza Have in Common," for instance.
Cost: On price, Ally Invest is a good option for beginners. It charges $4.95 per stock trade and has no minimum balance requirement. It also offers a discounted price of $3.95 for investors making at least 30 trades per quarter or maintaining a daily balance of $100,000 — sure, that's probably not you as a beginner. But perhaps it's something you age into.
Review: It earned 4 out of 5 stars on Bankrate's review.
Cost per trade: $4.95
Minimum balance to open an account: $0
Merrill Edge: Best for $0 minimum investment
With a $0 minimum investment, Bank of America's Merrill Edge is another good option for beginning investors— particularly if you're a Bank of America bank customer.
Competitive edge: Merrill Edge is applauded for its integrated mobile experience that lets you make a credit card payment and place trades — assuming you're a bank customer and investor. However, the app has been getting some poor reviews for its slow loading time.
Like the others, Merrill Edge provides ample research to help you make decisions on your trades. It also offers you more than 2,000 locations to meet with financial advisers, should you wish to have a face-to-face conversation.
Cost: However, its cost per trade isn't the cheapest, at $6.95 per trade. But there are opportunities to qualify for free trades, including for those carrying a large balance.
Review: It earned a 3.5 out of 5 stars in Bankrate's review.
Cost per trade: $6.95
Minimum balance to open an account: $0
Other options
If you want a hands-off approach, you may also consider something like Betterment or a free-trading app, like Robinhood.
Learn more: