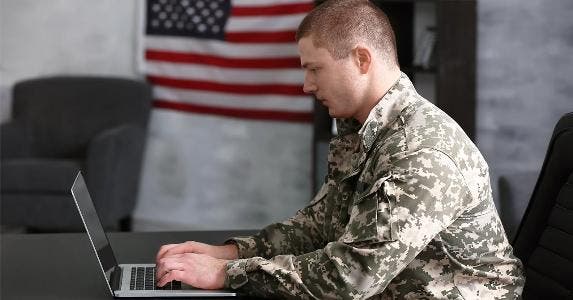 The VA mortgage is so attractive that it's no wonder some borrowers want to take advantage of the Department of Veterans Affairs program more than once.
There are three ways a service member, veteran or other qualified borrower can get another helping:
Buy a home with a VA loan, sell it and then buy another home with a new VA loan.
Refinance from one VA loan into another.
Have two or more VA loans for different homes at the same time.
The VA home loan "isn't a single-use proposition," says Michael Dill, vice president of mortgage lending at Guaranteed Rate in Tampa, Florida.
Ready to shop for your next VA loan? Hold on — a lot depends on something called your "entitlement."
How entitlement works
The VA guarantees to reimburse up to 25 percent of the lender's loss if a borrower defaults. This protection encourages lenders to offer VA loans with lower rates, no down payment and easier guidelines to qualify.
Typically, if you use a VA loan to buy a home for $200,000, the VA will guarantee a quarter of that, or $50,000.
Your entitlement is the total dollar amount that the VA is willing to guarantee and pay out on your behalf. In most parts of the country, entitlements top out at $106,025, but the limit can be higher in expensive areas such as New York, Los Angeles and Washington, D.C.
The $200,000 home in our example would reduce your $106,025 entitlement by $50,000. So, you'd still have plenty left for another VA loan to buy another home.
"A lot of military guys are stationed somewhere, they buy a property with a VA loan, then they get relocated and need to buy another one," Dill says. "They can still buy and have multiple VA loans at the same time."
2 homes, 2 VA loans — and renting 1 out
The VA loan is intended to be used to buy your primary residence, not a rental property. However, if you occupy a home and then move into a second home purchased with a second VA loan, the first one often can be rented out.
But here's the fine print: Borrowers can't convert their primary residence into a rental and buy a similar-sized home in the same location. The second home would have to be a larger residence for a growing family, or would have to be in a different area.
Chris Pollard, a Certified Financial Planner professional at Great Path Planning in Monroe, New York, says turning a primary home into a rental property can be an "OK deal," with a rate of return that's about what you'd get with a conservative bond portfolio.
"You might as well have bought the bond portfolio and not had the headaches of tenants calling you at three o'clock in the morning if the pipes burst," Pollard says.
Getting entitlement back
Whenever you sell a home and pay off a VA loan, you get that part of your entitlement back and can use it again. However, if the loan is merely paid off or refinanced and you still own the home, the entitlement amount remains tied up in the home, Dill says.
There is one exception. Borrowers can request a one-time restoration of entitlement, even if the VA's must-sell rule has not been met.
"That would help you if you were truly stuck in a situation where you had two properties already," Guaranteed Rate's Dill says. "Instead of having to sell one, you could request that one-time restoration."
In this case, "one-time" truly means once in a lifetime.
Losing VA loan entitlement for good
VA loan entitlement can be permanently lost if you default on a VA loan, the lender forecloses and sells the home for less than what's owed, and the VA has to reimburse the lender.
When that happens, the VA's payment to the lender is deducted from your entitlement, and you can't get it back.
The same is true in the case of a short sale, in which the home is sold at a loss and lender isn't made whole.
The one-time restoration can't be used in the case of a foreclosure or short sale, unless the money is paid back to the VA.
"A lot of veterans assume that if they had a foreclosure back in the 1980s, they can do a one-time restoration," Dill says. "The VA doesn't grant it for situations where you defaulted on a VA loan. If they took a loss, they're not going to hand that (guaranty) back."
Note that the VA loan program isn't only for $200,000 homes. Read about how the program helps veterans buy upscale properties.