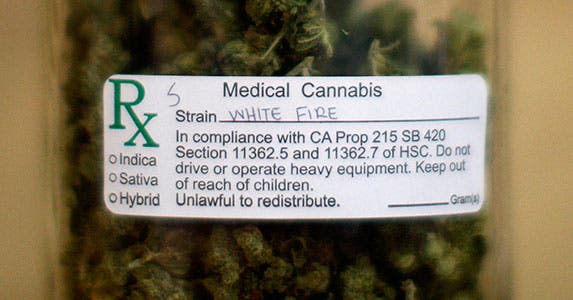 Medical marijuana: 6 burning questions
What was once considered an illicit street drug is quickly becoming a popular medicine across the U.S., raising questions about access and health insurance coverage.
Marijuana is now legal for medicinal use in 23 states and the District of Columbia, less than 20 years after California became the first state with such a law. But despite the rapid acceptance of medical marijuana, strict federal penalties remain for those caught possessing, selling or using pot.
"Although we've seen widespread adoption of medical marijuana and a real shift in how people think about this issue, we don't have one clear set of nationwide laws that medical marijuana patients and their doctors can easily follow," says Kris Hermes, a spokesman for Americans for Safe Access, a medical marijuana advocacy group.
People closely involved with the medical marijuana issue say the legal disparities have left bewildered consumers asking many questions, including the ones that follow.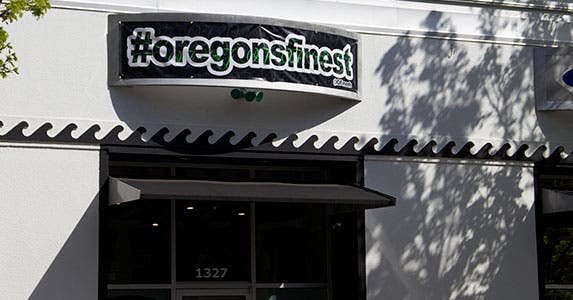 Is medical marijuana legal near home?
© STEVE DIPAOLA/Reuters/Corbis
If you live in one of the medical marijuana states, you might assume that it's legal to cultivate or buy pot. But the rules can be complex.
These states (including the District of Columbia) have put laws on the books allowing medical marijuana:
Alaska
Arizona
California
Colorado
Connecticut
Delaware
District of Columbia
Hawaii
Illinois
Maine
Maryland
Massachusetts
Michigan
Minnesota
Montana
Nevada
New Hampshire
New Jersey
New Mexico
New York
Oregon
Rhode Island
Vermont
Washington
Source: National Conference of State Legislatures
"There are states where it's legal to buy at storefront (dispensaries), and there are states where it's legal to cultivate," Hermes says. "There's a lot of overlap, so some states allow both, but there are others where you can only cultivate or only buy at a storefront."
Similarly, there's a lot of variation among the medical marijuana states about how patients qualify to use the drug, how much they can use and how they can get it.
"New York is planning to restrict access to a handful of hospitals," Hermes says. "California leaves it up to the individual doctor and their patients."
Meanwhile, at the federal level, marijuana remains a "Schedule I" narcotic, meaning Washington considers it a dangerous drug without medicinal value. Possession can lead to federal fines or prison terms.
As a result, doctors don't write prescriptions for medical marijuana, so instead patients must get a "recommendation" from a physician, Hermes says. A dispensary verifies the recommendation with the doctor before a patient is sold medical marijuana.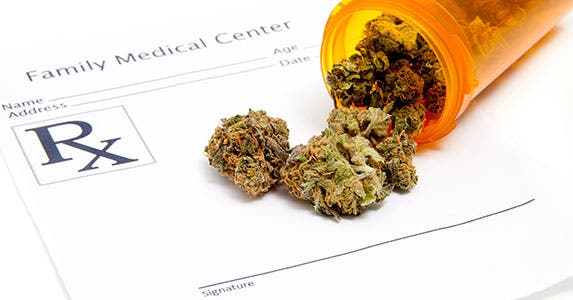 Does insurance cover medical marijuana?
Though many states have given their blessing to medical marijuana, U.S. health insurance companies generally won't cover it.
In emails, representatives for Blue Cross Blue Shield and Kaiser Permanente — insurers that operate in several medical marijuana states — said their organizations will not and cannot include medical marijuana as a member benefit because of the drug's current status under federal law.
The spokesmen for the two companies, who asked not to be identified by name, declined to elaborate further or speculate about conditions under which medical marijuana might be covered in the future.
"Health insurance hasn't been a major focus for medical marijuana advocates so far," says Hermes. "But we do believe that the current federal policy is a major impediment to insurance coverage, and once marijuana is rescheduled, we would expect insurance companies to begin exploring how to cover this medicine."
In the meantime, the legal divide between the federal government and the approving states puts those insurers interested in medical marijuana "very much up in the air," says Arkady Bukh, a New York attorney whose practice includes marijuana defense.
"Right now, the insurance companies really have their hands tied on this matter," he says.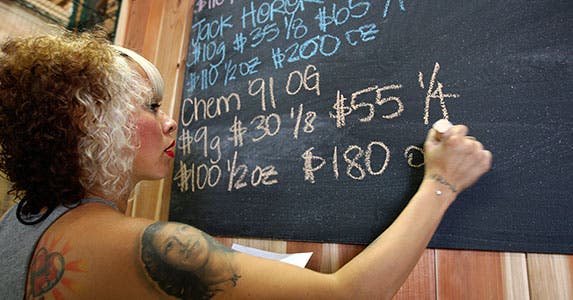 How much does medical marijuana cost?
© DAVID MCNEW/Reuters/Corbis
While online tools exist for tracking local prices of medical marijuana, it's hard to know exactly what the average patient pays, says Rosalie Liccardo Pacula, director of the nonprofit Rand Corp.'s Bing Center for Health Economics.
"Based on existing available data, we just don't have a basis for estimating (average) costs," she says.
Pricing information has been an uneven patchwork, much like the medical marijuana laws.
Pacula expects Illinois' law and its inventory tracking requirements will eventually provide that state with good price data. But in California, researchers are unable to answer basic questions about costs or even about the number of dispensaries operating in the state, she says.
For now, Pacula relies on price data that a number of dispensaries have posted online.
"But the variation in price across different types of marijuana makes it difficult to really presume what the typical cost would be," she says.
Further compounding matters, different patients use different dosages, Hermes says, so an average patient cost can be both hard to establish and less useful than one might think.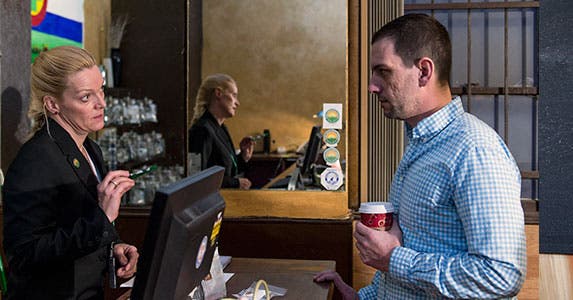 What if I can't afford medical marijuana?
© Brian Cahn/ZUMA Press/Corbis
At Marygold Delivery Service, a medical marijuana dispensary in Walnut Creek, California, co-founder Tiffany Kelly says the typical patient usually spends about $50 per visit and buys one-eighth of an ounce. That might last a week.
Patients with very serious illnesses such as HIV and lupus often buy more, sometimes spending hundreds of dollars per week.
"There's no government or insurance subsidy for this medicine," Kelly says, "But we work with patients on a case-by-case basis to make sure they can afford what they need."
Compassion is a big part of the medical marijuana community, Hermes says, adding that many dispensary owners offer free or discounted product to those in need.
"Unfortunately, there is no standard system for getting medicine to those who can't afford it," he says.
California is one of the states where patients may grow their own medical marijuana. But Kelly says that doesn't necessarily mean savings.
"It's not like growing a tomato," she says. "It can cost a lot with lights and water, and you need a lot of skill … because it's very easy for marijuana plants to succumb to mold and other problems."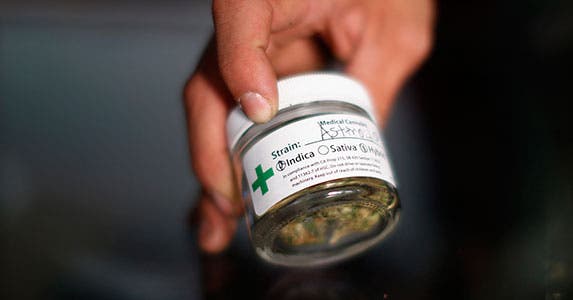 Does medical marijuana help?
© LUCY NICHOLSON/Reuters/Corbis
On dispensary websites, you're likely to see a long list of ailments and illnesses for which medical marijuana is said to offer some benefit. But if you want science to back up those claims, you're not likely to find it, says Ken Leonard, director of the Research Institute on Addictions at the University of Buffalo.
"It has been and continues to be incredibly difficult to study the medical applications for marijuana, especially through clinical trials, because it remains a Schedule I drug under federal law," he says. "At the very least, a lot more research is needed in terms of medical applications."
Until more is known, the advice for patients is really "buyer beware," Leonard says.
Medical marijuana advocates maintain that the drug helps patients manage pain.
Many patients undergoing chemotherapy have said medical marijuana helps them keep the pain to a minimum and their appetites strong, Hermes notes.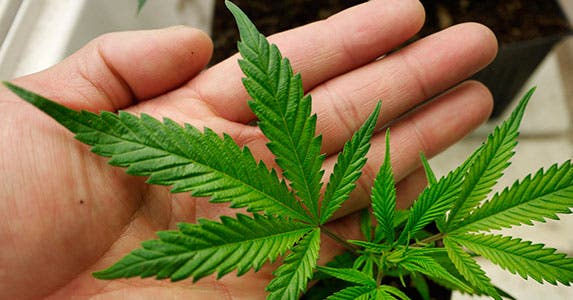 Is medical marijuana safe?
© ANTHONY BOLANTE/Reuters/Corbis
It's nearly impossible to overdose on marijuana, Leonard says, yet there also is a segment of the population that may be at risk for dependency.
"But you have to remember that we need to ask those safety questions in context and compare the side effects of medical marijuana to other drugs that treat the same issues," he says. "And right now, we just don't have that information.
Then there's the smoking aspect.
"If you smoke it, that presents the same concerns we have about smoking tobacco," says Leonard, though he points out that further research is needed because it's not clear that marijuana smokers smoke as frequently and in the same ways as those who use tobacco.
At the same time, it's not clear if smoking is even the best way to get cannabis into a patient's system, he says.
Regardless of how medical marijuana is consumed, Leonard recommends that patients consult their doctor before use, especially if they're taking other medications.