You've just received the shock of your life: Your doctor says you need major surgery, or treatment for a life-threatening form of cancer. Amid the flood of thoughts and emotions that follow, one nagging voice whispers, "Your doc could be wrong. Seek a 2nd opinion!"
"Will health insurance pay for it?" you wonder. And, you think, "She's been my doc forever, and if I question her, it'll crush her! And if I ask her for a referral, can I trust her?"
We put these and other questions to 2 experts: Dr. Martin Makary, professor of surgery at Johns Hopkins Medicine, and Dr. Richard Wender, chief cancer control officer for the American Cancer Society.
Why get a 2nd opinion?
"Easy: 20% to 30% of 2nd opinions differ from the 1st opinion," says Makary. "When you're dealing with something serious, what's the downside of getting 1?"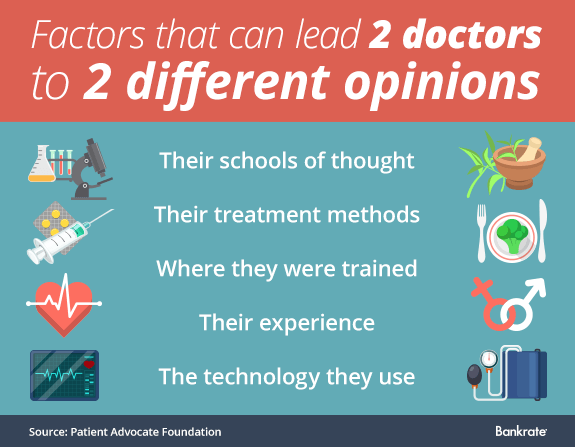 Will my health insurance cover it?
Many plans, including Medicare Part B, help pay for 2nd and even 3rd opinions. In fact, some insurers won't authorize major surgery without 1. "Even if it's not covered … it's worth it," says Makary.
Will my doctor take offense?
"It does feel a bit uncomfortable because the doctor-patient relationship is based on trust, and people worry that asking for a second opinion is going to harm that trust," Wender admits. "You've got to step out of your comfort zone and make sure you're making the very best decision for you and your family, because there aren't any do-overs on this."
Can I trust my doctor's referral?
"For the most part, doctors like to be networked with great doctors because it's their reputation on the line, and they want their patients to receive good service. They don't want to deal with complications," says Makary. "When a doctor recommends somebody (to give a 2nd opinion), the odds are that the outcome is going to be better than picking someone randomly."
Can I get a 2nd opinion without my doc?
Sure: Johns Hopkins Medicine and Cleveland Clinic offer online 2nd opinions from physicians in their networks, while the Cancer Treatment Centers of America offer in-person consultations and a 2nd opinion in as little as 24 hours. Prices vary.
Are there any other options?
Yes: your primary care doctor.
"They may not be able to tell you if a specific recommended treatment is exactly right, but they can certainly comment on whether your condition is common and easily treated at medical centers around the country, and if the center you've chosen is a well-respected one," says Wender.
Step-by-step guides on how to obtain a sound 2nd opinion are available from the National Women's Health Information Center and the Centers for Medicare and Medicaid Services.