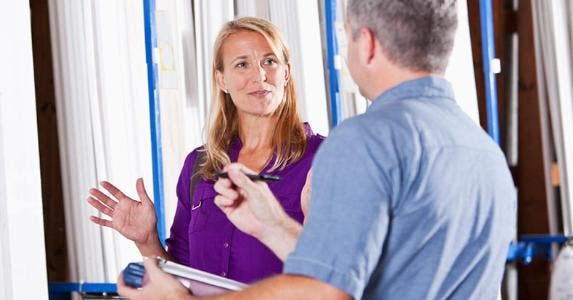 Half the 87 million Americans living in rental housing have no insurance on the contents of their home and stand to face a total loss in the even of theft or fire — an increasing concern as we head into the holiday season.
When it comes to whether to purchase renters insurance, the answer should be a resounding yes, says Janet Portman, a lawyer and managing editor of the Nolo legal series, which publishes her book, "Every Tenant's Legal Guide."
But for a product that Portman calls, "absolutely a good thing to have," surprisingly few renters are actually on board. A recent Allstate survey shows some 43 million renters would be left hanging with the total value of their lost or damaged possessions, something most renters simply can't afford to do.
While there are a lot of reasons why people put off buying renters insurance, Jeff Moree, a product director for Allstate, says the root cause of the problem appears to be a fundamental misunderstanding of the nature of renters insurance. So, with that in mind, we'll start with some common misconceptions. After that, we'll look at what you need to know as an informed buyer.
5 renters insurance myths
My landlord's insurance covers me.
Buying renters insurance is too expensive.
My stuff isn't worth enough to insure.
It's only my stuff.
It takes too long.
1. My landlord's insurance covers me
Wrong. Your landlord's insurance covers his building, but will likely never include your personal possessions, says Portman, who points out that your property is always your responsibility to insure.
2. Buying renters insurance is too expensive
To be fair, prices vary when it comes to renters insurance. But it's a relatively cheap product as far as insurance goes. Moree estimates that a renter could obtain coverage for as little as 50 cents per day, depending on the total value of their household. But for most renters, coverage should run about $250 per year, according to Kelly Lyttle, a manager of personal insurance lines for William Gammon Insurance. That figure works out to about 68 cents per day — far less than your daily cup of coffee at Starbucks.
A good place to find insurers and rates in your town is at InsureMe.com, a Bankrate company.
3. My stuff isn't worth enough to insure
If you're living in your first apartment, sitting on a couch you bought at a garage sale, watching a television that was a hand-me-down from your parents, it's easy to say your possessions are essentially worthless. But that would be a big mistake, says Moree, who adds renters should think in terms of the total cost they would incur tomorrow should a catastrophe happen today. "It adds up very quickly, and it can be expensive to replace everything in your apartment, from clothes to furniture," Moree says. To get an idea of how quickly costs add up, Allstate went to stores like Wal-Mart, IKEA and Bed, Bath & Beyond to determine a rough cost of outfitting an entire apartment all at once. Factoring in high-end items like home electronics and things that people often forget about like toothbrushes and socks, Allstate found that it would cost a single renter living in a one bedroom apartment more than $13,000 to replace everything they own.
4. It's only my stuff
While most people think of renters insurance as a mechanism for replacing lost or damaged possessions, a standard policy also includes liability coverage. In the classic example, a renter's liability coverage will kick in when a guest in their home slips and falls. That policy will not only provide money in the event that the renter is held liable for their guest's injuries, it also will provide for the renter's legal defense.
Likewise, a renter's liability coverage will kick in when their negligence results in property loss for other tenants in the building. For example, a renter who lets their bathtub overflow and causes water damage to a downstairs neighbor should be able to mitigate their out-of-pocket expenses by filing a claim on their own policy rather than having to pick up the tab for replacing their neighbor's damaged property. But Portman says some policies may protect a renter even further, covering, for example, a negligent act committed off premises.
A classic example is a renter being sued because their dog bit a pedestrian while walking through the neighborhood. While the example is obviously applicable to renters with dogs, Portman points out that good off-premises coverage could help protect the renter against a number of legal assaults in much the same way that homeowners are protected by their policies. And that's not a bad bit of protection to have in an increasingly litigious world.
5. It takes too long
Shopping is what you make of it, and while all the experts recommend you price policies online and then work with an insurance agent who can tailor a policy to your specific needs, the truth of the matter is that buying renters insurance could be done in about 30 minutes. "Buying renters insurance is far easier than purchasing auto insurance," says Moree. "It should take a fraction of the time and there will be far fewer questions to answer.
The primary factor driving price will likely be the amount of coverage you're buying, where you live and any applicable discounts you may be entitled to, based on your age or the fact that you have other policies with the same company.
Tips for buying your policy
Always buy replacement value.
Beware of exclusions.
Watch your deductible
Catalogue your possessions.
Consider working with an agent.
Know the limitations of your policy.
1. Always buy replacement value
As with any legal contract, you need to read the fine print, Portman explains, but one of the critical clauses you should be looking for when it comes to renters insurance is the issue of replacement cost. Typically, buyers will have a choice between purchasing a policy which offers "replacement cost" or one that uses "actual cash value." While terms and phrases like those are frequently used in everyday speech, when it comes to insurance law they have very specific — and very different — meanings. Buyers who hold actual cash value policies won't get very much money in the event of a loss because the adjuster will look at what it costs to replace the item and then subtract depreciation. That method can quickly leave the policy holder with pennies on the dollar, and that's why Moree says he almost universally recommends replacement cost policies, which will give the renter money to go out and replace the item at today's prices. While there is a price difference in policies that offer replacement cost and actual cash value, the difference is negligible according to Moree, who says the point of renters insurance is to make you whole, which isn't something that can be accomplished with actual cash value.
2. Beware of exclusions
As with any insurance policy, there are going to be exclusions — events that keep coverage from being triggered even though there was clearly a loss. Typically, those exclusions are the same as those that affect homeowners, which means that policies won't cover things like floods or earthquakes. Those events require separate coverage.
3. Watch your deductible
One of the factors that will affect your monthly premium will be the deductible you opt for, with a higher deductible resulting in lower payments. But a renter shouldn't pick a deductible based on saving a few dollars in monthly premiums, says Lyttle. Instead, the focus needs to be on what the renter can afford to pay out of pocket should they lose everything. Typically, a deductible can be as low as $250, but it can be as much as 5 percent of the total policy. Lyttle advises that the buyer select their deductible based on the monthly balances they typically carry in their checking account.
4. Catalogue your possessions
This isn't a requirement of any policy, but it's a good idea for two reasons. First, by using a simple work sheet that most insurers provide, a renter will be able to more accurately determine how much coverage they really need to buy. But the only way to do that is to roll up your sleeves and spend the afternoon taking a good hard look at everything you own. Second, that catalogue (which you should augment with pictures or video once you've bought the policy) will serve as an easy-to-use record in the event of a loss. Just remember to store that record somewhere safe and away from your dwelling.
5. Consider working with an agent
The truth is that you could buy a renters policy online without ever having to speak to an insurance agent, but you'd be well advised to work with an agent, says Moree. A knowledgeable agent can help you determine the amount of coverage that is right for you and help you find the best deal. But according to Portman, there's another good reason to work with an agent — clarity. While insurance policies are supposed to be written in plain English, the terms can often be confusing and there's no substitute for being able to ask an expert.
6. Know the limitations of your policy
While limitations on your policy can sound like a negative, most renters may be surprised to learn that a policy could cover damage or loss to their property well beyond the confines of their dwelling. A buyer will have to check the fine print on their policy, but Moree offers two compelling examples. "Some policies may cover you for losses incurred outside your home," he says.
"Suppose you go to the gym and leave your Blackberry, your watch and some nice clothes in a locker. If that stuff is stolen, it will cost you a lot of money to replace, but it is likely covered under some policies." Similarly, Moree points out some policies will cover you for possessions lost in a car that is damaged or stolen. "You would be wrong to assume that your auto insurance covers the property in your car," Moree says. "But often times a renters policy will cover those items should your car be stolen or damaged in an accident."
While only a few states require renters insurance, and while many renters may never have to file a claim on their policy, there's no getting around the peace of mind enjoyed by those who do have coverage. Theft and catastrophic loss do happen, but when they happen to those without renters insurance or the financial means to get themselves back on their feet, it's only the beginning of the tragedy.