BankAmericard® Secured Credit Card review
At Bankrate we strive to help you make smarter financial decisions. While we adhere to strict editorial integrity, this post may contain references to products from our partners. Here's an explanation for how we make money.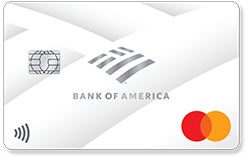 Annual Fee:

None

Purchase Intro APR:

N/A

Regular APR:

22.99% Variable
Terms and Restrictions Apply
Bankrate Rating
Our writers, editors and industry experts score credit cards based on a variety of factors including card features, bonus offers and independent research. Credit card issuers have no say or influence on how we rate cards.
This card offer is currently unavailable on Bankrate. To see more cards in this category, please visit our bad credit category page.
BankAmericard Secured Credit Card Overview
The BankAmericard Secured Credit Card provides access to credit in a simplified way and also happens to be an ideal starter credit card. As a secured credit card, it allows consumers to access credit while building their credit score at the same time, reducing the bank's risk thanks to the secured deposit. It also happens to be a little more cost-effective than some cards in this category with both its APR and annual fee.
Want more details? Jump to the following sections:
What are the advantages and disadvantages?
Advantages
Applicants with no and low credit scores use this card to rebuild their credit scores
No annual fee
The opportunity to convert to unsecured
Disadvantages
High APR
No rewards or special benefits
No cash back
A deeper look into the current card offer
Quick highlights
Rate: N/A
Welcome Offer: Deposit return after successful assessment
Annual Fee: $0
Purchase Intro APR: N/A
Balance Transfer Intro APR: N/A
Regular APR: 22.99 percent variable
BankAmericard Secured Credit Card: Welcome offer
While there isn't a traditional offer of points or cash back rewards, Bank of America does soften the lack of bonuses slightly with its promise to return the security deposit based on how you handle the account. For cardholders, this is great motivation to use the credit card account wisely, apart from the obvious boost to their credit scores.
BankAmericard Secured Credit Card: Benefits
While this card is focused on helping cardholders build a credit score, it also addresses some other concerns cardholders might have such as card safety and the access to convenient payment solutions.
This card is also useful when you have an existing credit card balance on a card that doesn't have a good rating and you're looking to pay off the balance without incurring further credit bureau issues.
Access to balance transfer
This is an unusual feature on a secured credit card. However, it provides the cardholder with the opportunity to rebuild their credit from scratch without worrying that an existing credit card with a bad history will delay their progress. While the APR and balance transfer fees are substantial, it does provide a good opportunity.
Access to FICO score
An advantage of being a Bank of America customer is that you'll have access to your FICO score. This helps in your journey to rebuild your score because you can see which elements on your credit history affect your credit rating.
Overdraft protection
This optional feature helps prevent card declines when you're making a purchase by linking your credit card to your checking account. If there are funds in your checking account, the transaction will be approved.
$0 liability guarantee
This guarantee ensures cardholders aren't held liable for fraudulent transactions. Cardholders are required to keep their card details secure.
Rates and Fees
Credit cards designed to assist cardholders with rebuilding their credit score often have inflated fees and costs to cover the risk aspect of the card. While the BankAmericard Secured Credit Card reduces costs by doing away with the annual fee, there are other fees you should consider.
Overdraft protection fee: $12 per transaction
Wire transfer from a nonfinancial institution and specified cash advances: $10 or 5% of the transaction, whichever is greater
Balance transfer and cash advance fee: $10 or 3 percent of the transaction, whichever is greater.
Late payment fee: Up to $40
Returned payment fee: Up to $29
How BankAmericard Secured Credit Card compares to other secured credit cards
BankAmericard Secured Credit Card's toughest competitor is undoubtedly the Discover it® Secured Credit Card. It offers similar APRs, and there is the chance to have the card changed into an unsecured credit card. It also provides a straightforward approach to security deposits. Discover it® Secured Credit Card does pull ahead with its rewards and might just be a better option just because of that. However, those who require a higher credit limit (and quality for it) should stick to BankAmericard Secured.
The Capital One Platinum Secured Credit Card is a strong contender with the BankAmericard; however, it offers a low credit limit and the purchase APR is much higher. The balance transfer fee for this card is $0 at the transfer APR, and it's not clear whether a cardholder's deposit is returned if their credit score improves.
BankAmericard® Secured Credit Card
Discover it® Secured Credit Card
Capital One Platinum Secured Credit Card

Security deposit

$300 to $4,900
$200 to $2,500
$49, $99 or $200 initial deposit and then up to $1,000 after approval
Intro APR
N/A
N/A
N/A
Standard APR
22.99% variable
22.99% variable
26.99% variable
Annual fee
$0
$0
$0
Balance transfer fee
3% or $10 per transaction, whichever is greater
3% intro balance
transfer fee, up to 5%
fee on future balance
transfers (see terms)*
$0 at the transfer APR
Deposit return
Yes, after satisfactory review
Yes, after satisfactory review
Yes, after satisfactory review

Special offer

Access to free FICO score update and credit education material
2% cash back on first $1,000 in combined purchases at gas stations and restaurants each calendar quarter, then 1%. Earn unlimited 1% cash back on all other purchases

Personalized payment date
Best cards to pair with BankAmericard Secured Credit Card
As this is a very specialized card, there aren't many other options for cardholders. However, once cardholders have managed to build up their credit score, they can expand their card portfolio. The BankAmericard Secured Credit Card doesn't offer cash back or rewards points, which means there is a number of other cards to fill the void. The Wells Fargo Propel American Express® card is a great all-rounder that doesn't charge an annual fee, and the points earned don't expire as long as the account remains open.
Bankrate's take—Is the BankAmericard Secured Credit Card worth it?
Considering that cardholders don't have to worry about an annual fee and are charged a reasonable APR for this type of card, the BankAmericard Secured Credit Card is worth applying for. While it can do with a few extra benefits or the introduction of a rewards program, it does what it sets out to do: assist clients in rebuilding their credit.
Converting the card from secured to unsecured might not be a worthwhile pursuit unless it's to increase your credit score a little more. If at the time of the review, your credit score has improved a lot, it would be better to move over to a 0 percent APR card that has a balance transfer option and rewards that would suit your needs.
All information about the BankAmericard® Secured Credit Card and the Wells Fargo Propel American Express® Card has been collected independently by Bankrate and has not been reviewed or approved by the issuer.