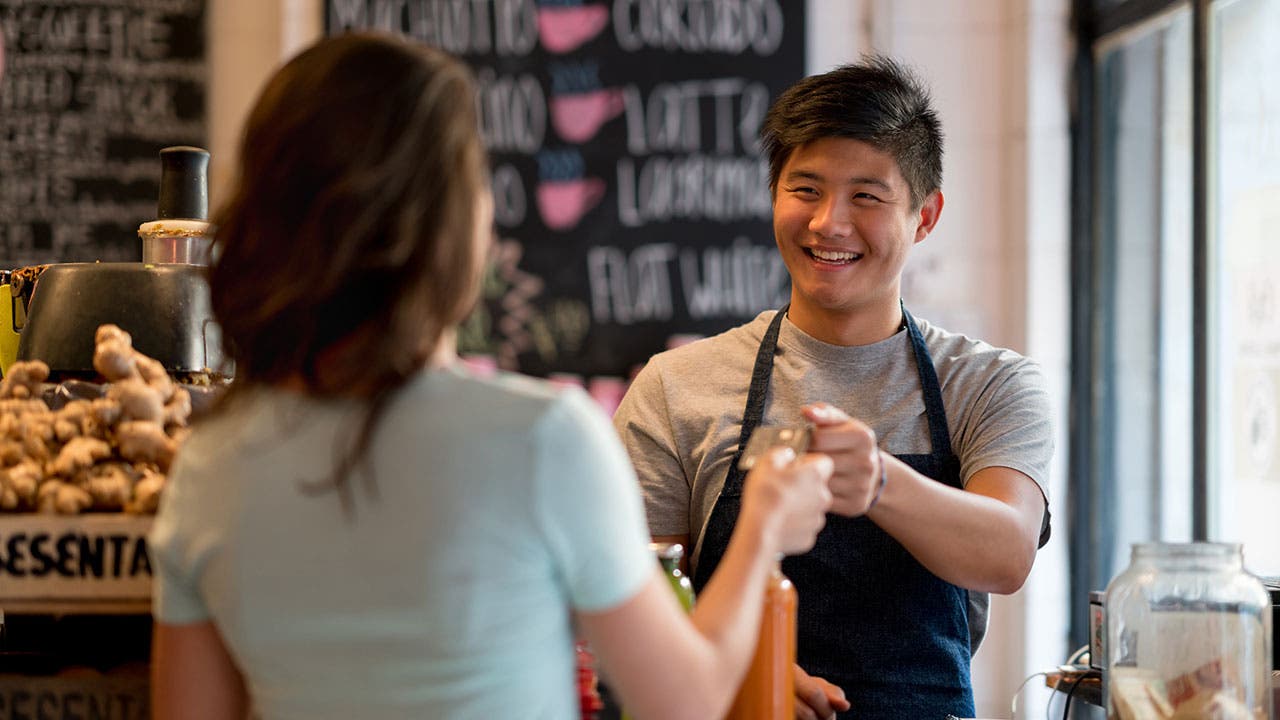 Building credit is important to overall financial wellness. Whether you're renting an apartment for the first time or applying for a mortgage, your credit score is a factor.
There are plenty of options for building credit – and one in particular is applying for a charge card. No, charge cards may not be as essential to the life of your credit as credit cards are, but they still have an affect. Here's how:
The difference between a charge card and a credit card
While a charge card has the same look as a credit card, it definitely has a different feel. The biggest difference between the two is that a charge card requires payment in full every month, whereas a credit card only requires a minimum payment to stay in good standing.
Credit cards also come with preset spending limits and interest rates, which protect against overspending. A charge card doesn't have a credit limit or an interest rate, but that doesn't mean it offers unlimited spending. The issuer of the card can deny purchases based on your spending history and how much it thinks you can pay back.
Why get a charge card
If you have good to excellent credit, this is a great option. Because a charge card gets paid off each month, it allows you to build a credit history without accumulating debt. Of course, this also means that you will need to have a way to make sure you can keep up with your monthly payments.
Charge card options
The application for a charge card is very similar to that of a credit card, and the main issuer of charge cards is American Express (also known as Amex). Amex offers quite a few options. For starters, there's the American Express Green Card, which has one of the lowest annual fees among charge cards. However, it also offers the lowest rewards. You'll earn 2X Membership Rewards points for every $1 spent on Amextravel.com and 1 point per $1 spent on all other purchases.
If you're looking for a charge card that offers more rewards, the American Express® Gold Card is the next tier up. This card offers 4X Membership Rewards points at restaurants worldwide and at U.S. supermarkets (on up to $25,000 in purchases annually, then 1x). You'll also earn 3X Membership Rewards points on flights booked directly with airlines or on amextravel.com. The annual fee for this card is $250.
If you're an avid traveler, The Platinum Card® from American Express has fantastic travel rewards. You'll get 5X Membership Rewards points on flights booked directly through the airlines or through American Express Travel. You'll get this same rate for prepaid hotels booked through amextravel.com. You also get other perks like Uber VIP status, baggage and airline fee credits and statement credit.
Increasing the line of credit on your charge card
According to the Amex website, after 60 days of opening your account, you can request a credit line increase. Amex allows you to make the request online. However, it's important to note that according to Danielle Fagre Arlowe, Senior Vice President of the American Financial Services Association, this may trigger a hard pull on your credit report that could affect your score.
How a charge card affects credit overall
A charge card doesn't have the same impact on your credit score that a credit card does. A charge card has no credit limit, which means it won't figure into your credit utilization rate, even if you have a huge debt.
The debt does, however, have other effects on your credit score. According to myFICO.com spokesman, Anthony Sprauve, the balances on charge cards are used when adding up the total debt you owe across all of your accounts.
Sprauve also points out that your payment history on your charge card is included in your FICO credit score as well. That means that paying off your charge card on time every month will give your credit score a boost. However, if you miss payments, you'll have to deal with penalties, late fees and most likely a hit to your credit score.
Adding an authorized user
Knowing that a charge card can help your credit score, you may be thinking of adding a friend or family member as an authorized user so that they can have the same benefit. According to Barry Paperno of CreditCards.com, adding an authorized user to a charge card can help them boost their score in three areas: payment history, length of credit history and when making purchases of big-ticket items.
However, as mentioned previously, charge cards don't affect credit utilization calculations. So, their ability to boost their credit score through purchases alone is limited.
Bottom line
Charge cards are a great option for building upon good credit, though keeping up with your monthly payments is key to seeing the biggest boost. You will also have the benefit of receiving a line of credit without preset minimums or interest rates.