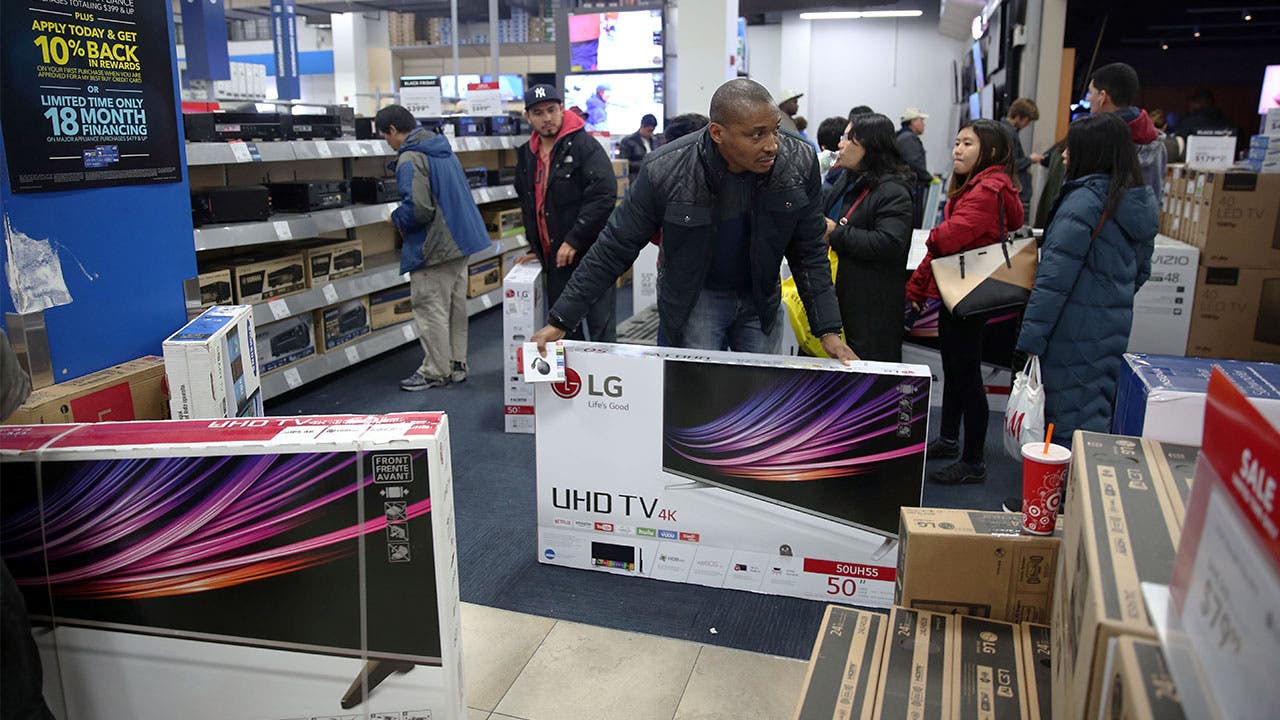 Editors Note: Offers on this page may have expired.
When it comes to saving money and even scoring freebies on Black Friday, there are more options than skipping Thanksgiving dinner to camp out in a parking lot or setting your alarm for midnight to get online deals.
Using credit cards cleverly by taking advantage of new sign-up offers as well as activating category spending to maximize rewards is an easy way to magnify your savings.
How to choose a card
The type of card you should sign up for depends on your shopping goals and budgetary requirements. For example, if you want to make a large purchase but don't want to pay for it all at once, then you can lock in the low Black Friday price by using a 0% intro APR card.
This is basically a sign-up offer that allows new cardholders to carry a balance for a certain amount of time, typically a year or longer, without accruing interest. You can think of it as an interest-free loan with rewards. Just be sure to pay off the balance before the regular APR kicks in, otherwise you could end up losing the perks and owing a big chunk in interest payments.
For those who want to pick up some extra cash just for shopping, consider a card that offers a cash-back sign-up bonus. These cards typically require new cardholders to spend a minimum amount within 90 days. If you're already planning to drop a bundle, then you'll likely meet the spending requirement without even trying.
Finally, if your shopping list contains items from a particular store, it's smart to check out what that store credit card offers. Sometimes store cards have generous new cardholder perks, so don't let those slide by.
Here's are some Black Friday-worthy cards and how they can be used to get even more value from the one of the year's biggest shopping days.
Rotating category cards
Through Dec. 31 2017, these cards offer premium cash-back rewards at big-name retailers:
The Chase Freedom card pays 5% cash back on up to $1,500 worth of purchases at a major big box retailer known for its rock-bottom prices.
The Discover it® Cash Back card lets you enroll every quarter to earn 5% cash back on up to $1,500 in purchases made in various categories throughout the year 
Convenient shopping redemption
Cut out the middle man and pay for goods directly with your points. Chase Sapphire Reserve lets you instantly redeem your points on Amazon, making it easy to shop with rewards you earn.
Cash-back sign-up bonus
Snag a little extra cash just for shopping. The Capital One Quicksilver Rewards Credit Card gives new cardholders a one-time $150 cash bonus after spending $500 on purchases within three months from the account opening.
0% intro APR cards
If you want to make a big purchase, but don't want to pay for it all at once, a 0% intro APR card is the way to go:
Citi ThankYou Preferred Card offers new cardholders a 0% intro APR on purchases and balance transfers for 15 months. After that, you'll pay a variable 14.74% to 24.74% based on creditworthiness. Plus, you'll earn 2 ThankYou points for every $1 spent on dining and entertainment and 1 ThankYou point on all other purchases.
The Bank of America Cash Rewards Credit Card also comes with a 0% intro APR for 12 billing cycles for purchases and on balance transfers made in the first 60 days. After that the APR shoots up to between 14.24% and 24.24% depending on creditworthiness. Plus, you can get $150 online cash rewards bonus after spending at least $500 on purchases in the first 90 days of the account opening.
Store cards that offer perks
Whether you tend to shop at one store consistently or you know you'll be making a lot of purchases at a particular retailer this season, it's important to review store card offers. Sometimes you can save quite a bit money and earn exclusive rewards through store cards. Whenever possible, pay off the balance each month, as store cards often come with very high interest rates. Here are several good picks:
LOVELOFT Mastercard cardholders earn 5 points for every $1 spent at LOFT, LOFT.com, LOFT Outlet, Ann Taylor, AnnTaylor.com or Ann Taylor Factory Stores, 2 points for gas and groceries and 1 point for every $1 spent elsewhere.
Amazon Rewards Visa Signature  cardholders will earn 3% back at Amazon.com, 2% back at restaurants, gas stations and drugstores and 1% back on all other purchases. New cardholders will get a $50 Amazon gift card, which will be instantly loaded into their Amazon.com account.
Kohl's Charge Card offers a generous 30% off savings on your first purchase, then get another 15% off when your card arrives in the mail. If you spend spend $600 on your Kohl's card, you will become a Most Valued Customer (MVC) and receive at least 18 discounts a year.
Barnes & Noble Mastercard pays 5% back on all Barnes & Noble purchases. Plus, new cardholders will earn a $25 Barnes & Noble Gift Card after their first purchase.