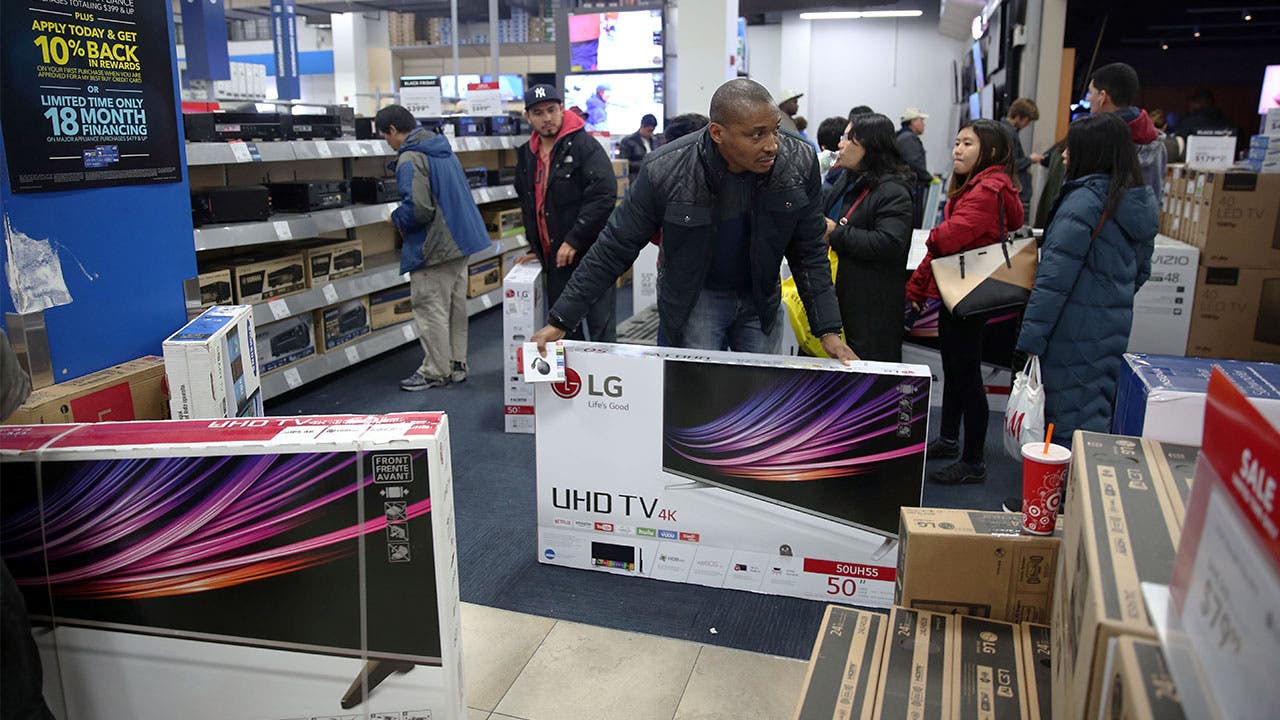 The Bank of America content in this post was last updated on September 3, 2019.
Black Friday enthusiasts are gearing up for the VIP discount shopping event of the year. Part of that preparation is knowing the best credit cards to get the maximum discounts.
"Holiday shopping is an excellent time to maximize credit card rewards because it's typically our busiest spending season of the year. That makes it easier to qualify for sign-up bonuses, which usually require new cardholders to spend at least $500 in the first three months," says Ted Rossman, an industry analyst at CreditCards.com.
How to choose the right credit card
There's a card for almost all types of shopping goals and budgetary requirements. Whether you value travel perks over cash or a solid retail card over a $0 balance transfer fee card, the market offers something for everyone.
"To find the right card, consumers should think about where they typically spend their money – different cards offer different perks on travel, dining, department stores, groceries, gas and more," Rossman says.
Consumers should also consider whether or not they'll be carrying a balance. For example, if you want to make a large purchase but don't want to pay for it all at once, you can lock in the low Black Friday price by using a 0% intro APR card.
This is basically a sign-up offer that allows new cardholders to carry a balance for a certain amount of time, typically a year or longer, without accruing interest. You can think of it as an interest-free loan with rewards. Just be sure to pay off the balance before the regular APR kicks in; otherwise, you could end up losing the perks and owing a big chunk in interest payments.
For those who want to pick up some extra cash just for shopping, consider a card that offers a cash-back sign-up bonus. These cards typically require new cardholders to spend a minimum amount within 90 days. If you're already planning to drop a bundle, then you'll likely meet the spending requirement without even trying.
Finally, if your shopping list contains items from a particular store, it's smart to check out what that store credit card offers. Store cards sometimes have generous new cardholder perks, so don't let those slide by. However, store cards often have high interest rates and low credit limits, so do your research before applying.
Rotating category cards
Through Dec. 31 2018, these cards offer premium cash-back rewards at big-name retailers:
The Chase Freedom card's Q4 bonus category, which pays 5% cash back, is department stores, wholesale clubs and anywhere that offers Chase Pay. If you are planning to shop at locations like Kohl's or Macy's for Black Friday and Cyber Monday, using this card will increase your savings above and beyond the already fantastic deals that will be available.
With the Discover it® Cash Back, you can enroll every quarter to earn 5% cash back on up to $1,500 in purchases made in various categories throughout the year. Lucky for Black Friday and Cyber Monday deal-seekers, Discover's Q4 bonus category is Amazon.com purchases. This means that you can net 5% cash back on the Black Friday and Cyber Monday deals that you take advantage of this season. This will remain the bonus category through the Christmas season, allowing cardholders to rack up the cash back as they find the perfect gifts for everyone on their shopping list.
Convenient shopping redemption at Amazon.com
Some cards make it easy for you to shop directly with your points at the world's largest online retailer. Amazon.com is already rolling out early Black Friday deals and they recently announced free shipping on everything through the holiday season.
To turbo-charge your Amazon experience, use its Shop with Points program. It allows you to link accepted credit cards to your Amazon account, giving you the option to buy goods with rewards points.
Shop with Points credit cards include:
Cash-back sign-up bonus
If you're in the market for a new credit card, consider one that gives you free money just for shopping. Sign-up bonuses are a popular way for credit card companies to lure consumers to their cards — and they can be helpful for shoppers around the holidays. Here are a few cards that offer cash back when you sign up:
0% intro APR cards
If you want to make a big purchase but don't want to pay for it all at once, a 0% intro APR card is a smart option:
The Citi ThankYou Preferred Card offers new cardholders a 0 percent intro APR on purchases and balance transfers for 15 months. After that, you'll pay a variable 15.49 to 25.49 percent based on creditworthiness. Plus, you'll earn 2 ThankYou points for every $1 spent on dining and entertainment and 1 ThankYou point on all other purchases.
The Bank of America Cash Rewards Credit Card also comes with a 0 percent intro APR for 15 billing cycles for purchases and on balance transfers made in the first 60 days. After that, the APR rises to between 15.99% – 25.99% percent, depending on creditworthiness. Plus, you can get $200 online cash rewards bonus after spending at least $1,000 on purchases in the first 90 days of the account opening.
Store cards that offer perks
If you plan on snagging deals at particular stores this season, it's worth looking into their retail credit card options. Some stores offer attractive rewards that add up — especially if you have a long list of gifts to buy.
Whenever possible, pay off the balance each month, as store cards often come with very high interest rates. Here are several good picks:
LOVELOFT Mastercard cardholders earn 5 points for every $1 spent at LOFT, LOFT.com, LOFT Outlet, Ann Taylor, AnnTaylor.com or Ann Taylor Factory Stores, 2 points for gas and groceries and 1 point for every $1 spent elsewhere.
Amazon Rewards Visa Signature cardholders will earn 5 percent back at Amazon.com and Whole Foods Market, 2 percent back at restaurants, gas stations and drugstores and 1 percent back on all other purchases.
Kohl's Charge Card offers a generous 30 percent off savings on your first purchase, then another 15 percent off when your card arrives in the mail. If you spend spend $600 on your Kohl's card, you will become a Most Valued Customer (MVC) and receive at least 18 discounts a year.
Barnes & Noble Mastercard pays 5 percent back on all Barnes & Noble purchases. Plus, new cardholders will earn a $25 Barnes & Noble Gift Card after their first purchase.
Target REDCard offers cardholders an automatic 5 percent savings on all purchases and free two-day shipping on thousands of items. Plus, cardholders get exclusive early access to Black Friday deals starting on Nov. 21 on Target.com