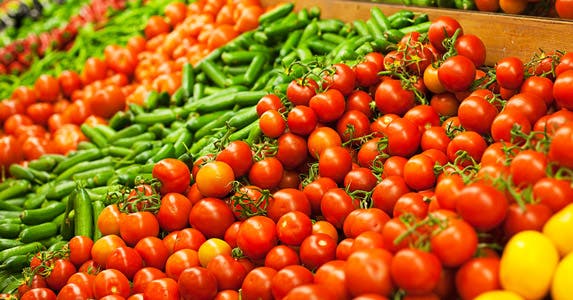 Save cash with local, seasonal produce?
Summer is nearly here, and grocery stores are bursting with fruits and vegetables. Some of the produce may be from farms nearby, while some could be from another continent. With the bountiful summer produce rolling in and prices dropping, is it possible to save money by choosing only locally grown food?
"It can be, but isn't always," says Kerri-Ann Jennings, a registered dietitian, nutrition consultant and health writer in Vermont.
"In terms of flavor and quality, I would argue that buying in season, locally is generally the best way to go," she says.
Though produce in season will nearly always be cheaper, the economics of buying locally grown food are complicated. Specialization and economies of scale can drive down the cost of veggies grown for larger shipments. But cost is not always the most important aspect of food. Taste, for many, is even more important than cost, and some locally grown produce will just always be better.
Each week, one of Bankrate's personal finance reporters is investigating new ways to save and chronicling the journey. This week, I tried to buy only local produce to see what would happen to my budget.
Read on to find out.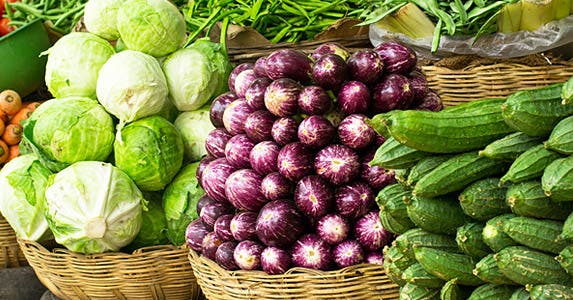 Organic vs. local
It can be a struggle to find local produce that is also certified organic by the Department of Agriculture. While I like to buy organic fruits and vegetables, there is a serious shortage of local organic produce in my area.
That doesn't always have to be a deal-breaker, I found out. There are plenty of reasons why a small, local farmer may not have certified-organic produce; it mostly comes down to money. It's a time-consuming process to get organic certification, but small farmers may follow many tenets of organic farming.
"If you meet your farmer, you can ask questions. If you are someone who needs something that is grown ethically and safely while saving money, you can find out what they sprayed and how they solved the ethical dilemmas. It may not meet organic certification, but you get the ethical part," says Chaya Foedus, owner of PantryParatus.com.
For instance, they may be able to tell you which types of plants had trouble with pests and which required minimal pesticides, she says.
Going to local green markets and speaking to vendors can also give you a sense of how your veggies were grown.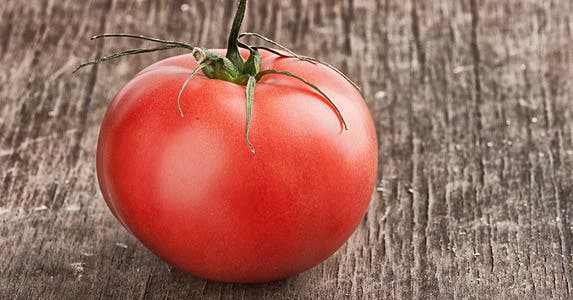 The taste factor
One of the biggest benefits of seasonal and local produce is the taste. Take the tomato, for instance. Anyone who purchases a tomato from the grocery store in December is in for a world of disappointment.
A grocery store tomato in June is much better than the sad winter fruit, but a locally grown tomato in the spring or summer is another beast entirely.
This is because, for some types of fruits and vegetables, varieties that can stand up to the rigors of shipping and transport take priority for big chain stores. Rather than selecting the tastiest tomatoes, farmers and the stores that buy from them often choose a variety that turns bright red in a uniform way, thanks to a gene mutation that makes them look ripe but taste terrible.
Most people, myself included, would pay a little bit extra for something edible.
I did it!
Produce prices in my town

Veggies
Green Apple Produce
Rorabeck's Plants and Produce
Wal-Mart
Tomatoes
$0.89
$1.29
$1.99
Eggplant
$0.99
$0.99
$1.88
Green peppers
2 for $1
$0.79
(All colors) $1.68 each
Red peppers
$1.49
$1.99
N/A
Cucumbers
$0.89
$0.99
$0.74 each
Squash
$0.89
$0.99
$1.88
Onions
$0.69 and $0.79
$0.99
$0.99
Potatoes
$0.89
2 lbs. for $1
$1.28
Note: Prices are per pound unless otherwise indicated.
I admit that I am a bit concerned with the environmental impact of conventional farming, so I tend to buy organic when possible. I rarely dine out, but I do tend to spend a little too much at the grocery store. And I've found my options limited by trying to buy only USDA-certified organic produce.
So, I hit the streets to find out if I could shop a little, or a lot, smarter. What I found was eye-opening and delicious.
I visited three stores in my area to check prices: Green Apple Produce, Rorabeck's Plants and Produce, and Wal-Mart. Here's what I found on strawberries alone. (See chart for more details.)
Rorabeck's sold beautiful, ripe Florida-grown strawberries that were $2.99 for a pint. Wal-Mart had less beautiful strawberries for $1.99 per pint.
Overall, the local produce stands had better deals on seasonal produce. Plus the vine-ripened tomatoes taste like they could have come out of my backyard. I'm a convert; it's definitely worth seeking out some locally grown fruits and vegetables.
One final bonus was the availability of more exotic foods at the produce stands. For instance, ripe plantains seem to always be on hand at Green Apple Produce, along with green bananas.
And then there's the aspect of enjoyment; it's just a little bit more fun to browse around open-air stands instead of trudging through the supermarket. In the end, I think this is a challenge I'll stick with.