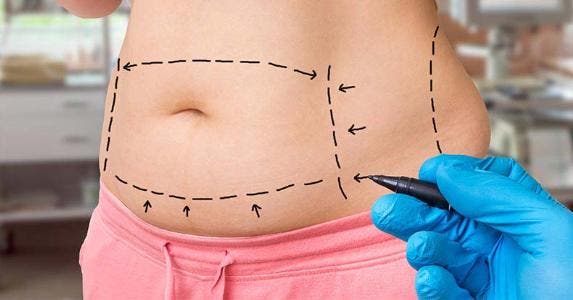 A tummy tuck — a procedure also known as abdominoplasty — is typically performed as an elective surgery for patients who want a flat stomach.
Doctors remove excess skin and fat while tightening the muscles in the abdominal wall, which provides a flatter midsection.
Common reasons for developing loose or sagging skin in the abdominal area include aging, previous surgeries, genetics and large weight fluctuations.
With this being elective surgery, how much does a tummy tuck cost?
Who is a good candidate for a tummy tuck?
The best candidates for this procedure are people who are otherwise in good health. Many patients who choose to have a tummy tuck include women who have had multiple pregnancies or people who have lost a large amount of weight.
Tummy tucks eliminate the excess fat deposits and loose skin that make individuals feel self-conscious about their image.
Anyone who plans on getting pregnant or losing a significant amount of weight may be better off postponing a tummy tuck. Other considerations for anyone considering the procedure include potential scarring and a painful recuperation.
ADVISER SEARCH: Not sure if you can afford a tummy tuck? Let a financial adviser guide you today.
Types of tummy tucks
When you're preparing for a tummy tuck, the first step is to choose a plastic surgeon. Before you even consider the cost of the procedure, you need to schedule a consultation to talk about your goals. At that point, the surgeon may recommend one of two types of tummy tucks:
Complete tummy tucks: In this type of abdominoplasty, your surgeon makes an incision across your abdomen from one hip to the other while contouring the muscle, skin and other tissue. This tummy tuck often involves repositioning the naval, and patients typically have a drainage tube placed under the skin in the area for several days.
Partial tummy tucks: Also known as mini-abdominoplasties, these tummy tucks are typically performed on patients with excess fat deposits located below the belly button. In most cases, the surgeon doesn't need to move the naval and the surgery usually takes less than two hours.
Depending on your overall health and the type of tummy tuck you receive, the surgery usually takes from one to five hours. It may be done as an outpatient procedure, or it may require an overnight stay in the hospital.
In either case, you can expect to receive general anesthesia during the operation.
Possible tummy tuck complications
Anyone considering getting a tummy tuck should be aware that this procedure isn't a substitution for a healthy diet and exercise for weight loss. The results are permanent, but they can be affected by significant weight fluctuations after the surgery. Additionally, possible complications include:
Pain and swelling: Your doctor will likely prescribe pain medication to manage your discomfort. You also might experience bruising and numbness during the first few weeks or months after the surgery.
Rare complications: Risks include infections, blood clots and bleeding in the area of the incision.
Scarring: Although everyone has some scarring in the incision area, if you don't heal correctly, the scarring can be significant.
Tummy tuck costs
Tummy tuck costs can range from $3,000 to $12,000, depending on factors such as your geographic location, the surgeon and the scope of the treatment involved in the surgery.
Extended tummy tuck prices include liposuction and fall into the high-end of the cost range, with a price tag of $11,000 to $12,000.
According to the American Society of Plastic Surgeons, tummy tuck prices average $5,500. Typical charges include:
Surgeon's fees
Surgical facility or hospital charges
Medical tests
Anesthesia fees
Medications
Post-surgical garments
If you're paying for a tummy tuck with a credit card, a 0 interest card could help keep costs to a minimum.
Insurance coverage
In most cases, patients elect to have a tummy tuck as a cosmetic procedure, which most insurance companies do not offer coverage for. If you have a medical necessity, such as when you have a hernia that can be corrected with the procedure, insurance companies may provide some coverage.
If you're unsure if your carrier provides benefits to help defray the cost of a tummy tuck, call the insurance company ahead of time to get all of the information available.
Whether or not your procedure is eligible for insurance, your surgeon may offer financing options that allow you to pay off the tummy tuck cost over time.
RATE SEARCH: Compare loans now to finance your medical procedure.