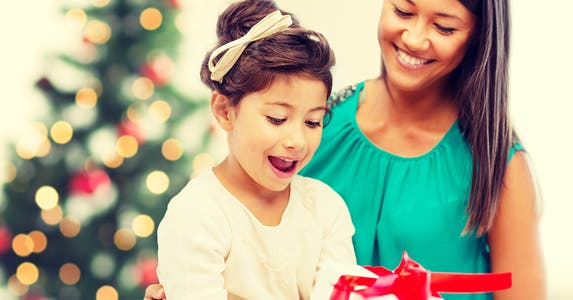 Low price doesn't mean low quality
With the economy still recovering from the recession, toymakers are responding to consumers' slimmer wallets with a variety of toys priced under $25.
"The average toy price is still $10," says Chris Byrne, content director for TTPM, a consumer website featuring toy reviews and prices. But lower prices don't translate to lower quality. "Consumers are more value-conscious than ever, but value doesn't necessarily mean how expensive it is," adds Byrne. "Parents are looking at the benefit for the money. They want toys their kids can enjoy over the long term."
It's a misconception that all children want to be glued to electronic screens, says Byrne. Many of the less-expensive toys offer kids the opportunity to learn and be creative while having fun.
"Classic activity is still an important play pattern," he adds. "There are twists on classic activities, but this type of play never goes away."
Here are 10 toys your kids will enjoy that can still fit into your holiday budget.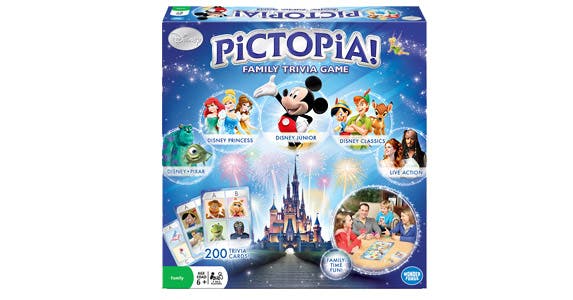 Disney Pictopia
Manufacturer: Wonder Forge
Ages: 3 to 6
Price: $19.99
You don't have to be a connoisseur of all things Disney to enjoy this trivia game, though the major characters and movies (even "Frozen") are featured.
"I played it with some kids who know Disney movies and I thought they would clean my clock," Byrne says. "But that wasn't the case. The great thing about trivia games is that it's not only what you know, but what you can figure out."
Players take turns rolling dice and moving a marker around the board. Each spot on the board contains a question, usually with multiple-choice answers. "This is all about interaction among players, which I think makes it a great family game," says Byrne.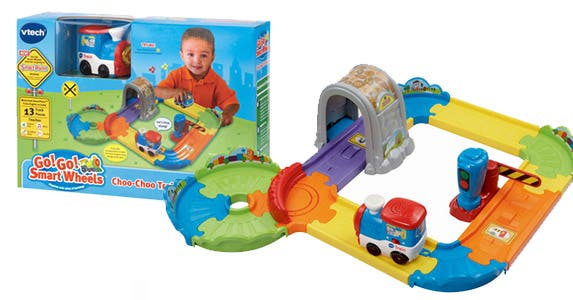 Go! Go! Smart Wheels Choo-Choo Train
Manufacturer: VTech
Ages: 1 to 5
Price: $18.99
As the motorized train passes over certain SmartPoints, it responds to sounds and phrases, giving it an educational component. For example, when it crosses a certain point, it might say "T is for train," says Byrne.
Kids also have the opportunity to build the tracks in various designs, further developing their skills and creativity.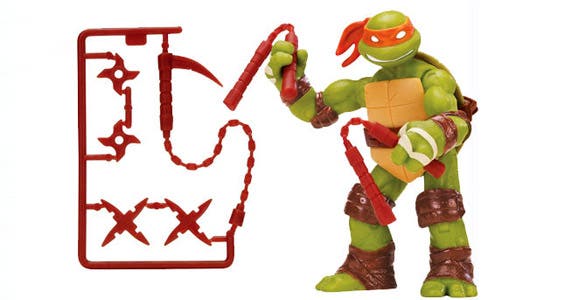 Teenage Mutant Ninja Turtles Action Figures
Manufacturer: Playmates
Ages: 3 to 8
Price: $8.99 each
They're back! And they're just as popular as ever, Byrne says of the latest mutation of Teenage Ninja Turtles. "There's nothing hotter for boys right now." He adds that this style of play never goes out of style. "It's basic power and conflict: It's hero play."
The action figures are well-made, says Byrne, and with prices under $10 apiece, boys can build a collection.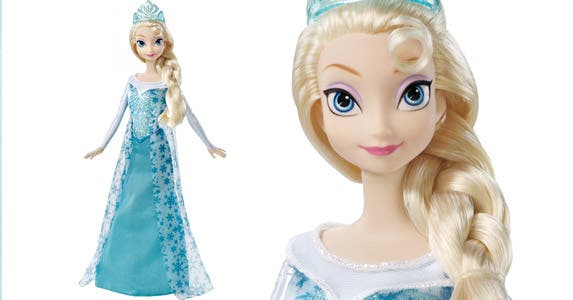 Disney 'Frozen' Sparkly Princess Elsa doll
Manufacturer: Mattel
Ages: 3 to 7
Price: $16.99
"This is a basic fashion doll, popular because of the success of the movie," Byrne says. "Pretty much anything from 'Frozen' we think will sell out this year," he adds.
The doll is based on one of the main characters in the movie, who famously sings "Let It Go." "It really looks like her," Byrne says, adding that it's been so popular that stores are already selling out. "We tell people: If you see a toy you want, buy it, because why would you want to be stressed out on Dec. 22?"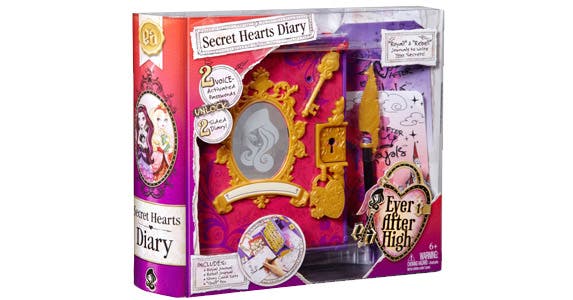 Ever After High Secret Hearts Password Journal
Manufacturer: Mattel
Ages: 6 and up
Price: $21.99
The diary is part of the Ever After High doll line, which features teen offspring of popular fairytale characters. "For example, the daughter of Snow White is Apple White," says Byrne.
The diary has two voice-activated passwords and contains two compartments with some preloaded content and space for girls to record their own thoughts. One compartment is geared toward a character's rebel side, the other toward her royal side.
"The diary puts girls in the center of the Ever After story," says Byrne. "This is sort of like a first diary, and it's fun and interactive."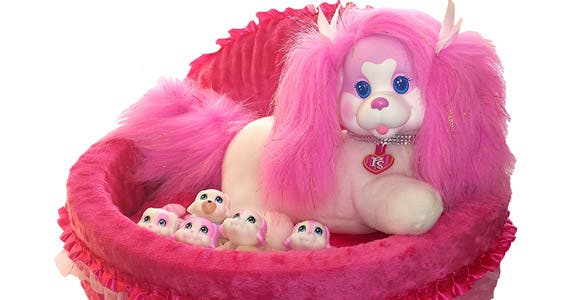 Puppy Surprise
Manufacturer: Just Play
Ages: 2 and up
Price: $19.99
These stuffed dogs each contain a "litter" of three, four or five puppies in their tummies, secured by Velcro. Once opened, the litter is revealed, with the surprise being the number of puppies.
"This dog has been reintroduced this year and already it's selling out," says Byrne. "What little girl doesn't love a litter of puppies?"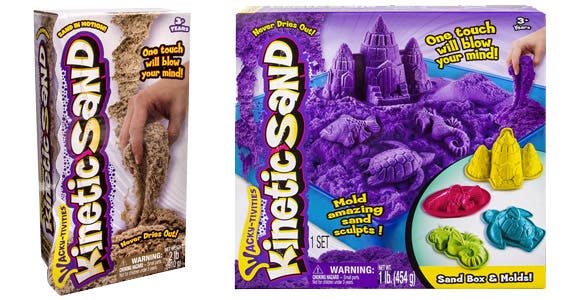 Wacky-tivities Kinetic Sand and Molds
Manufacturer: Spin Master
Ages: 6 to 11
Price: $19.99
Composed of sand with a polymer, this set comes with 1 pound of kinetic sand (that won't dry out) in a variety of colors. The sandbox and mold set provides a contained play area and a variety of molds for shaping sand.
"Kinetic sand feels like wet sand," says Byrne. "You have to take a hand in it to appreciate it and, unlike real sand, it doesn't make a mess. You can have a sandbox or a trip to the beach without leaving your kitchen."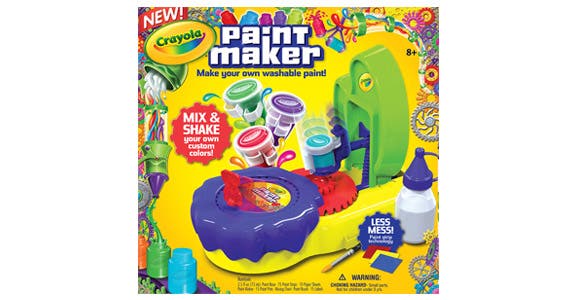 Paint Maker
Manufacturer: Crayola
Ages: 8 and up
Price: $17.49
"Last year, this company introduced Marker Maker, where kids make their own markers," says Byrne. "This year, they can make their own paint."
Kids can mix up batches of paint by using a variety of pigment strips and prepared pots. They then use a small hand-cranked mixer to blend the colors.
"Kids have the fun of custom-making a color using a recipe card, but it also lets them experience the creativity of making their own," says Byrne.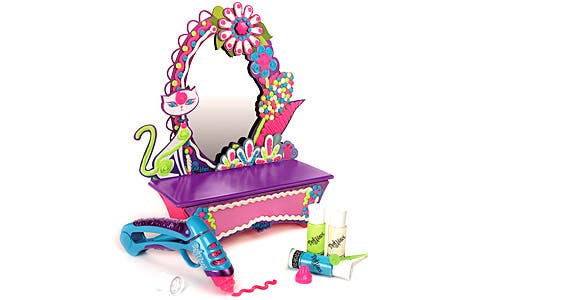 DohVinci Style and Store Vanity Complete Design Kit
Manufacturer: Hasbro
Ages: 6 and up
Price: $19.99
Made by the same company that brought us Play-Doh, this is a new compound that doesn't dry out, says Byrne.
Using a special extruder that comes with it, kids can squeeze out various designs in a variety of colors to customize the vanity table. The tools and dough can all be stored in the vanity when not in use. "It's a great early arts and crafts experience," says Byrne.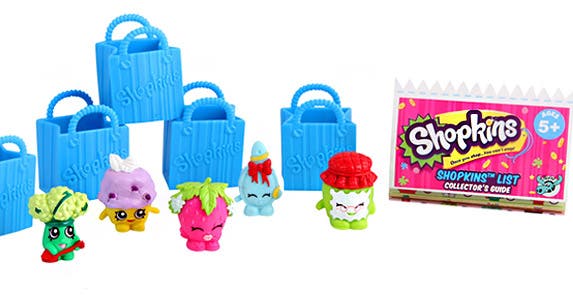 Shopkins
Manufacturer: Moose Toys
Ages: 5 and up
Price: $4.99 to $19.99
Part of a collection of toys where inanimate objects have personalities, the Shopkins are tiny, grocery-themed toys. The play sets, sold separately, include a bakery stand and a fruit and vegetable stand.
"In the toy industry, these are called finger food," Byrne says, "because they are an inch tall or less and kids can easily play with them while developing fine motor skills."