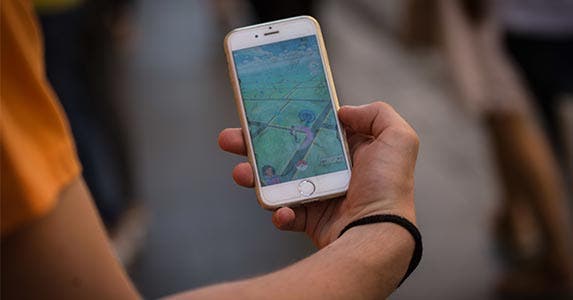 Arbitration is everywhere
If you've followed the lawsuit former Fox News personality Gretchen Carlson filed against Roger Ailes, who resigned Thursday as the cable network's CEO, you might know Carlson may never get her day in court.
Ailes has argued Carlson's contract requires that her sexual harassment claims be heard behind closed doors. A judge must decide whether the appropriate venue to hear Carlson's claims is a public courtroom or in a private hearing before an arbitrator where the testimony would be secret.
Think it couldn't happen to you? Read on.
Mandatory arbitration — a contract requiring parties to settle disputes outside of court — isn't just something that gets tossed about in high-profile situations. It's not restricted to employment matters, either.
Arbitration clauses are everywhere. If you've taken out a private student loan, bought insurance or, yes, downloaded Pokemon Go, you've probably agreed to mandatory arbitration in case of a dispute.
Any time you have any kind of contract with a company, you likely have signed an arbitration agreement, says Ira Rheingold, executive director of the National Association of Consumer Advocates: "I shouldn't say signed, I shouldn't say consented. You've clicked a button that theoretically has taken away your right to our public courts."
Here are 6 places — some perhaps surprising — you might encounter arbitration clauses and what those clauses might mean for you.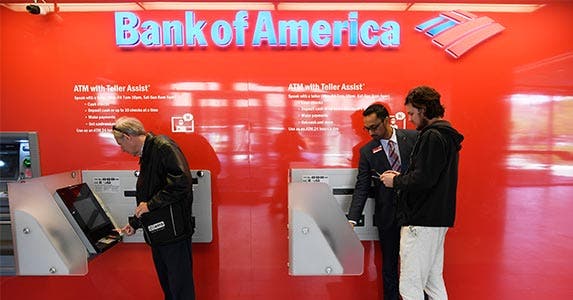 Financial services
Andy Cross/Getty Images
Bank accounts and credit cards are among a wide array of financial products that include mandatory arbitration clauses in their contracts. You'll have to agree to arbitration in a dispute if you want a checking account at a bank that has one of these clauses.
The Consumer Financial Protection Bureau calls arbitration clauses "contract gotchas" that allow companies to "sidestep the legal system, avoid accountability, and continue to pursue profitable practices that may violate the law and harm countless consumers."
In a 2015 report, the CFPB found that 44% of insured deposits, 53% of credit card issuers and 99% of private student loans had mandatory arbitration clauses.
The CPFB has proposed new rules that would prevent financial services companies from requiring customers to waive their right to participate in class-action lawsuits. Companies could still require consumers to settle individual complaints through arbitration.
The CPFB says class actions have proven to cause companies "to alter their legally questionable conduct."
Critics, meanwhile, have called the new rule a bonanza for attorneys looking to sue companies.
"In the 50 years since the advent of modern-day class-action lawsuits, plaintiffs' lawyers have made millions of dollars in fees from these suits while consumers often receive little benefit," the U.S. Chamber of Commerce said in a statement.
RATE SEARCH: Find a new checking account today at Bankrate.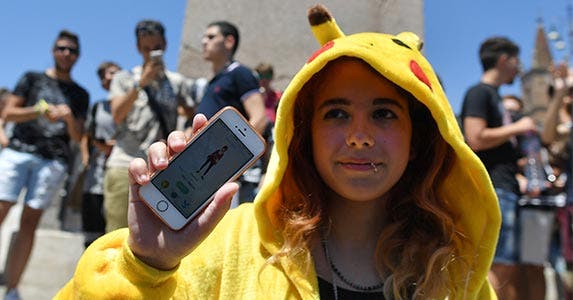 Smartphone apps
TIZIANA FABI/Getty Images
You won't encounter arbitration clauses in the legal language of every app you download, but look for them to be included in apps put out by major companies. A recent search of apps available in the App Store found 3 of the Top 10 included specific language requiring mandatory arbitration.
Minecraft Pocket Edition maker Mojang, for instance, says all disputes must be resolved either through arbitration or small claims court. The meaning of dispute "is as broad as it can be," according to the company's terms and conditions clause. "It means any claim or controversy between you and us concerning our Game, Minecraft Realms, a price" or other language in the legal agreement.
The hugely popular Pokemon Go app includes an arbitration clause, which means you can't sue, for example, in the event of a data breach, says Michael Fuller, a partner in the law firm Olsen Daines and a consumer law adjunct professor at Lewis & Clark Law School in Portland, Oregon.
"Arbitration agreements vary, but I haven't encountered one yet that is fair to consumers," Fuller says.
Instead, Fuller wrote in a recent column in the New York Daily News, "all disputes must be decided by a private arbitration firm chosen by the company, where consumers have little opportunity to present evidence or appeal a bad decision."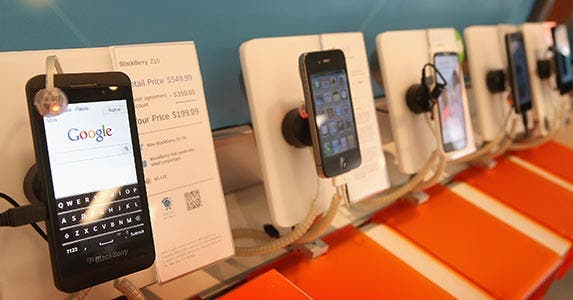 Wireless service
Scott Olson/Getty Images
The 4 major wireless services companies include arbitration language in their consumer agreements. Here's a sample of some of the language:
AT&T Wireless says it will "promptly reimburse" customers for the payment of an arbitration filing fee as long as the claim is for less than $75,000.
Sprint outlines the definition of disputes to include service coverage, devices, billing, contracts, privacy or advertising.
The Verizon arbitration clause says consumers waive their right to arbitration or small claims court on bill disputes if they do not write to the company within 180 days of receiving a bill.
T-Mobile allows consumers to opt-out of binding arbitration within 30 days of the date of device purchase or activation, whichever is earlier. This allows consumers to take a company to court in a dispute. However, both sides agree to waive rights to a jury trial.
Opt-out clauses may be seen as one way to level the playing field between consumers and companies — and they're good to use if available — but they also can be looked at as a "clever move by companies" looking to insert unfair terms without being looked at by courts as being unfair, says Paul Bland, the executive director of Public Justice, a public interest law firm in Washington, D.C.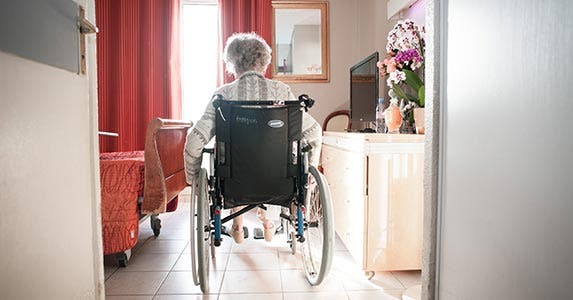 Nursing homes
BSIP/Getty Images
In 2012, the U.S. Supreme Court held that mandatory arbitration clauses used in nursing home contracts were legal. The ruling prevents states from restricting the enforceability of these clauses.
But their use has come under scrutiny. In February, The New York Times wrote about a lawsuit filed by the son of a woman murdered in a Massachusetts nursing home. The man has fought to hold the nursing home accountable in a wrongful death lawsuit, but had been bound by an arbitration clause he had signed on behalf of his mother during the admissions process.
The man says he was authorized to make medical decisions for his mother, but not legal ones. A judge agreed, allowing the case to proceed in court.
Meanwhile, the Center for Medicare & Medicaid services last year proposed new rules aimed at ensuring nursing home residents know what they're signing when they agree to arbitration.
The rule would require that:
The nursing home explain the agreement to the resident in a form and manner that he or she understands, and that the resident acknowledge that he or she understands the agreement.
The resident voluntarily agrees to arbitration.
Nursing home admission not be contingent on signing an arbitration agreement.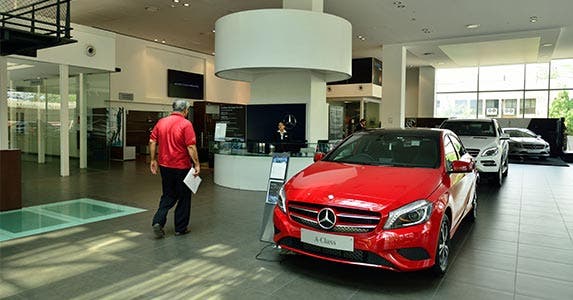 Auto dealers
Mint/Getty Images
Don't be surprised if the dealer selling you a car requires you to sign a mandatory arbitration agreement at time of purchase. It happens with some frequency, and it's not easy to get out of.
Bland says he's heard of consumers telling a dealer they'll buy a car only if they don't have to sign an arbitration agreement; the dealer always turned the offer down.
So what's so bad about arbitration anyway? First, in many cases, the matter is over a small dollar amount, like an overcharge on a bill.
"Most consumers choose not to go through arbitration. They're just out the money and that's that," Fuller says.
And when they do bring a complaint before an arbitrator, consumers won just 21% of the time, according to sample of 341 arbitration cases reviewed by the CFPB for a March 2015 study.
"The notion that one powerful side can choose the forum for these cases to be heard is un-American; it's undemocratic," Rheingold says. "And if you believe those cases are frivolous, then that's fine. We have a court system that usually takes care of those things."
RATE SEARCH: Let Bankrate help you find the best auto loan today.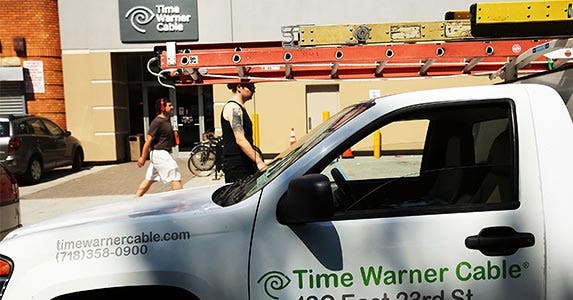 Cable and satellite TV providers
Spencer Platt/Getty Images
You didn't expect to get a free ride from the cable company, did you? Yes, the big cable and satellite TV providers also include mandatory arbitration in their contracts.
DIRECTV requires mandatory arbitration and no class action lawsuits, like many companies.
Comcast, on the other hand, takes a friendlier approach to its arbitration clause. The cable giant gives consumers a 30-day opt-out clause and promises that any "decision to opt out of this arbitration provision will have no adverse effect," meaning Comcast won't bar you from buying its cable or broadband services.
This might be smart language from Comcast because, Bland says, "people are afraid they'll be put on a list" if they try to opt out of arbitration.
Fuller, the attorney who wrote about Pokemon Go, opted out of the app's arbitration clause by emailing the company. A few days later, he hadn't heard back, but still was allowed to use the app.
Still, Fuller calls opt-out clauses "an illusory benefit" because almost no consumers read the contracts they sign, and so don't know they are either bound by arbitration or eligible to reject it.
"To me, the Constitution is clear: Consumers have a right to a jury trial over a dispute greater than $20," Fuller says.