Stay-at-home jobs for mom
If you're a stay-at-home mom, returning to the work force doesn't have to mean getting dressed up in the morning or making a long commute to corporate headquarters.
Here are some profitable work-at-home jobs utilizing skills that moms already use on a regular basis or that can easily fit into a stay-at-home mom's schedule.
Best of all, you can do these jobs from the comfort of your home office and some even in your PJs.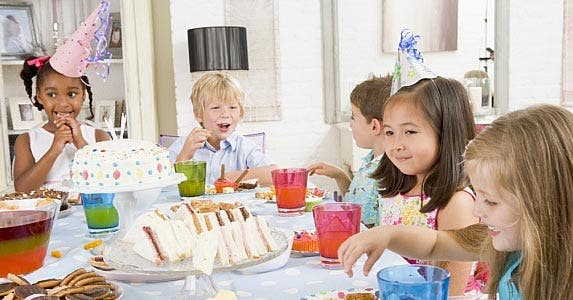 Children's party planner
Do you get a thrill planning your kid's parties every year? Turn your fairy-godmother skills into a work-at-home job as a party planner.
Income potential: Terri Reynolds started her children's party hosting business Just Imagine Parties in Saint Helena, Calif., after planning her oldest daughter's fourth birthday party.
Reynolds offers two-hour, hosted parties with fairy-tale and pirate themes, starting at $600. She works from 8:30 a.m. to 3 p.m. during the week and on weekends, when she hosts parties. Most children's party planners can make yearly incomes of $35,000, says Reynolds.
Investment required: Startup costs vary, depending on the party and whether you own equipment such as tables, chairs, linens and costumes.
"Startup costs can run up to $40,000, depending on how high-end you would like to go," says Reynolds.
Pros: This business thrives on word-of-mouth marketing from parent to parent.
Cons: Most parties take place on the weekend, taking away from family time, Reynolds says.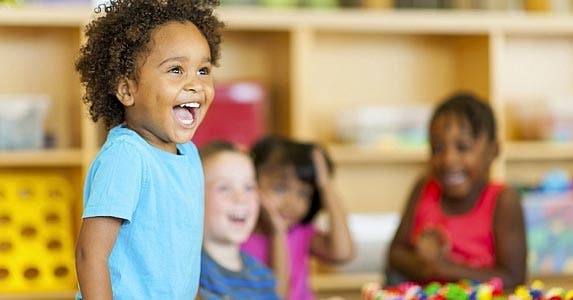 Day care provider
© Christopher Futcher/iStock.com
If you love kids and think the more, the merrier, then make your home kid central by turning it into a family day care center.
Income potential: The need for child day care services is projected to increase by 15 percent from 2008 to 2018, according to the Bureau of Labor Statistics. Weekly earnings for such services averaged $345 in 2008, the BLS says.
Investment required: Your state or local government may require special licenses and background checks. Your home may have to meet code requirements, often including testing and abating for lead, asbestos and other hazards.
Depending on the age of your home, your initial startup costs could be minimal to several thousand dollars.
To start The Creative Play House, her home-based preschool in Portland, Maine, Willa Vennema spent $600 to install smoke alarms and $1,200 for a fence. Learning materials and toys cost an additional $700. A contractor estimated a cost of $5,000 for lead abatement, but Vennema did the work herself.
Pros: You can be at home with your own kids while supplementing your family's income, Vennema says.
Cons: The day care part of your home will need to be kept clean and childproof at all times.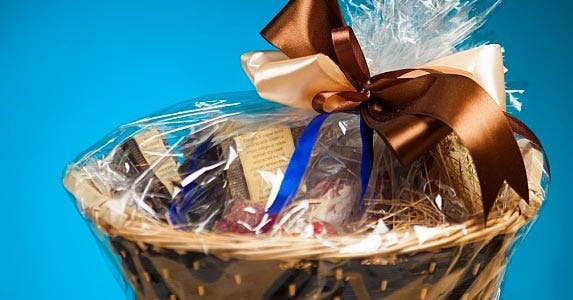 Gift basket maker
© nikkytok/Shutterstock.com
Gift basket sales combine creativity and presentation skills with little startup cost and low overhead.
Income potential: A Gift Basket Review survey showed 72 percent of respondents reported annual gross sales of at least $50,000, with 27 percent saying sales topped $200,000. Corporate gift baskets average $61.89 and baskets for birthdays, and get-well and sympathy occasions average $48.41.
Caren Hill, owner of The Ultimate Goodie Bag, a Charlotte, N.C.-based business for children's party giveaways, averages $5,000 to $7,000 in monthly sales. Most of her goodie bags sell for $8 to $10 each.
Investment required: Startup costs for this work-at-home job will depend on the types of items you offer, says Hill. Hill's initial investment was $10,000, $7,500 of which she spent on a website.
Pros: Your schedule is more flexible than with an >office job, giving you time to take your kids to school and pick them up, says Hill, who spends five to 10 hours working each week.
Cons: Customers may want to see your gift baskets up close. So, you may have to take the items to them or have customers come to your home.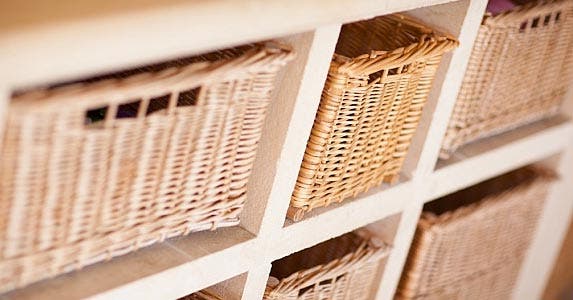 Professional organizer
© Mihail Zhelezniak/Shutterstock.com
Scattered toys. Cluttered closets. Piles of files. Many households and businesses need serious help when it comes to taming such chaos. If you have a knack for order, this may be the work-at-home job for you.
Income potential: Tamara Myles, owner of An Organizing Hand in North Easton, Mass., and a stay-at-home mom of three children, earns $40,000 per year as a professional household organizer. While Myles charges $65 per hour and limits her billable hours to 12 hours weekly, rates range from $50 an hour for those just starting out and up to $250 an hour for experienced organizers.
Investment required: Eighty percent of the first year's income is often spent on marketing, according to the National Association of Professional Organizers in Mount Laurel, N.J. Myles spent $500 to design her website, Anorganizinghand.com, with before and after photos of her projects.
Pros: Professional organizers typically work with clients on site in three-hour blocks, so it's easy to fit into school-day schedules.
Cons: Factor unpaid "work" into your schedule. For every billable hour of work, Myles spends an hour on marketing, including attending industry-related conferences and networking events.
Seamstress
© Diego Cervo/Shutterstock.com
Handy with a needle and thread and know your way around patterns and pincushions? Turn your craftiness into cash.
Income potential: Full-time dressmakers earn an average annual salary of $24,728, according to ERI Economic Research Institute in Redmond, Wash. Seamstresses with one year to four years of experience earn an hourly rate of $8.06 to $11.96, according to a Payscale.com survey.
Investment required: You'll need one or several specialized sewing machines and other related tools, depending on the sewing services you provide. At SewingMachineOutlet.com, a basic model ranges from $100 to $400, with advanced machines costing up to $2,000. Fabric is supplied by the customer.
Pros: You have built-in customers. Not every parent can sew a costume for the school play.
Cons: You'll have to go to a client's home or have the client come to your home to drop off materials and take proper measurements.