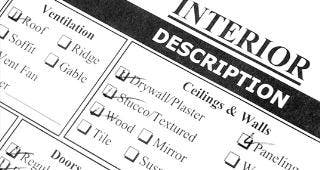 Dear Insurance Adviser,
We are in the process of purchasing a home. Do we need to have the home inspected in order for the insurance company to give us a quote on homeowners insurance, or would they do their own inspection to arrive at a policy premium?
— Matt
Dear Matt,
You will not have to pay to have your own inspection done. In most cases, an insurance agent will determine the cost of replacing your home using a computer program designed for that purpose.
The goal of this exercise is to estimate, as closely as possible, the cost of rebuilding your home. In the event of a major storm or fire, you want the insurance company to pay for the full replacement cost of the damage without any deduction for depreciation.
Like all computer results, the output is only as good as the accuracy of the input. Make sure you check over the replacement cost estimate to be certain it's accurate. Make sure the square footage and all the home features are correct.
If your home is architecturally unique and/or of high value, the insurance company might request and pay for an independent outside appraisal. Here again, take a close look at the accuracy of the data. I estimate that at least 15 percent to 20 percent of these appraisals have some significant errors.
You want to start by insuring your home for 100 percent of the estimated replacement cost.
Then, protect yourself against underinsurance by adding one of two endorsements, depending on the insurance company. These endorsements kick in when your home is totally destroyed:
Extended replacement cost pays up to an additional 25 percent.
A home replacement guarantee, offered by some insurers, is a guarantee to fully rebuild, no matter the cost.
Needless to say, especially if your home is older or architecturally unique, try to work with an insurance company that offers the full guarantee.
One final tip if you have an older home: Be sure to buy plenty of building ordinance coverage. The home replacement guarantee only pays for the cost to build the home that you have now — not the home that building ordinances require you to build.
Good luck!
Compare homeowners insurance rates to find the best deal.
Ask the adviser
To ask a question of the Insurance Adviser, go to the"Ask the Experts" page and select "Insurance" from the drop-down box. Read more Insurance Adviser columns.
Bankrate's content, including the guidance of its advice-and-expert columns and this website, is intended only to assist you with financial decisions. The content is broad in scope and does not consider your personal financial situation. Bankrate recommends that you seek the advice of advisers who are fully aware of your individual circumstances before making any final decisions or implementing any financial strategy. Please remember that your use of this website is governed by Bankrate's Terms of Use.