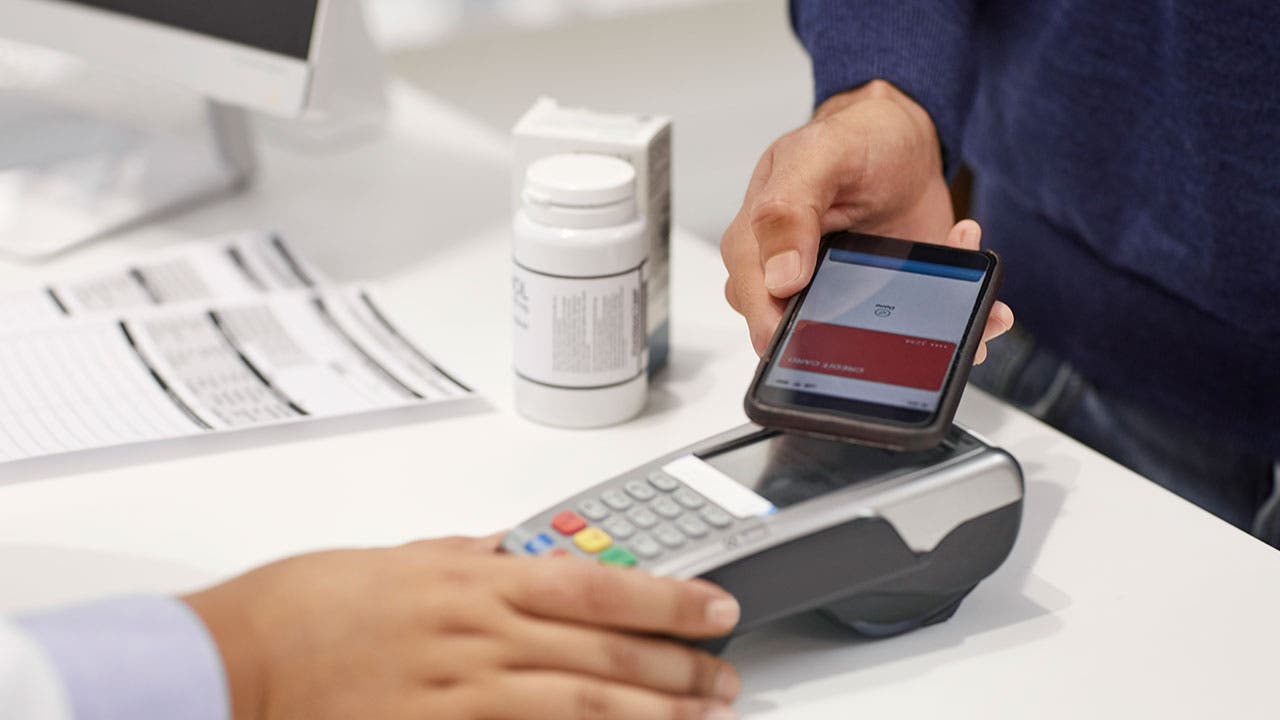 Editor's note: Some of the offers on this page may be expired. Check out our Best Credit Cards page for the most up-to-date offers for our favorite credit cards.
Cash, check, credit cards and debit cards have long been the only ways people paid for products and services. But new technologies have given consumers a dizzying array of other options as well.
Chief among them are mobile wallets.
A mobile wallet can turn a smartphone into an access device to connect with a payments network. Mobile wallet technology explains why you can now pay for things by waving your smartphone (or even your smartwatch) over the merchant's chip reader instead of reaching into your pocket.
If you've never used a mobile wallet before, you might be curious about how it works — and why it could be a better option than a credit card. Read this guide to learn how mobile wallets work, the pros and cons of using a mobile wallet, and which mobile wallet might be right for you.
How mobile wallets work
Think of a mobile wallet as the virtual version of the wallet you carry with you every day. Your wallet might include a travel credit card and a cash back credit card, for example; your mobile wallet includes those two cards as well, but it stores the credit card information virtually.
A mobile wallet can also store coupons, reward cards, gift cards and so on. A password or PIN might be required to access the information for security purposes.
When it comes time to pay, just select a credit card on your digital wallet the same way you'd pull a credit card out of your physical wallet. Many people put the majority of their purchases on the same credit card, which makes mobile wallet payment quick and easy — all you have to do is open the app and hold your smartphone against the payment terminal.
Mobile apps use near-field communication, or NFC, which enables the smartphone to communicate with the payment terminal at the point of payment. Typically, the consumer taps or waves the mobile device to allow the payment terminal to access the stored payment credentials.
You can also use mobile wallets to streamline online purchases. No more entering your 16-digit credit card number!
Mobile wallet versus credit card
Mobile wallets aren't so different from plastic credit cards in the sense that both are processed through the same payment networks.
What's different is that the credit card number, expiration date and other information are stored in a mobile app or chip on the smartphone instead of on a plastic card with a magnetic stripe or chip.
Benefits of a mobile wallet
Disadvantages of a mobile wallet
Popular mobile wallet options
Here's a quick overview of some of the top mobile wallets. Follow the links to get our full-length guides, and learn which mobile wallet is right for you.
Pay it safe
Despite the wow factor of mobile wallets, many people still prefer traditional payment methods, which are convenient, familiar and widely used.
If you're holding off on mobile wallets because you're concerned about security, be aware that digital wallet providers are working hard to ensure their technology is equally or more secure than using a traditional plastic credit or debit card. The major mobile wallet providers have security overviews where they outline everything they've done to keep your information safe — here's a link to Apple Pay's security and privacy overview, as an example — so take some time to read through them and learn how these services are storing, using and sharing your information.
So consider trying a mobile wallet, and see if it makes your life easier. If you don't like it, you can always go back to using your credit and debit cards.
Cash still works fine, too.
---
Learn more with Bankrate.com