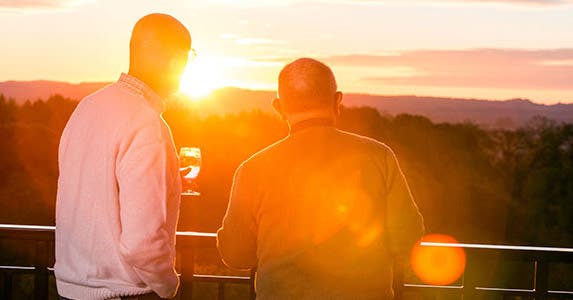 Retirement living: Themed communities
First there were communities built around golf courses. Then came those with university ties. Now, retirement havens catering to a variety of interests and lifestyles are proliferating.
"A niche or affinity retirement community is one where residents share a common interest, religion or identity," says Tom Wetzel, president of Retirement Living Information Center in Redding, Connecticut. "The link may revolve around shared ethnicity, sexual orientation, former occupation or hobby."
Wetzel sees niche communities as one of a number of grass-roots alternatives the boomer generation is taking for retirement living.
"This is a generation that has always marched to a different drummer," he says. "It's important that people have a choice about how they live out their old age, and that they don't have to do it alone or in a nursing home."
Following are six theme-based communities for retirees, from age-restricted housing offering a full array of senior services to more inclusive neighborhoods that attract large numbers of seniors eager to embrace the lifestyle they offer.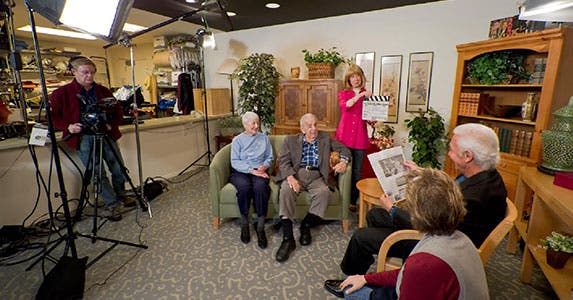 Retirement living: Hollywood endings
Photo courtesy of The Wasserman Campus
Some of the oldest niche communities were established by professionals to take care of their own.
The Wasserman Campus in Woodland Hills, California, is run by the Motion Picture & Television Fund, or MPTF, a nonprofit founded in 1921 by silent-film stars Mary Pickford, Charlie Chaplin, Douglas Fairbanks and others to provide financial assistance to workers in the entertainment industry, says Bob Beitcher, MPTF's CEO and president. Wasserman Campus opened in the 1940s.
"We offer a continuum of care, from independent living through long-term care," Beitcher says. The campus houses a dementia care unit and a palliative care program, he adds.
Residency is open to those who worked in any aspect of the industry for at least 15 years. Rent ranges from $3,500 to $6,000 a month, depending on the level of service required, Beitcher says, but about 40 percent of residents are subsidized. "Whatever we don't get reimbursed from government or other sources, the industry pays."
In addition to meals, laundry and housekeeping, Wasserman residents enjoy free first-run movies twice a week. An in-house television channel entertains with content created by residents and volunteers, who get to work alongside iconic former industry members, Beitcher says.
There's even a dog park called Doggywood for canine companions.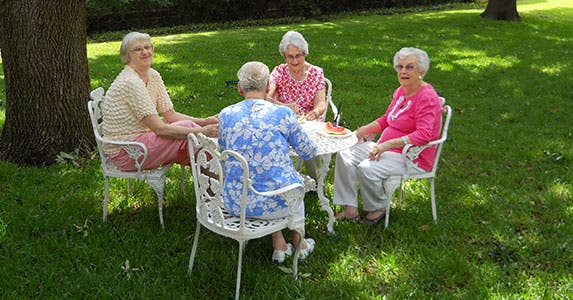 Retirement living: After school
Photo courtesy of Stilwell Retirement Residence
Stilwell Retirement Residence in Waco, Texas, serving retired Texas teachers, is celebrating its 50th anniversary this year, says executive director Joel Wright, and now sometimes attracts the children of former residents. It's owned and operated by the Texas Retired Teachers Residence Corp.
Wright describes Stilwell as an independent retirement community. "We provide meals, housekeeping, emergency alert (services), activities and programs," he says.
Residents pay a rental fee of $1,400 a month for a single-occupancy studio suite, or $2,325 a month for a larger, double-occupancy studio. As with most rentals, tenants bring their own furnishings.
"Within our building, we are a self-contained community," Wright says. "We have a computer room, chapel, beauty shop, enclosed patio room, store, library, coffee corner, guest rooms, activity center and wellness center. There are lounges on each floor.
"For those who don't have their own cars, we have a bus to take them to medical appointments or shopping."
The 95-unit building is usually filled, he says, but when there's a vacancy, retired Texas educators or their spouses are given first consideration. Second is anyone with some connection to Texas education. After that, "we will consider anyone else interested."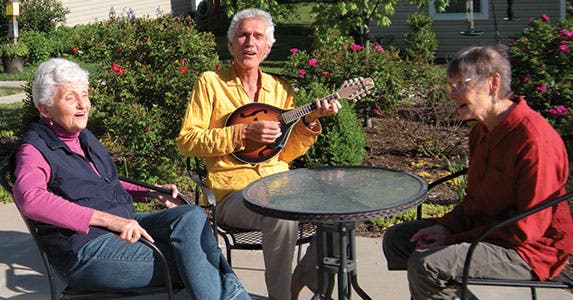 Retirement living: Affirmative aging
Photo courtesy of www.elderspirit.org
ElderSpirit Community at Trailview in Abingdon, Virginia, opened about eight years ago. Founded by a group of former nuns, the community welcomes anyone interested in spiritual growth, says founder and developer Dene Peterson.
"This is a community of mutual support and late-life spirituality — whatever anyone's relationship is with a higher being," Peterson says. "Spirituality means paying attention to your inner life and growth, loving your neighbor and doing good to others.
"We chose to live in Abingdon because of the low cost of living. We were surprised, though, that spirituality was the big draw."
Modeled as a mixed-income co-housing development, the community includes 13 single-family homes that sell at local market rates — Peterson quotes current prices at about $130,000 to $160,000 — and 16 condo-style apartments, with rents ranging from $325 to $500 a month. Homeowners also pay a $160 monthly service fee.
As an independent living community, ElderSpirit emphasizes self-management and mutual support. "We do our own landscaping, cooking and administration," Peterson says. "We make and break our own rules."
To foster the sense of community, residents are asked to join at least one volunteer group and are encouraged to participate in communal practices such as vespers or twice-weekly shared meals.
"This is a work in progress," says Peterson. "It's an experience in affirmative aging."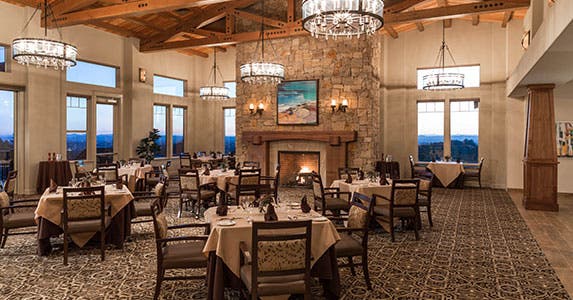 Retirement living: LGBT luxury resort
Photo courtesy of Fountaingrove Lodge
Fountaingrove Lodge opened in November 2013 in Santa Rosa, the heart of Northern California's wine country. It bills itself as the first luxury retirement resort offering a continuum of care to the lesbian, gay, bisexual and transgender, or LGBT, community.
Built on a 10-acre campus, Fountaingrove has 64 apartments and six bungalows where residents can get nursing care as needed, says Crystal Dillard, corporate director of sales and marketing for the developer, Oakmont Management Group. On the same campus, a 33-unit facility called The Terraces offers specialized services for those with early to advanced stages of memory loss.
"Entrance fees start from $285,500," Dillard says, "with rents starting at $3,395 month. We also now have some community fee options starting at $10,000." Resort-style amenities include "gourmet meals prepared by a world-class chef, a henhouse for our own eggs, wine cave, hiking trails, multiple dining areas, heated swimming pool and more," she says.
Common areas incorporate a fully equipped fitness center with daily fitness instruction, library, business center, great hall for special events, pet park, high-end movie theater and activity rooms. Chauffeured transportation and valet and concierge services also are available. The lodge abuts a championship golf course.
"Residents say, 'I can finally be myself and be proud,'" says Dillard.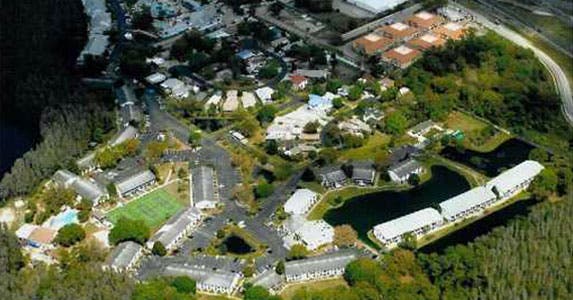 Retirement living: Back to nature
Photo courtesy of Pasco Area Naturist Development Association
Some retirement meccas aren't age-restricted, but attract a lot of seniors looking for a particular lifestyle. That's what has happened in Pasco County, Florida, where, in 2008, Realtor Paul Brenot founded the Pasco Area Naturist Development Association, or PANDA, a coalition of area naturist communities created to promote Pasco County in particular and the naturist lifestyle in general.
Since Lake Como Family Nudist Resort and Community opened in 1941, Brenot says, Pasco County has been home to "a smorgasbord of naturism, with the most diverse amenities and housing types for naturists anywhere in the world."
Under PANDA's umbrella are gated communities, co-ops, homeshares, mobile homes and RV parks. Brenot estimates about 5,000 naturists live in the area, many of them seniors who were weekend naturists before retirement.
"As people age, this is a wonderful area," Brenot says. "There are great hospitals all around us, including a good VA hospital and a university medical center, and lots of entertainment and shopping."
Local resorts offer such clothing-optional activities as water skiing, tennis, volleyball, golf, hiking trails through a nature preserve and more. "We went through a management change at some resorts," Brenot says, "and the residents were concerned they would convert to textile-only (the naturist term for the clothing-dependent), but naturism is in the deed."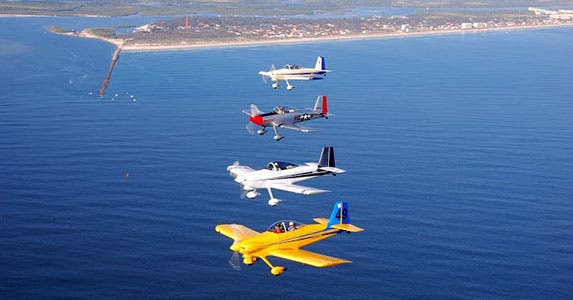 Retirement living: The jet set
Photo courtesy of Spruce Creek
Florida's Spruce Creek Fly-In Community in Port Orange, just south of Daytona Beach, is a draw for retirees whose favorite mode of personal transportation is a plane. It's built around Spruce Creek Airport, a decommissioned naval training facility, says Philip Mertens, a real estate agent with Spruce Creek Properties. Five hundred of its 1,400 residences are hangar homes, with attached hangars rather than garages. Taxiways where you might expect alleys, owned and maintained by the Spruce Creek Property Owners Association, connect private hangars to the airport.
"Spruce Creek caters to people who have been successful in life," Mertens says. "This is their playground."
He quotes prices for condos from $100,000. Houses go for up to $10 million.
"There's a broad range of demographics within our community," Mertens says. "We have a lot of retired people who are enthusiasts of fun — motorcycles, hot rods and boats, as well as airplanes and helicopters. It's the biggest toy box in Florida."
Amenities not related to aviation, he says, include a country club with an 18-hole golf course, tennis courts, swimming pool and social groups for everything from kayaking to quilting.