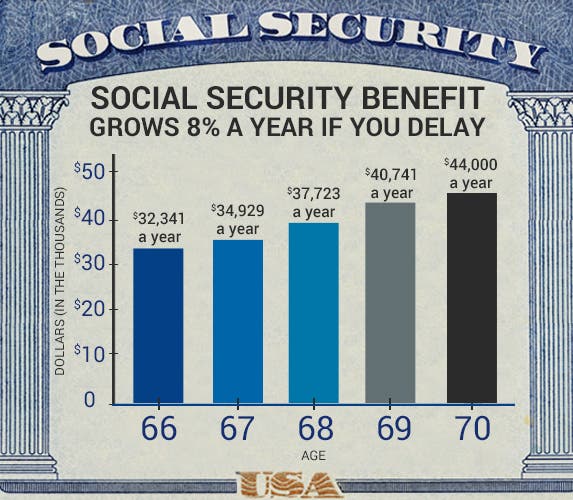 Dear Senior Living Adviser,
If I continue working after age 70 and don't take Social Security retirement benefits, will the additional work contributions increase my benefits?
I have quite a few years with zero contributions because of staying home with the kids. I do not seem to be able to find a definite answer on the Social Security website. Should I wait to apply for Social Security past age 70? Thank you.
— Hella Holdout
Dear Hella,
While you won't earn delayed retirement credits after age 70 if you continue to work, your wages in a year will replace one of your years with zero earnings, raising your benefit. When additional earnings appear on your wage record, the Social Security Administration checks to see whether it will increase your monthly benefit by more than a dollar. If so, it sends you a letter telling you the new benefit amount.
You shouldn't delay taking benefits beyond age 70, however.
In calculating the retirement benefit based on your work record, the Social Security Administration uses the 35 years with the highest wage record. It considers your nominal earnings for the year and multiplies it by an indexing factor to arrive at the indexed earnings for that year. After age 60, the indexing factor is always 1. Of course, any indexing factor times zero leaves you with zero dollars in indexed earnings for that year.
The spousal benefit, at one-half the retirement benefit of the higher-earning spouse, will typically provide a higher benefit than the one based on the work record of stay-at-home parents. The spousal benefit is maximized when the spouse takes it at his or her full retirement age.
At full retirement age, if eligible for a spousal benefit, you can choose to receive the spousal benefit and earn delayed retirement credits up until age 70 on your own work record.
Even if you and your spouse divorced, you can still receive a spousal benefit, provided that the marriage lasted at least 10 years and you didn't remarry. If an ex-spouse has not applied for retirement benefits, but can qualify for them, you can receive benefits on his record if you have been divorced for at least two years.
If your spouse, or ex-spouse, has passed, then you may qualify for a survivors benefit based on his work record that may be more than your spousal benefit or the benefit based on your own work record.
Ask the adviser
To ask a question of Dr. Don, go to the "Ask the Experts" page and select one of these topics: "Senior Living," "Financing a home," "Saving & Investing" or "Money." Read more Dr. Don columns for additional personal finance advice.
Bankrate's content, including the guidance of its advice-and-expert columns and this website, is intended only to assist you with financial decisions. The content is broad in scope and does not consider your personal financial situation. Bankrate recommends that you seek the advice of advisers who are fully aware of your individual circumstances before making any final decisions or implementing any financial strategy. Please remember that your use of this website is governed by Bankrate's Terms of Use.