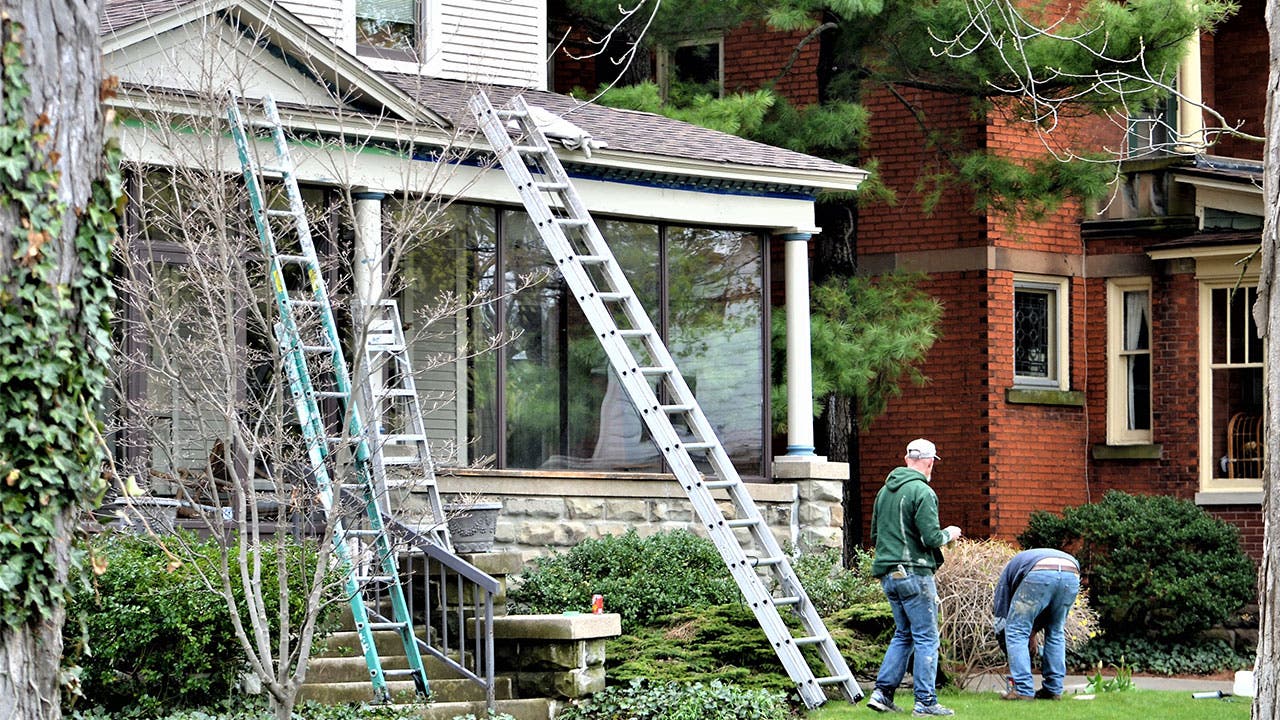 Whether it's a need, like a leaky roof, or a want (goodbye shag carpeting!) there are renovation loans that can help pay for your home renovations.
How do you decide which type of mortgage is right for your fixer-upper? Here's what to know about each option.
Comparing popular home renovation loans:
| | | |
| --- | --- | --- |
| Home renovation loan | Minimum credit score | Minimum down payment / Equity required |
| Fannie Mae HomeStyle loan | 620 | 5% down payment |
| FHA 203(k) loan | 620 | 3.5% down payment |
| Home equity loan / HELOC | 620 | 20% equity |
| Cash-out refinancing | 640 | 20% equity |
Goverment-backed home renovation loans
Fannie Mae's HomeStyle Loan
One of best-known loans for home improvements, Fannie Mae's HomeStyle Renovation loan allows borrowers to either purchase a place that needs some repairs or refinance their home with a new mortgage to fund improvements.
The HomeStyle loan is available from any Fannie Mae-approved lender, but there are minimum requirements to qualify. For a primary residence, you have to have a minimum credit score of 620. You can check your credit score for free with myBankrate to see if you fit this criteria. You'll also have to put down at least 5 percent of the purchase price of the home.
Before you can get approved, you'll also need to have a certified contractor prepare and submit a cost estimate and detail of the work to be done.
One advantage of a HomeStyle loan over other types is that it's just one loan, instead of taking out a loan for the mortgage and then another loan for home repairs. This can mean less paperwork and only one set of closing costs.
Keep in mind that the money for the repairs or improvements goes into a separate escrow account that's used to pay the contractor directly. You don't have access to these funds like you would with some other types of loans, like a home equity loan or a cash-out refinance.
"The nuance with the HomeStyle loan is that there's a little less freedom for the customer because the funds are held in an escrow account," says Eric Wilson, director of operations at Better Mortgage.
FHA 203(k) loans
The Federal Housing Administration offers a type of home renovation loan known as a 203(k.) With this type of loan, there's typically a lower minimum credit score requirement than with a HomeStyle loan, and also a lower minimum down payment of 3.5 percent.
FHA 203(k) loans can be broken down into two types: limited (formerly called streamline) and standard.
A limited FHA 203(k) loan is designed for cosmetic improvements or upgrades, and is capped at $35,000. A standard FHA 203(k) loan can be used for more extensive and expensive remodeling but also requires hiring a qualified 203(k) consultant to oversee every step of the work, from plans to the finished product.
There's built-in security with having that consultant. Most people doing a major home improvement project typically hire a contractor on their own, according to Stuart Blend, regional sales manager for Planet Home Lending. But with an FHA loan, that 203(k) consultant acts as a project manager, assessing the proposed costs, plans and the work being done every step of the way.
"When you take out that loan, that money rests with the lender. We're holding those funds in escrow, and we're making sure everything is done the way it's supposed to be done," he says.
Private home renovation loans
Another way to finance your home renovation is by taking out a home equity loan, sometimes referred to as a second mortgage. They're a one-time loan, so they aren't subject to fluctuating interest rates, and monthly payments remain the same throughout the life of the loan.
A similar loan is the home equity line of credit, known as a HELOC. It has a revolving balance and might be best for someone who has several large payments due over time, like with a big home improvement project.
With either option, you're pledging your home as collateral, meaning if you don't make the payments on your loan, the lender could end up owning your house. Alternatively, you can take out an unsecured personal loan to avoid owing collateral.
But HomeStyle and FHA 203(k) loans have some advantages over home equity loans.
"The loan amount with either of these is based on the completed value and not the present value. A home equity loan is based on the current value," says Gregg Harris, president of LenderCity Home Loans, a division of BBMC/Bridgeview Bank Group.
Cash-out mortgage refinancing
A cash-out mortgage refinance is another private home remodel loan. Cash-out refinancing allows homeowners to take out another mortgage. The second mortgage will be higher than the first, and the homeowner will recieve the difference in cash.
Like home equity loans/HELOCs, cash-out mortgages require homeowners to use their home as collateral. But if you've got a considerable amount of equity in your home, you might be able to find lower interest rates. Combine lower interest rates with additional value derived from home renovations, and you might save more in the longer run.
You'll need at least 20% available equity in your home to qualify for cash-out refinancing. The total loan amount is limited to available equity in your home. Credit score requirements vary per loan amount and value of your home, but generally start at 640
How do you choose?
"It really comes down to credit and eligibility," Harris says.
An FHA 203(k) might be best for someone with so-so credit, as most Fannie Mae HomeStyle lenders require a minimum credit score of 620. But borrowers can get a mortgage with a down payment as little as 3.5 percent. HomeStyle loans require 5 percent.
Also consider how much you want to borrow and what it is you want to change.
"Make sure you're working with a lender that is well versed with the details of the program," says Laurie Souza, the business development manager in the specialty and renovation lending department at Mortgage Network Inc.
It can be complex to calculate the best home renovation mortgage for your needs, so a lender who has deep knowledge of the programs can help you find the right fit, Souza says.