Remember when online trading was the hot new thing? Technology upended the financial industry then — and it kept right on going. The new thing today is known as automated investment advice, aka robo-advisers, and it may be the future of financial advice.
"We have essentially a technology revolution and a customer evolution that is transforming the backbone of wealth management practices across the entire spectrum of providers," says Michael Spellacy, senior partner at PwC and global wealth management leader.
That is no understatement.
Imagine software that will be able to take a lifetime of your personal spending and saving data, all of your preferences and time frames for investments, your health status, the state of the economy, the state of the stock market — and give you advice based on all of that.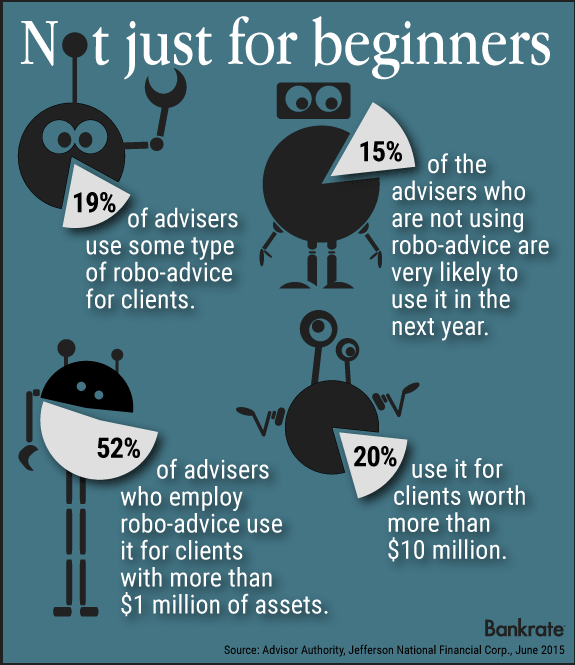 It's entirely possible. Consider the changes wrought in the industry just from the advent of the Internet.
"Dial the clock back 30 years and most people who were advisers were stockbrokers who got paid $200 to broker a stock trade," says Michael Kitces, partner and the director of research for Pinnacle Advisory Group and publisher of the financial planning industry blog Nerd's Eye View.
Automating asset allocation is one service that robo-advisers offer, though it's not exactly new. Traditional advisers have used software to tell them how to invest their clients' money for a while now. What is new is the democratization and delivery of the information. But the future holds much bigger things for automation: The coming generations of robo-advisers will be capable of increasingly complex financial planning tasks.
More technology, not less
Right now robo-advisers can basically suggest investments for your portfolio in optimal proportions based on the answers to a few questions designed to determine your time frame and risk tolerance.
The degree of optimization is subjective, though. Investors must take recommendations with a grain of salt: A recent investigation by The Wall Street Journal found that different automated investment advisers have different ideas about what an optimal asset allocation plan is.
"They are not hugely different, but materially different. So which do you pick? And this is something as straightforward as asset allocation. They all use substantially the same tools and processes but still come up with different answers," Kitces says.
That does, of course, happen with traditional investment advice delivery as well.
Increasingly complicated
Automated investment company FutureAdvisor.com is one of the first to broaden the reach of robos.
"We went from retirement planning, which is the bread and butter, to offering to manage college investments and UGMA (Uniform Gifts to Minors Act) and UTMA (Uniform Transfers to Minors Act) and 529s. We do that for free," says Chris Nicholson, director of communications at FutureAdvisor.com.
A recent investigation by The Wall Street Journal found that different automated investment advisers have different ideas about what an optimal asset allocation plan is.
The company will analyze your needs and tax situation to find the best plan for your situation.
"We automate the creation of a whole suite of accounts for someone," Nicholson says.
Anyone who has dipped into the complex network of state savings plans and other tax-advantaged options for financing education knows that untangling the myriad options can be challenging.
FutureAdvisor will set up your accounts, manage the investments, invest your contributions, adjust the allocation as the distribution period nears and then send out payments to the school — all for free.
Futuristic investment advice in your pocket
The ubiquity of automated advice seems almost inevitable. It's not really a question of whether you will get automated investment advice; it's a question of when and how it's delivered.
"It's a personalized financial adviser in your pocket or in your watch," says Anand Rao, a partner at PwC Analytics who wears several hats, including artificial intelligence expert.
"We will have that holistic picture of an individual and household. We can take what they have today and project it into the future but project it in a way that we can take into account all the things that could happen in the economy and in the market, and not only that — what things could happen at an individual level," says Rao.
Outcomes can be predicted in a variety of scenarios, such as: What happens if this person loses their job at age 58? Or, what would happen if this person is 65 years old, 2 years into retirement, and a 2008-like crisis strikes? How good is their portfolio? Even health care is considered.
"What if a health event happens to them or their spouse? How exposed are they to some of the vagaries of the health care systems?" Rao says. "All of those are being modeled and they get to a level of sophistication that is much beyond portfolio allocation and picking the right product to match the risk class. It gets much more advanced than that.
"That is where the new techniques are coming in," Rao says. "We have created a synthetic population of the entire U.S. households and consumers. We literally have 330 million people and their assets, liabilities, incomes and expenses using 30 different data sources and aggregate that to infer across the entire population what some of those values could be," he says.
Evolving challenges
Technology is a double-edged sword: It can be used for good or for less noble purposes.
A "challenge that will arise with more automated or online advice tools is, there are people who will figure out these are a great way to sell their product," Kitces says.
What better way to get people to buy your mutual funds or ETFs than with free advice that gives you an optimized way to use them?
That will be a challenge for consumers going forward — discerning product pitches from the advice. That's difficult enough for consumers to do with human brokers.
But the investment advice industry will have challenges from robo-advisers as well.
There may be a subset of people who are going to be knocked out of the business, says Kitces.
"It could be bad for lower-end advisers and good for consumers who get more value from what they are paying for," he says.
If robo-advisers can ameliorate the dangers of conflicted advice and do it more cheaply than human advisers, it will be a very good thing for the majority of investors who can't afford white-glove advisory services.
More On Investing Advice: