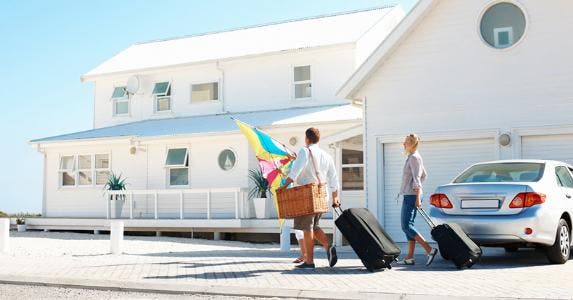 Designer Ralph Lauren has 1 in Jamaica, while Cindy Crawford and George Clooney are next-door neighbors at theirs, on Mexico's Baja Peninsula. You, too, can own a vacation home — you don't have to be a celebrity. But you do need to talk with an agent about home insurance, because that can be kind of tricky.
Search for great rates on home insurance
Here's the lowdown
A seasonal or second home often needs to be kept furnished to qualify for homeowners insurance by most carriers. "In general, you can remove some of your belongings and take them back to your primary home if you don't plan to be back for a few months," says Jim Gontjes, a product manager with Farmers Insurance. "But if you take everything out of the house, then it becomes vacant property, and that requires a different kind of insurance."
Vacation homes may be considered to be at higher risk for damage and theft than primary homes. "With vacation homes, when nobody is present to oversee the property, there is increased exposure for extensive damage — for example, from losses if pipes burst unexpectedly or from theft," says Gontjes. "If there's a caretaker or property management company overseeing the home when you're not there, that can lower the risk."
Property near the water will need flood insurance. Standard home insurance doesn't cover flooding, so you'll need to buy a separate flood policy. Note that flood insurance rates recently spiked. Seasonal homes took the biggest hit, with rate increases of up to 25% and the addition of a $250 annual surcharge, all of which took effect April 1, 2015.
Does your second-home insurance need a second look? Be sure to revisit your coverage whenever you:
Add on to the house.
Buy a Jet Ski or other watercraft for use at the home.
Furnish with expensive art or other high-value items.
Decide to loan out or rent out the house.
Source: Karl Newman, president, NW Insurance Council
If you conduct any business in your second home, you're likely to need additional insurance. "Should you sell bait for fishing, repair boats, open a store, cut and style hair or operate some type of business out of your seasonal home or on the property, you'll need adequate insurance coverage for that," says Gontjes. "Consumers should talk with their agent to make sure they are adequately covered."
If you love getting away from it all and buy a seasonal home in a rural area, you may be at risk for wildfires. Your insurance premiums will reflect that. "This risk is calculated for the area itself, not your particular property," says Nicole Farr, spokeswoman for the Arizona Insurance Council. Underwriters take into consideration how far you're located from fire protection like fire hydrants and whether or not you're served by a volunteer fire department.