Fingerhut Credit Account issued by WebBank review
At Bankrate we strive to help you make smarter financial decisions. While we adhere to strict , this post may contain references to products from our partners. Here's an explanation for . The content on this page is accurate as of the posting date; however, some of the offers mentioned may have expired. Terms apply to the offers listed on this page. Any opinions, analyses, reviews or recommendations expressed in this article are those of the author's alone, and have not been reviewed, approved or otherwise endorsed by any card issuer.
Snapshot
Bottom line
The Fingerhut Credit Account issued by WebBank is best for online shopping with bad credit.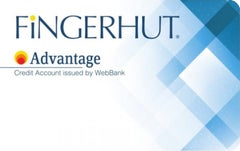 Fingerhut Credit Account issued by WebBank
Fingerhut Credit Account issued by WebBank Overview
Given the recent online shopping boom, credit accounts with catalog retailers like Fingerhut might sound more and more like a worthwhile option if you have a limited credit history or damaged credit score. A Fingerhut Credit Account issued by WebBank might seem like a good deal since it allows you to build credit and get name-brand products upfront, but it offers next to no value outside Fingerhut's website, and its ridiculously high prices and interest (29.99 percent APR) will leech your wallet in the long run.
No matter which Fingerhut credit option you qualify for with its hybrid application—whether it's the WebBank/Fingerhut Advantage Credit Account or the WebBank/Fingerhut FreshStart® Credit Account (you won't know which you'll receive until you're approved)—there are better ways to improve your credit score and save money.
What are the pros and cons?
Pros
Easily accessible for those with limited credit.

Reports to all three major credit bureaus.

Allows you to shop Fingerhut's online catalog.

No annual or overlimit fees.
Cons
Cannot be used outside Fingerhut and (via occasional offer) partner merchant websites.

Exorbitant 29.99 percent fixed APR.

Fingerhut credit accounts don't offer rewards or discounts.

Fingerhut's website and shipping are much more expensive than traditional retailers.
A deeper look at the current card offer
Quick highlights
Rewards rate: N/A
Welcome offer: $25 off first order of $100+ upon approval
Annual fee: $0
Purchase intro APR: N/A
Balance transfer intro APR: N/A
Regular APR: 29.99 percent
Current welcome offer
Applying for the Fingerhut Advantage Credit Account will provide you a meager $25 off your first order of $100 or more once you're approved. Sure, Fingerhut's claims of instant approval for 90 percent of applicants when verified make this a pretty accessible deal, but you can find savings like this with online shopping portals and digital coupons.
The best credit cards for online shopping from other retailers typically offer better sign-up bonuses. For example, the Prime Visa card offers a $100 (or more) Amazon gift card instantly upon approval—no spending required.
Rewards rate
Fingerhut Credit accounts don't earn rewards, which is a bit disappointing considering many other store credit cards do, even private-label (store use only) cards. The Capital One Walmart Rewards® Mastercard®* and Target REDcard both earn up to 5 percent cash back on in-store purchases, for instance.
Granted, a Fingerhut Credit Account seems to be geared more toward managing a balance instead of earning rewards, but there are rewards card and low-interest card options with more ongoing value if you have limited credit.
Other cardholder perks
There are no exclusive benefits that come with Fingerhut's credit card other than the ability to shop on their catalog website (a credit account is required to use the site). Fingerhut reports your payments to all three major credit bureaus—Equifax, Experian and TransUnion—and the card's terms say it offers no liability for unauthorized use. But if you read closely, Fingerhut isn't even providing the industry standard $0 liability for unauthorized purchases. Your coverage only begins once you report a fraudulent purchase, which means your only card protection is the Fair Credit Billing Act. Legally speaking, you're only on the hook for up to $50 of fraudulent purchases anyway ($0 if only your card number was stolen instead of the physical card).
The only "special offers" described by Fingerhut are deferred interest periods and occasional opportunities to use your card with largely unnamed Fingerhut partners, including select insurance merchants or online florists like Teleflora. These tricky deferred interest periods may sound like true 0 percent interest introductory offers, but you'll get slapped with all of the cumulative interest if you miss a payment or pay late.
In comparison, an entry-level credit card on the Visa or Mastercard network at least gives you basic perks like true $0 liability, roadside dispatch and an auto rental collision damage waiver by default.
Rates and fees
Since you may qualify for either the Fingerhut Advantage Credit Account or the Fingerhut FreshStart Credit Account when you apply using the issuer's single application form, here are breakdowns for either result.
Fingerhut Advantage Credit Account rates and fees
Although there are no annual or overlimit fees with the Fingerhut Advantage credit account, the real kicker is the sky-high 29.99 percent interest rate, equivalent to the penalty APR many cards charge. This is high even for a private-label retail card and won't go down if your credit improves since it's a non-variable (fixed) rate.
There are also a few other fees to be aware of. The late fee is up to $40. The returned payment fee may also cost you up to $40.
You might also notice an undefined "processing fee" for payments made over the phone or with the help of a representative, or if you want your payment to be posted on the same day. Strangely, you won't know the cost of the processing fee until you try to make the payment. You do have a 24-day grace period after your account statement is posted to make your payment without being charged interest, but keep in mind that there's a 2-day processing period for debit card payments and a 7-day period for other forms of payment, including electronic or paper checks.
It's worth noting that depending on your balance, your minimum monthly payments can range from 100 percent of a balance below $9.99 to up to 5 percent on a balance of $1,400+. This is also on the high side, considering issuers generally determine your minimum payment as 2 to 4 percent of your total balance.
Fingerhut FreshStart Credit Account rates and fees
Instead of a credit card like the Advantage, the FreshStart account is an installment loan available for purchases of $50 or more. The "representative" terms are available, but keep in mind that you won't know the final terms until your agreement is sent to you.
Each loan requires a $30 down payment and can extend to either six or eight months. There is also another undefined fee, a finance charge, which will be visible along with your minimum monthly payment at the time of purchase. For reference, the finance charge is $1.79 for a $50 purchase and $6.25 for a $100 purchase. There is also a $25 returned payment fee and a late payment fee of $4.90 for balances between $15 and $50. This fee increases to $14.90 for higher balances.
Since FreshStart is an installment loan, you won't be able to avoid the painful 29.99 percent APR. Fingerhut allows you to pay off your loan early without consequence, so you could dodge interest by paying back the loan before your first interest charge is up. However, that defeats the purpose of an installment loan.
If you only qualified for the FreshStart loan, your best move might be to request an upgrade to the Advantage card or qualify by paying off your initial purchase within six installments or sooner with no late payments.
How the Fingerhut Credit Account compares to other cards for bad credit
Considering the lack of rewards and benefits offered by Fingerhut, you might want to look into a starter card to help you gain credit until you're eligible for a better credit card. A secured credit card like the Discover it® Secured Credit Card offers cash back and automatic account reviews to help you graduate to an unsecured card. A security deposit's upfront cost will be refunded down the road, and you'll likely save more given Fingerhut's higher rates and fees on their credit accounts and merchandise. A student credit card or a credit union card might also work to shore up your credit score if you qualify for one.
If you're thinking about applying for a Fingerhut Credit Account purely to shop their catalog, keep in mind that their products and shipping are often more expensive than other retailers'. As of the time of writing, Fingerhut discounted a 65-inch Samsung TU8300 4K television to $1,079.99 with a whopping $110 shipping cost. Meanwhile, Best Buy has the same product listed for $679.99 with free delivery.
Combining one of these alternative credit cards with the discounts you can find through an online shopping portal will very likely bring home more savings than Fingerhut ever could.

Bankrate's Take—Is the Fingerhut Credit Account worth it?
No matter which way you slice it, both the Fingerhut Advantage Credit Account and Fingerhut FreshStart Credit Account have limited value: They can only be used on Fingerhut and partner sites and they charge inflated interest, merchandise and shipping costs.
Although a Fingerhut credit account may be an easily accessible option to build credit, the extra fees peppered into the terms and conditions and lack of meaningful rewards or benefits make secured cards the clear choice for those with limited credit.
The information about the Fingerhut Credit Account issued by WebBank, Capital One Walmart Rewards Mastercard* and Target REDcard has been collected independently by Bankrate.com. The card details have not been reviewed or approved by the card issuer.
* See the online application for details about terms and conditions for these offers. Every reasonable effort has been made to maintain accurate information. However all credit card information is presented without warranty. After you click on the offer you desire you will be directed to the credit card issuer's web site where you can review the terms and conditions for your selected offer.
Editorial Disclosure: Opinions expressed here are the author's alone, and have not been reviewed or approved by any advertiser. The information, including card rates and fees, is accurate as of the publish date. All products or services are presented without warranty. Check the bank's website for the most current information.