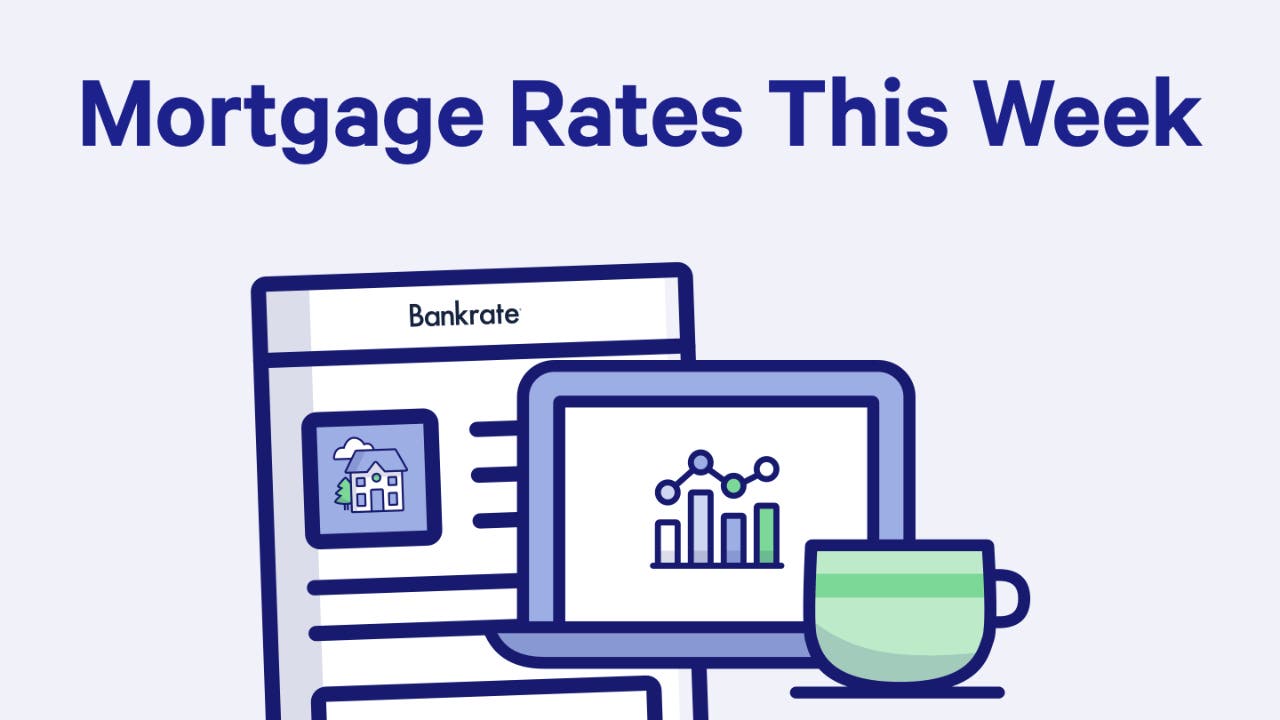 The benchmark 30-year fixed-rate mortgage rose this week to 3.85 percent from 3.81 percent, according to Bankrate's weekly survey of large lenders. A year ago, it was 4.66 percent. Four weeks ago, the rate was 3.93 percent. The 30-year fixed-rate average for this week is 1.25 percentage points below the 52-week high of 5.10 percent, and is 0.04 percentage points higher than the 52-week low of 3.81 percent.
The 30-year fixed mortgages in this week's survey had an average total of 0.32 discount and origination points.
Over the past 52 weeks, the 30-year fixed has averaged 4.49 percent. This week's rate is 0.64 percentage points lower than the 52-week average.
The 15-year fixed-rate mortgage fell to 3.17 percent from 3.20 percent.
The 5/1 adjustable-rate mortgage rose to 3.64 percent from 3.54 percent.
The 30-year fixed-rate jumbo mortgage fell to 3.75 percent from 3.77 percent.
At the current 30-year fixed rate, you'll pay $468.81 each month for every $100,000 you borrow, up from $466.53 last week.
At the current 15-year fixed rate, you'll pay $698.79 each month for every $100,000 you borrow, down from $700.24 last week.
At the current 5/1 ARM rate, you'll pay $456.90 each month for every $100,000 you borrow, up from $451.28 last week.
Results of Bankrate.com's weekly national survey of large lenders conducted August 21, 2019 and the effect on monthly payments for a $165,000 loan:
Mortgage applications dip slightly
Total mortgage applications slipped 0.9 percent over the week prior, according to data from the Mortgage Bankers Association's applications survey for the week ending Aug. 16.
The refinance index inched up just 0.4 percent over the previous week, but was still 180 percent higher than the same time a year ago. Refinance activity remains at its highest level since July 2016. Meanwhile, purchase applications fell 4 percent over the same time frame, the MBA reported.
"The small moves in rates and refinancing are potentially signs that lenders may be approaching capacity constraints as they continue to deal with the largest wave of refinance activity in three years," said Joel Kan, MBA's associate vice president of economic and industry forecasting. "Lower mortgage rates have yet to lead to a notable rise in homebuyer demand. Purchase applications fell more than 3 percent, but were still 5 percent higher than a year ago."
Existing-home sales rebound in July
After a slight downturn, existing-home sales regained momentum in July, up 2.5 percent from June, according to the National Association of Realtors. Existing-home sales jumped to a seasonally adjusted annual rate of 5.42 million units in July. All major U.S. regions saw sales growth except for the Northeast, which posted a decline.
"Falling mortgage rates are improving housing affordability and nudging buyers into the market," said Lawrence Yun, NAR's chief economist, in a statement.
However, inventory shortages continue to push up home prices and compounding homebuyers' affordability woes, Yun said.
Home-price growth for more affordable, entry-level homes has been stronger than that of higher-priced properties, which have seen a notable cooling in price appreciation, based on a NAR analysis of proprietary deed records data from Black Knight and Realtors Property Resource.
"Clearly, the inventory of moderately-priced homes is inadequate and more home building is needed," Yun said. "Some new apartments could be converted into condominiums thereby helping with the supply, especially in light of new federal rules permitting a wider use of Federal Housing Administration (FHA) mortgages to buy condo properties."
The median existing-home price for all types of homes reached $280,800 in July, up 4.3 percent from a year ago. It's the 89th straight month of annual median price gains, NAR reported.
Another challenge facing potential buyers: declining inventory. Total housing inventory at the end of July fell to 1.89 million existing-homes available for sale. That's down 1.6 percent from 1.92 million in June, and also marks a 1.6 percent decline year-over-year. At the current sales pace, there's a 4.2-month supply of available inventory, down from a supply of 4.4 months in June and slightly below the 4.3-month supply a year ago, NAR reported. Typically, a "balanced" housing market for both buyers and sellers has at least a six-month supply of homes available on the market.
The "Bankrate.com National Average," or "national survey of large lenders," is conducted weekly. The results of this survey are quoted in our weekly articles and national media outlets. To conduct the National Average survey, Bankrate obtains rate information from the 10 largest banks and thrifts in 10 large U.S. markets. In the Bankrate.com national survey, our Market Analysis team gathers rates and/or yields on banking deposits, loans and mortgages. We've conducted this survey in the same manner for more than 30 years, and because it's consistently done the way it is, it gives an accurate national apples-to-apples comparison.