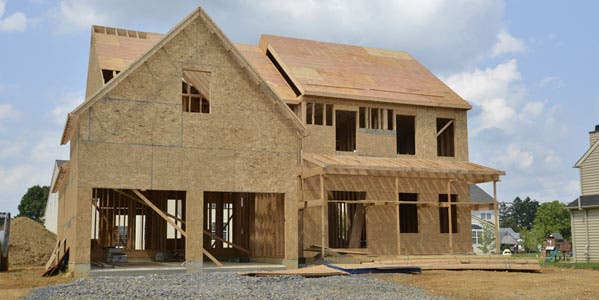 Homebuilders are becoming increasingly optimistic about their prospects as the economy and housing market improve. According to the National Association of Home Builders/Wells Fargo housing market index, homebuilder confidence in the single-family market rose to 59 in June, its highest level since September 2014. The index is based on a monthly survey that the NAHB conducts.
"Builders are reporting more serious and committed buyers at their job sites and this is reflected in recent government data showing that new-home sales and single-family construction are gaining momentum," according to NAHB Chairman and homebuilder Tom Woods.
All index components up
The NAHB index is based on input from three components that influence homebuilder sentiment:
Builder perceptions of current home sales.
Builder expectations for future home sales in the next six months.
Traffic of potential buyers.
All these three aspects were up in June.
Homebuilders' perceptions of current sales and expectations for future sales were at their highest levels since the fourth quarter of 2005. This points to their optimism about upcoming sales.
Midwest drops off
Looking at the regional breakup for the NAHB index, the Midwest was down 1 point in June, based on a three-month moving average for the regional housing market index. Builders in other regions appear to be more optimistic, with the HMI for the Northeast and South each up 3 points and the West gaining 2 points in June.
More permits issued
In keeping with their optimistic outlook, homebuilders are also getting more permits to build in the upcoming months. According to a government report, building permits authorized were up almost 12 percent in May, from April levels, and also soared 25 percent from their year-ago level. The May issuance of 1.275 million permits, based on an annual rate, is at the highest level since August 2007. Permits for both single-family and multifamily construction were up. Multifamily permits were at their highest level in 25 years.
Starts fall off
Homebuilders were more reluctant to actually start off with the construction activity though, with housing starts down 11 percent in May compared to April, to an annual rate of 1.036 million. However, compared to May 2014, the starts are up 5 percent. And the government has also revised up the figure for April starts to an annual rate of 1.165 million.
"After a strong April, some readjustment in housing production in May was expected," according to NAHB chief economist David Crowe. "The starts and permits figures for the second quarter of 2015 are shaping up to be stronger than the first."
While single-family starts were down 5.4 percent in May, multifamily starts were off by a huge 20 percent. It seems homebuilders are becoming a bit cautious on multifamily after hefty building activity in the last few years.
All regions hit by starts
Building starts tapered off in all four U.S regions for May. The Northeast was down a massive 26.5 percent from April levels, the West declined 12.5 percent, the Midwest was off 10 percent and the South fell back 5 percent. Compared to a year-ago though, housing starts surged in the Northeast and the West, though the Midwest and South were still down.
On the permit front, not all regions saw setbacks. In the Northeast, permits leaped 77 percent over the month and surged 16 percent in the Midwest. However, they were down in the South, by 3.6 percent, and the West, by 1.9 percent.