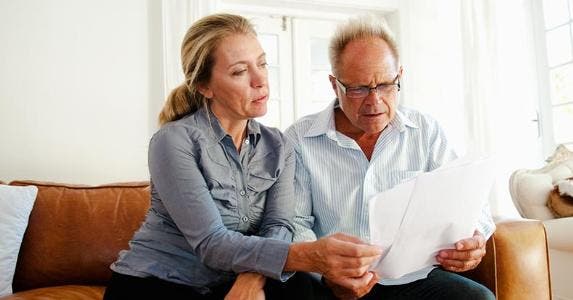 Dear Tax Talk,
My husband and I are selling our rental property, and we were under the impression that we would only have to pay capital gain on the profit margin, which stands to be about $35,000. This is due to the fact that we took out a 2nd mortgage on the house (when it was our primary residence) to put a hefty down payment on our current house (our primary residence). However, our accountant just informed us that we will be taxed based upon the original purchase price, which was substantially lower. So, now we will be taxed based upon a profit of $99,000.
I don't understand this because we are not making nearly that kind of a profit; in fact, we have the house mortgaged and we used the money to put into another property. Can you clarify? Paying almost one-third of our net profit in taxes just doesn't seem right. Thank you!
— Mrs. Nolf
Simon Potter/Cultura/Getty Images
Dear Mrs. Nolf,
Your accountant is on the right track. Your confusion lies in the fact that you are not correctly factoring in the mortgage you took out on the first property to acquire another property.
To better clarify this for you, I will go over the facts in your particular situation, but use some actual numbers.
Calculating capital gain on rental property
The basic calculation you start with is:
Selling price – selling costs – adjusted basis = realized capital gain or loss
Adjusted basis
Your cost or other basis plus any capital improvements and less depreciation.
Example: You purchase property A for $50,000 and when it is worth $200,000, you decide to tap into the equity and buy property B to live in while renting out property A. You take a 2nd mortgage out on property A for $100,000 and buy property B, which you now own free and clear. You start renting out property A and use the rent to cover the mortgage. Life is good!
But 2 years later you decide to sell property A for $225,000.
As you can see, the above calculation does not take into consideration paying off mortgages. Your gain is calculated as follows:
  $225,000 (Selling price)
– $15,000 (Minus selling cost)
– $50,000 (Minus adjusted basis)
= $160,000 (Realized gain)
But wait… now you say, "I don't have the $160,000 because I had to pay off the $100,000 2nd mortgage. So now I only have $60,000." That is true, but think about what you do have on the other hand: You still own property B free and clear because it has no mortgage.
So think of the 2nd mortgage as a way of taking out some of your tax appreciation on property A before you sold it. Once property A is sold, it is time to even up with Uncle Sam.
Note that in the above example, I did not adjust your basis for depreciation, as that is a topic for another column. Additionally, I did not address the special rule regarding excluding some or all of the gain on the sale of a home you have lived in and owned for 2 of the previous 5 years.
I hope this information helps clarify it for you and I am glad to see you are working with an accountant who will assist you in reporting the transaction correctly.
Thanks for the great question and all the best to you.
Ask the adviser
To ask a question on Tax Talk, go to the "Ask the Experts" page and select "Taxes" as the topic. Read more Tax Talk columns.
To ensure compliance with requirements imposed by the IRS, we inform you that any U.S. federal tax advice contained in this communication (including any attachments) is not intended or written to be used, and cannot be used, for the purpose of (i) avoiding penalties under the Internal Revenue Code or (ii) promoting, marketing or recommending to another party any transaction or matter addressed herein. Taxpayers should seek professional advice based on their particular circumstances.
Bankrate's content, including the guidance of its advice-and-expert columns and this website, is intended only to assist you with financial decisions. The content is broad in scope and does not consider your personal financial situation. Bankrate recommends that you seek the advice of advisers who are fully aware of your individual circumstances before making any final decisions or implementing any financial strategy. Please remember that your use of this website is governed by Bankrate's Terms of Use.