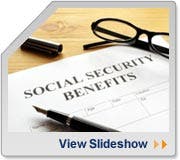 If you're divorced and drawing Social Security benefits — or just getting ready to file for Social Security — you need to know the rules of ex-spouse Social Security benefits.
Benefiting from Social Security
This is especially important for people who earned substantially less than their ex-spouses — usually women. "Many women receive a higher benefit based on their husband's record, especially if (the ex-husbands) are deceased," says Kimberly Foss, CFP and president and founder of Empyrion Wealth Management. "Women get less, they earn less and then they are more conservative in their investments," she says. "We end up getting less, and we live 12 to 15 years longer."
That's why it's so important, if you were part of a marriage for a good share of your adult life, that you claim benefits under the right person's contribution record to get your maximum benefits. It can make the difference between trying to live on way too little and having enough money to meet your needs — and to provide for a few wants.
A case in point
Betty Perrin (not her real name) was retired and struggling to live on her Social Security benefits. She had been married and divorced three times, and two of her ex-husbands had passed away when she was no longer married to them.
When Betty started drawing Social Security benefits, she did so based on her own pay. "I was living on $525 or so a month for about three years," she says. It was tough.
Sometime after her third divorce was finalized, she went down to the Social Security office and asked if she could get higher benefits based on either of her last two ex-husbands' contributions. It turned out she could get the best results by claiming the contributions of her second husband, Tom.
Betty had to gather more paperwork, but it was worth it. "I went back to Social Security with a death certificate and a divorce paper, and then I was able to draw on Tom's Social Security. That gave me, at that time, $1,000 a month."
This happy discovery doubled her monthly benefits — her only source of income. "I felt like I was rich," says Betty. "I thought, 'Wow! I can actually buy a blouse or a pair of slippers.'"
When you apply for Social Security benefits, a representative will interview you. "Say somebody calls the 800 number," says Michael Webb, Social Security spokesman for the Seattle region. "We're going to ask you if you're married, do you have any children? We screen for all possible benefits."
But benefits rules can be complex. And if something changes — for example, your ex-husband dies — your eligibility for benefits may change. "People get the wrong information and are not getting what they are entitled to," says Foss.
It's up to you to make sure you get the amount you are entitled to by learning about ex-spouse Social Security benefits.