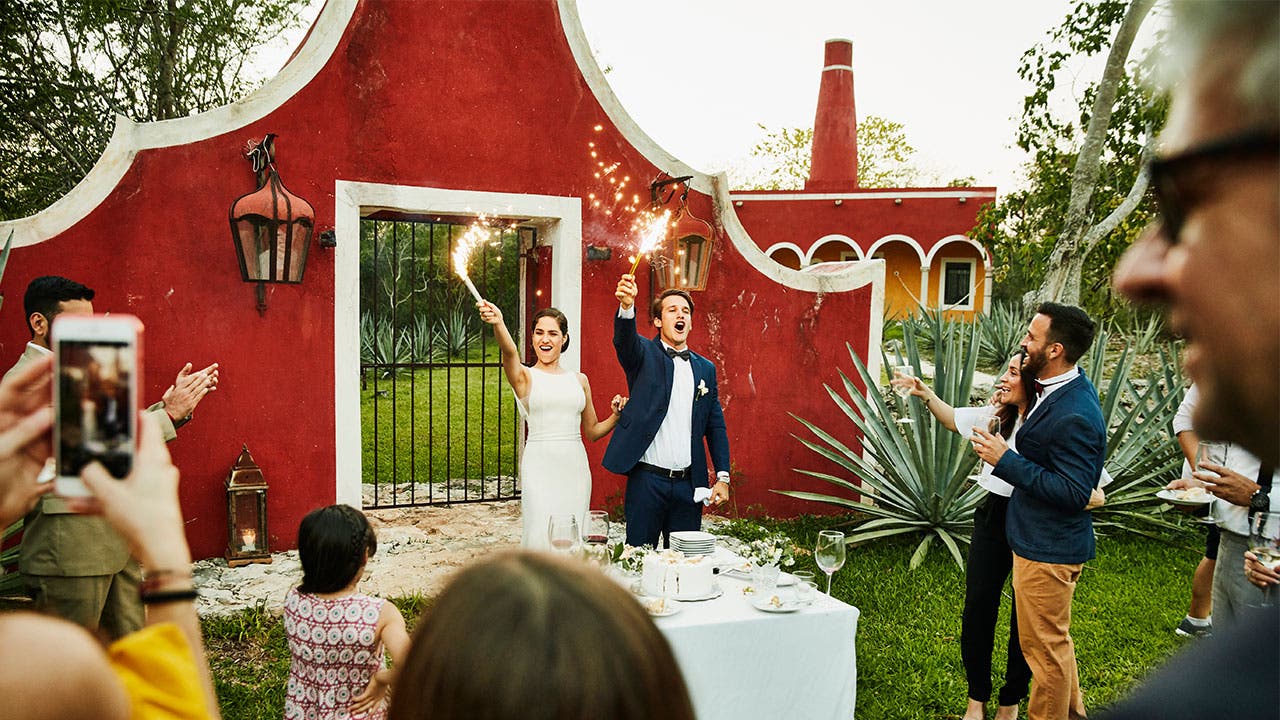 The average wedding today costs nearly $34,000, with the reception venue being the biggest expense, followed by the engagement ring and reception band, according to The Knot.
Not many engaged couples are prepared for such an expense, and as hard as they may try to pare costs, it's hard not to shell out a substantial chunk of cash for a wedding.
But you don't want to start your life together buried in debt. That can strain the relationship from the beginning. So, before you start hiring the caterer and photographer, you need a plan for how to pay for the occasion. Create a budget and talk with your partner about what you can afford.
If you do decide to finance the wedding, there are various ways to do it. If you need to borrow the money and can pay it back in a year to 18 months, a no-interest credit card can be a great way to go.
But if you need more time to repay the loan, consider a personal loan. You probably won't find the term "wedding loan" in any lender's brochure, but you can take out a personal loan for just that purpose.
Before you apply for a personal loan to pay for your wedding, it helps to know the pros and cons.
There are many benefits to taking out a personal loan for your wedding:
In many cases, you can apply online, quickly and safely, at the lender's website.
You get a lump-sum deposit into your bank account. If you deposit the money into a checking account, you can just write a check for the wedding invitations, flowers and other expenses instead of racking up credit card debt.
No collateral is needed. Personal loans are unsecured, which means you don't have to put up assets such as your home or car to secure the loan.
You get a fixed rate and a fixed monthly payment schedule, so your payment amount and due date never vary as long as you abide by the terms of the loan.
You get a lower interest rate. A personal loan typically has a lower interest rate than a credit card.
It can improve your credit score. A wedding loan can give you the opportunity to raise your credit score if you make on-time payments and pay off the loan as agreed.
Shop for personal loans and compare rates on Bankrate.
As with any loan, there can be disadvantages to a personal loan for a wedding, especially if your credit isn't great:
Your credit score is critical to gaining approval. If it is not high enough, you may not be approved. Or, you could be offered a loan but with a higher rate.
If you default on a personal loan, it will damage your credit and you incur more fees. Defaulting can hurt your chances of getting approved for a mortgage or auto loan.
Fees on personal loans can be high.
Prepayment penalty. Some personal loans charge a prepayment penalty if you pay off the loan early. Read the fine print before you agree to any loan.
Use our personal loan calculator to help you figure out your monthly payments and what you can afford.
Planning and paying for a wedding is a major undertaking. Taking out a personal loan to fund your big day can ease your mind and give you financial breathing room. If you decide not to take out a loan, stick to a wedding budget that will help you start off your life together without debt.
Learn more: