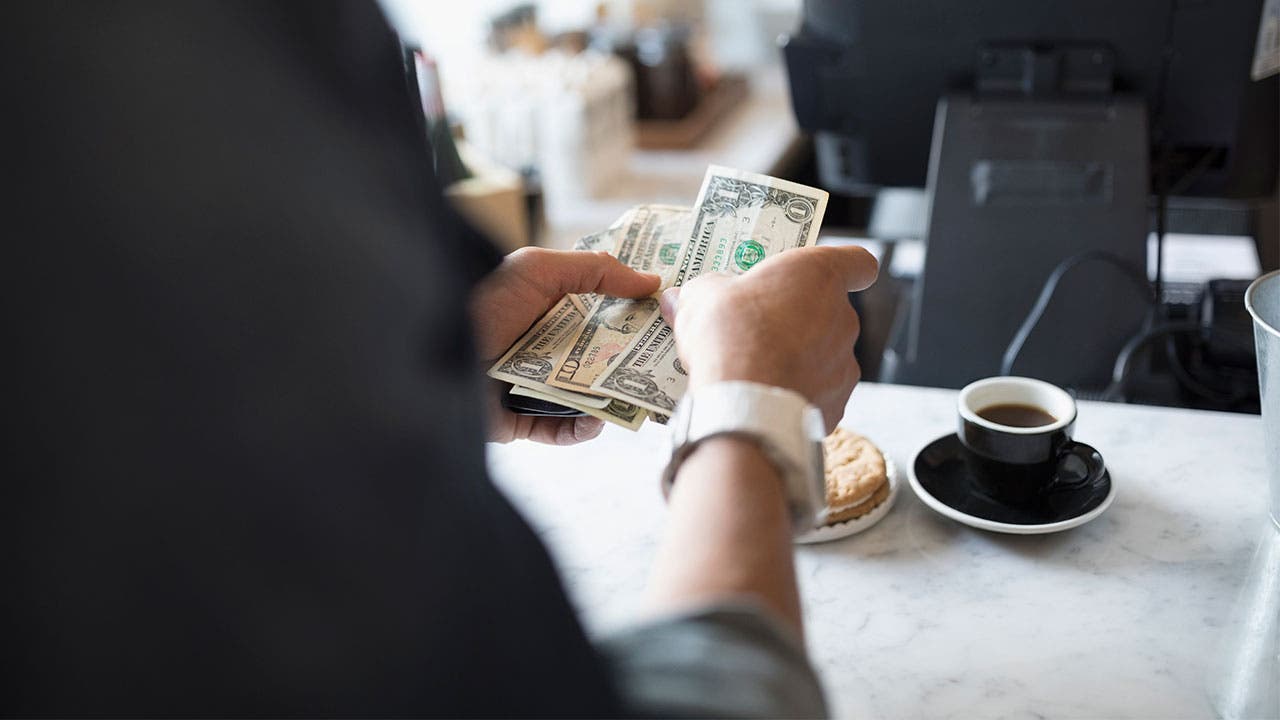 When living paycheck to paycheck, the idea of saving even a few dollars seems out of reach. However, there are a few things people can do to save money fast and grow a savings account. Small savings quickly adds up, and you can find yourself with more money at the end of a week or month and a fatter savings account by the end of the year. And then you'll be able to focus on how to save for your long-term goals.
Here are six simple ways to save money fast:
Set up automatic payments for bills.
Switch banks.
Open a short-term CD.
Sign up for rewards and loyalty programs.
Buy with cash instead of credit.
Stop paying for convenience.
1. Set up automatic payments for bills
With busy lives and busy schedules, it's common for people to forget to pay some bills on time. One of the easy ways to save money is to simply pay your bills when they're due.
Companies typically charge a 10 to 15 percent late fee for any balances that are overdue. While this might amount to just $5 here or $10 there, those fees quickly add up, especially if you pay multiple bills late.
Set up automatic payments for bills to ensure they're paid on time and to avoid the late fees. It's important to keep an eye on your bank account balance to avoid overdrafts and accumulating additional fees.
2. Switch banks
Banks make their money from fees. In fact, the top three banks in the U.S. — JPMorgan Chase, Bank of America and Wells Fargo — earned more than $6.4 billion in overdraft and ATM fees alone in 2016, according to CNNMoney.
If you pay monthly fees for a checking or savings account, it's time to switch banks. There are several banks that offer free accounts, and some that will even give you money just for opening an account. Move your money to a new account and stop paying fees to the bigger banks. Compare savings accounts to find one that fits your needs.
3. Open a short-term CD
If you can afford to leave your savings in a CD for up to a year, a short-term CD might be a good fit for you. Yields on the top-paying short-term CDs are comparable to average yields on savings accounts, so be sure to shop around to find a CD paying a better yield. Otherwise, you'd be better off putting your money in a savings account.
If you're just starting to build your savings, look for an account that requires no minimum deposit or a small one. You can compare rates and minimum deposits for CDs ranging from one-month terms to one-year terms on Bankrate.com.
One thing to keep in mind: If you think you might need the cash before the CD term ends, avoid CDs so you won't have to pay early withdrawal penalties.
4. Sign up for rewards and loyalty programs
There's a good chance that you already have discount cards for grocery stores and drugstores in your area. If you don't, sign up for immediate savings on food, household supplies and other goods you use on a daily basis.
If you do, make sure you're using the programs to their fullest. Sign up for emails and download apps to receive additional savings. Use the cards regularly for help saving money at the checkout or to earn rewards for free items, discounts at the gas pump or even money off of future purchases.
5. Buy with cash instead of credit
You can trick your brain into saving money every time you go to the store by using cash instead of a credit card to make a purchase. If you have $100 in cash, that's your limit.
You have to start putting items back if you exceed that limit. If you have a credit card, you can go over your $100 limit and justify it by saying that you were close.
6. Stop paying for convenience
It's the American way to pay for convenience. People are willing to pay $5 for a taco they can make at home for less than $1. They pay $6 for a cup of coffee at a local cafe rather than brew an entire pot of coffee at home for a few pennies.
Taking a little extra time out of your day to make your own food, brew your own coffee or clean and repair things around the house can grow your bank account quickly.