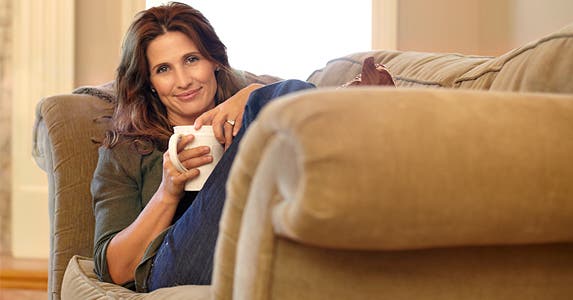 Who wants a room of her own?
The term "man cave" is well-known, but what about the equivalent for the ladies? Don't women deserve rooms of their own, too?
Of course. Just make sure your family has a place to hang out so they don't take over your refuge, says Jo Packham, creator and editor in chief of Where Women Create magazine.
And how do you keep the men or kiddies out? "For the men, he knows it's a way for her to escape," says Aja De Los Santos, a certified general contractor at InvestCove Properties in Delray Beach, Florida. "(There) would be an unwritten rule to leave her alone. It's something to discuss with your family. You could always lock it, but (that) would be a little much."
Whether you want to splurge or keep it affordable, here are some creative ideas for your very own kid-free mom cave. Or to add a little alliteration, you can call it a lady lair.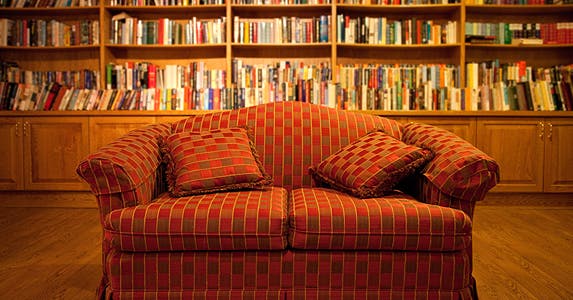 R&R room: You define the R's
De Los Santos says a lady lair should be a retreat. "You should have a room to relax and read all weekend," she says.
What if you get thirsty and don't want to leave the premises? Have a wet bar, complete with wine, chocolate and dessert, says Amelia Kait Masterson, sole interior designer at Primrose Retirement in South Dakota. As for the rest of the room, she suggests incorporating a cozy sectional sofa, throw pillows, blankets, artwork, a fireplace and natural light.
Other cool design touches? How about hanging memorabilia of great women in history, like Susan B. Anthony, Coco Chanel, Jane Austen, Mother Teresa or Leslie Knope (fictional characters count, too)? Or maybe you want an impressive library to be the focal point of the room, "Beauty and the Beast" style, with all your favorite books (or books you want to read). Throw in a plush chaise, flat-screen TV and a fireplace, and you've got an envy-worthy lady lair.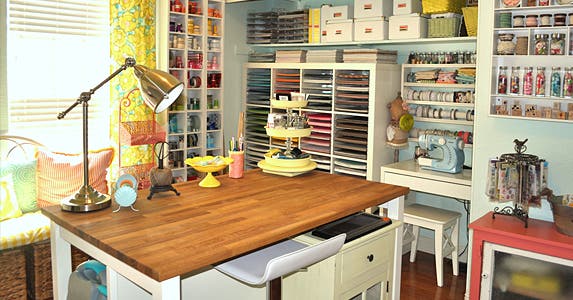 A studio for creating
Key elements of a creative room are a comfy chair, good light, a table where you can work, and a place to organize and store supplies, Packham says. "For a creative space, the walls should be a lighter, brighter color to help illuminate the room. Be careful: Bright, bold colors will cast their color shadow onto your work, and dark colors will make your work more difficult to see," she says.
Decide what the space is going to be used for, says Regina Easter, who runs an online crafting business called The Cutting Cafe. If you're a seamstress, you want a large table, ironing board and mini washer and dryer, "maybe even grooves in your table for cutting out the fabric."
If you scrapbook, then have open and closed cabinets for organizing supplies, Easter says. Save all the different items you buy monthly that come in clear jars and bottles: water bottles, dressings, spices. "Even some perfumes you buy come in really pretty jars," she says.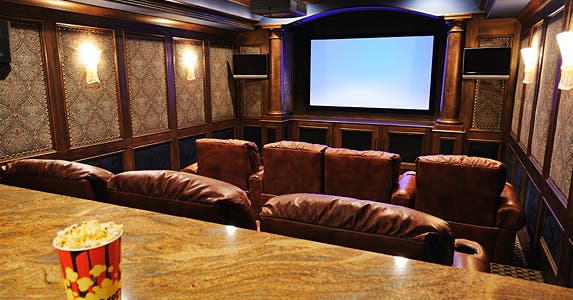 It's a home theater AND a spa!
What's better than going to a movie theater where you can gorge on popcorn and pay inordinately for candy and soda? Having your own home theater — where you can wear whatever you want! But how do you keep the men or youngsters out? By making it a home theater spa.
OK, so that might not keep them out. But remember: This is your room, your rules. Whether you are married with kids, live with roommates or are on your own, your own tricked-out sanctuary can stand out from the rest of your home.
For the spa aspect of your movie-watching haven, create a smoothie-blending station, and have a foot massage machine and shelves stocked with lotions, body butter and other soothing spa products. Be sure to keep a bathrobe and plush slippers handy, too. Maybe tack a "No boys allowed" sign to the door.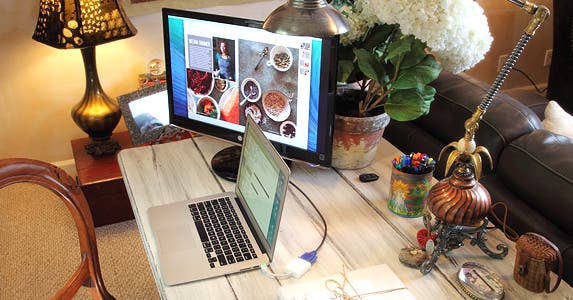 Commute barefoot: A home office
Photo credit: Ryne Hazen
Decor for a home office should make the space warm, inviting and separate, De Los Santos says. "Commit to it by making it different than the rest of the house and exactly what you want it to be."
She adds: "A lot of us work outside the home, so when we go home, we want it to be homey." Likewise, with a home office, "when they walk out (of the office), they're home."
Before Easter moved into her own home office, she worked out of her garage and kept a notebook of ideas for her eventual home office.
"I purchased lots of decorating books and got loads of inspiration from online sites like Pinterest," says Easter, who was inspired by the decor in grocery stores and other retail stores. "I would look at how the shelves were all organized by color, etc. The produce section in grocery stores, believe it or not, gave me inspiration as to how I wanted my space to function and be designed."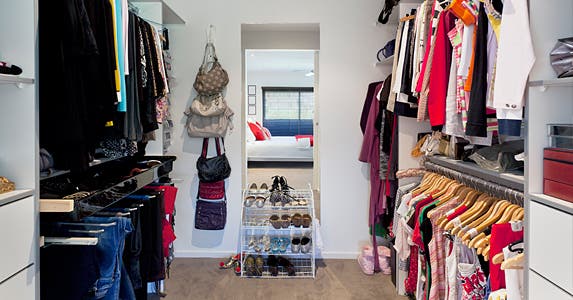 A luxurious dressing room
"When I think of a lady lair, I think of it as a place you can go as a woman and satisfy your own needs in your own sanctuary," De Los Santos says.
For herself, she would create a dressing room with a big couch, big mirror, bench and cabinetry for storage. She says she would install wooden beams, a center cabinet unit for clothes, a bench and hangers to put on the next day's outfit.
For De Los Santos, who doesn't have enough room in her own closet, having that extra dressing room would be a worthy lady-lair luxury.