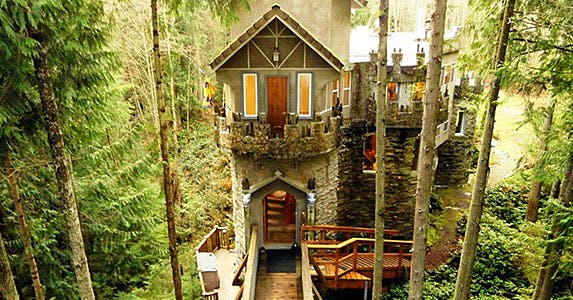 A half-dozen delightful houses
If you were designing your fantasy house, what shape would it take?
A forest castle straight out of a storybook? An over-the-top Caribbean getaway with a lagoon-sized pool? Or a French-style chateau in California's wine country?
View Today's Lowest Mortgage Rates!
How about something with a built-in observatory, a secret passageway or a ceiling painted in gold?
First, the good news: These homes exist — and they're on the market.
Now, the bad news: Fantasy homes don't come cheap.
You'll need deep pockets — anywhere from just over $800,000 to $25 million — to make one of these astonishing domiciles your own.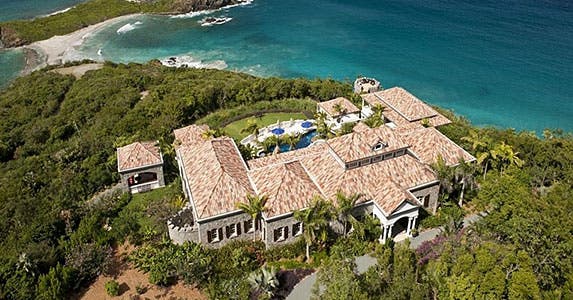 Villa Whydah
Photo courtesy of Realtor.com
Location: St. Thomas, Virgin Islands
Price: $25 million
Who wouldn't love to have a Caribbean escape, tucked away in a cove — and styled as a modern-day pirate's lair?
This six-bedroom home with a two-bedroom caretaker's cottage is "pretty over the top," says Lee Steiner, founder and president of United States Virgin Islands Sotheby's International Realty.
"It's almost like a resort, but it's a single-family home," he says.
Named "Whydah" in honor of an 18th-century pirate ship that wrecked off Cape Cod, "the property itself is very whimsical," Steiner says.
The lagoon-like pool, surrounded by palm trees and tropical foliage "is pretty spectacular," he says. The backdrop is a 12-foot mosaic of a pirate and his mermaid love. Overlooking the pool area, the statue of an oversize gorilla keeps watch.
A big arrrr-cade
The house has a game room that accommodates card tables — and a grand piano, Steiner says. It also has an arcade with more than 1,000 video games.
"One really cool feature," says Steiner, is a replica of an old-fashioned sugar mill "with a turret on top." It houses an office decked out as a captain's quarters, along with a rooftop deck with views of the horizon.
The home also comes with a host of pirate memorabilia, including antique swords, an authentic treasure chest and working cannon.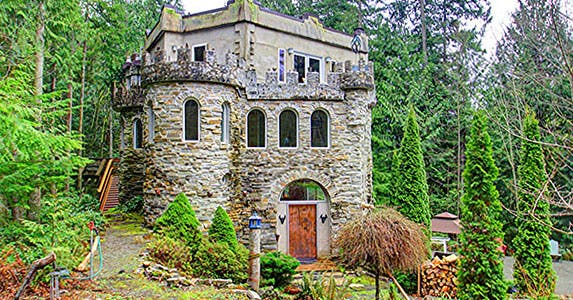 The Castle of Skagit County
Photo courtesy of Realtor.com
Location: Sedro-Woolley, Washington
Price: $825,000
On the outside, it looks like a relic of another age: In an ancient forest, across a footbridge over the gorge of a fast-moving stream, sits a lone stone keep.
On the inside, it's more like a cross between a treehouse for grown-ups (complete with pool table and sleek, modern kitchen) and a cozy ski lodge (with a roaring fire, stone walls, exposed beams and plenty of large windows to take in the views).
Welcome to the Castle of Skagit County.
This three-bedroom, two-bath home was completed in 1997, says Jean Groesbeck, managing broker with Coldwell Banker Bain.
Catapult not included
Warm and inviting, the castle also has some tongue-in-cheek touches — like the gargoyles, she says. "They had some fun with it."
It also has all the comforts of home, including a fireplace, sitting area and jetted tub in the master suite, a steam room in the guest bath and a rooftop deck. There's also a wood-fueled hot tub.
The 20-acre lot is a nature photographer's dream with waterfalls, natural pools, ponds, trails and lots of wildlife, she says.
The ideal new owner is "someone who will embrace the beauty of the environment," Groesbeck says, "and have fun with the castle."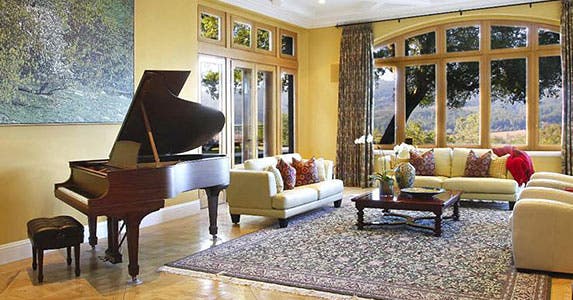 Galatea
Photo courtesy of Realtor.com
Location: St. Helena, California
Price: $16.996 million
All the advantages of a French chateau — without spending half a day on a plane.
Built over seven years and completed in 2010, the creation of this home "took a lot of research, time and thought process," says Winnie Fok, international sales specialist for McGuire Real Estate.
The result is replete with soaring archways, coffered ceilings, marble floors, mosaics, imported oak cabinetry and antique fireplaces. The two-story, oak-paneled library has its own elevator, Fok says.
Ou est la salle de bain? Ici.
But the home has a very modern take on entertaining. Each of the four bedrooms has its own full bathroom, Fok says. The backyard — with a pavilion and two patios adjacent to a crescent-shaped infinity pool — is a popular spot for outdoor events and fundraisers, she says.
Something you won't find in most chateaux: a full outdoor kitchen with a pizza oven and barbecue.
The 46-acre property is surrounded by neighboring vineyards, Fok says. While this home doesn't have any vines of its own, it has an impressive wine cellar with room for 4,500 bottles — protected by a 400-year-old wrought-iron castle door, she says.
Best of all, there are views from just about every room, she says. "You can sit in your tub and have a view of the whole Napa Valley."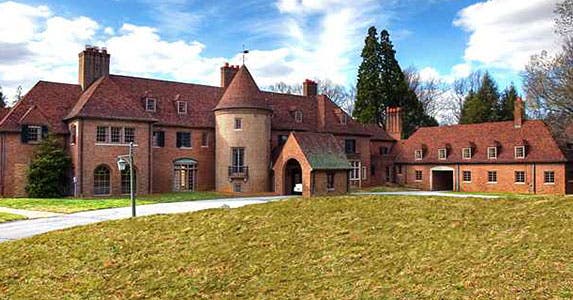 Adamsleigh
Photo courtesy of Realtor.com
Location: Greensboro, North Carolina
Price: $4 million
The design of this 1930s home is a cross between a castle and a Tudor palace — with a touch of "Downton Abbey."
Built during the Depression, it was outfitted in grand style, using artisans, stone cutters, iron workers and craftsmen "who could do elaborate detailing," says Katie Redhead, Realtor/broker for Tyler Redhead & McAlister Real Estate.
Almost every room has a massive fireplace with an intricately carved mantle and hearth, she says. "Each one is unique."
The servants' quarters include five bedrooms, two sitting rooms and their own kitchen. And the servants' call buttons are still located in the home's old-fashioned kitchen.
Many rooms
The kitchen, in keeping with a well-to-do house of the period, was actually a series of rooms — one for cooking, one for food prep (with the still-functional 1930s ice box) and one for warming dinner, Redhead says.
The house also keeps a few secrets. A hidden passageway leads from the master bedroom to a downstairs study. And laundry chutes empty into a basement laundry room.
The property — just over 13 1/2 acres — has its own stables, plus two pools. It's also adjacent to the Sedgefield Country Club, which hosts the PGA's Wyndham Championship.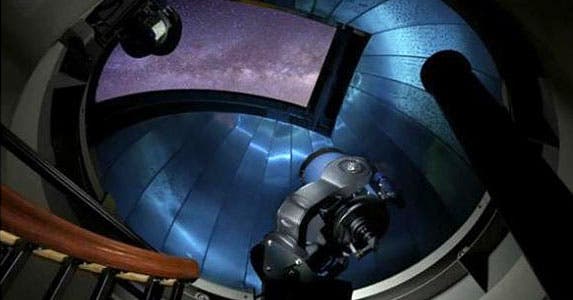 Beach observatory
Photo courtesy of Realtor.com
Location: Laguna Niguel, California
Price: $3.188 million
For sale: A mansion with a view — of the universe.
Built in 2000, this home in Laguna Niguel has a built-in observatory. The original owner, who loved astronomy, incorporated the feature into the plans for the house, says Dana Wall, a Realtor with Berkshire Hathaway HomeServices California Properties.
"It's like a mini Griffith Observatory," she says.
Located in an adjacent tower and accessed via a spiral staircase, the observatory has a retractable roof, a powerful stationary telescope and a motorized rotunda that rotates on its axis to focus the programmable telescope on features in the night sky, Wall says. It can accommodate up to six people and also has great views of the ocean, she says.
Nice by daylight, too
But this house is also designed to enjoy the California sunshine. The large backyard features a free-form, salt-water pool with waterfalls, surrounded by palm trees, says Wall. "It's very tropical, very lush."
Want a cool drink? There's a pass-through from the patio to the game room, which sports a full wet bar and a pool table. There's also a subterranean wine-tasting room with its own cooling system, Wall says. "It's a fun home for entertaining."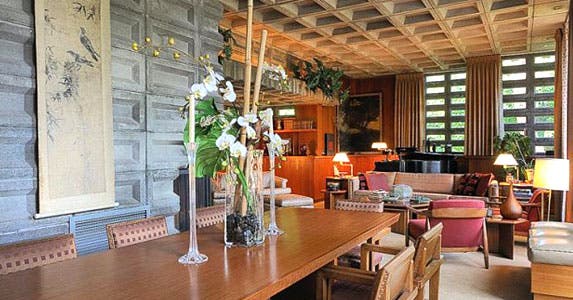 Gerald B. Tonkens House
Photo courtesy of Realtor.com
Location: Amberley, Ohio
Price: $1.788 million
This home, on more than four acres near Cincinnati, was designed by Frank Lloyd Wright.
The owners gave Wright a free hand in the design, asking only for a home that was low maintenance and within their price range, says Lori Wellinghoff, Realtor with Comey & Shepherd Realtors.
And the result was "stunning, just stunning," she adds.
Visitors enter the house through a library gallery hall, which opens to reveal the great room with floor-to-ceiling French doors that open to the lanai. "It takes your breath away," Wellinghoff says.
Frank Lloyd Wright FTW
Wright's design used more than 450 glass bricks in the home, along with Philippine mahogany, she says. In the bedrooms, the ceilings are coated in gold leaf, which reflects the sun and gives the rooms a soft glow.
The three-bedroom, 2,500-square-foot house is also sleek and practical, says Wellinghoff. "There's an abundant amount of storage behind push-latch doors."
Built into the land, she says, "it has a very indoor-outdoor feel."
Constructed in 1956 and listed on the National Register of Historic Places, this is the first time the house has ever been for sale, Wellinghoff says.