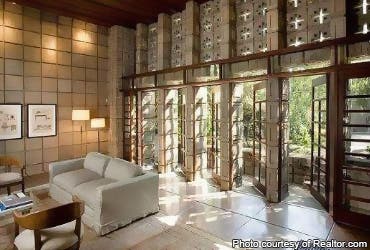 Cool homes for sale, designed by famous architects
Ever wish you could live in one of those drool-worthy homes designed by a top architect?
Or maybe just get a glimpse to see what that lifestyle would look like: soaring ceilings, glass walls, lots of light, and spaces built for entertaining.
Another line item to include in the fantasy is the cost of keeping those beauties looking good.
A prospective owner has to plan for upkeep, says George Smart, chairman of the North Carolina Modernist Houses, a nonprofit that promotes residential modernist architecture.
And, when you work on the house, you have to choose a builder or contractor who stays faithful to the original concept, he says: "It takes a completely different skill set."
From a house on the National Register of Historic Places to a golf getaway in classic '60s style, here are six homes for sale that were designed by noted architects.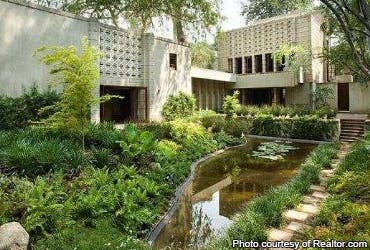 La Miniatura
Location:

Pasadena, Calif.

Asking price:

$4.495 million
This home, on just under an acre in Pasadena, was designed by Frank Lloyd Wright.
Built in 1924, it's known as "La Miniatura," or "the Millard House," and was commissioned by the late Alice Millard.
The first of several "textile block" homes by Wright, it's "one of the 12 most significant landmarks in Los Angeles," according to the L.A. chapter of the American Institute of Architects — and is listed on the National Register of Historic Places.
The house is built into a ravine, surrounded by trees and gardens. "(Wright's) idea is that this house grows out of the earth — that it's as much a part of nature and created by nature," says Crosby Doe, owner of Crosby Doe Associates Inc., which is listing the house.
Living areas and bedrooms overlook gardens or green spaces. The dining room opens to an Asian garden with a lily pond — which is also visible from the two-story living room, Doe says.
The 4,230-square-foot home has three bedrooms, plus a maid's quarters, Doe says. And the 1920s kitchen was recently updated with wood countertops and a stainless double range, he says.
There is also a formal garden with a manicured lawn "for staging parties," says Doe.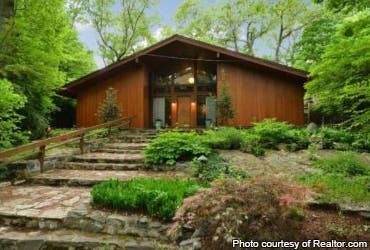 Dogtrot House
Location:

Darien, Conn.

Asking price:

$1.6 million
This Asian-style home was designed by Edward Durell Stone.
Best known for his work on public buildings, such as the Kennedy Center, the Museum of Modern Art and Radio City Music Hall, Stone also accepted commissions for private homes. He designed this one for Walter Johnson in 1953, and it was completed the following year.
Outside, it resembles a Japanese A-frame cottage, says Mary Lopiano, an agent with Halstead Property, the company listing the home.
Inside, an entryway with a koi pond and in-ground plantings gives way to a main living area with a vaulted beamed ceiling and clerestory windows extending to the roofline. Sliding shoji screens separate the living room from the dining room and a paneled den with a wood-burning brick hearth, built-in seating and bookshelves.
The 2,334-square-foot home has four bedrooms and two bathrooms, and sits on just over an acre. The backyard features a waterfall and three patios, Lopiano says.
This home was built during a period that Stone, "a classic modernist," had "changed his style to be more warm and inviting," Smart says.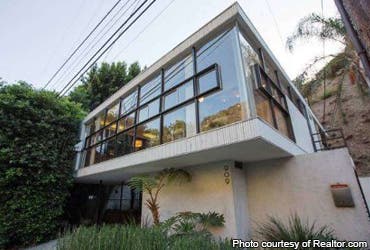 Broughton House
Location:

Los Angeles

Asking price:

$825,000
This California modern, built in 1949, was designed by Craig Ellwood.
"The house is really all about the simplicity, the windows," says Barry Dane, agent for Keller Williams Realty Hollywood Hills, the company listing the house.
The living room is glass on three sides and has the original brick fireplace. "It's very open — it feels almost loft-like," he says.
Located north of Bel Air, the 1,660-square-foot home has three bedrooms and two bathrooms, Dane says.
The kitchen has "really beautiful" black terrazzo floors with stainless steel inlay, he says. "It's very forward-thinking for 1948."
While the kitchen has been updated, "keeping updates consistent with the original style is the right move," Smart says.
Ellwood was himself a California success story. A Texas native, he moved to L.A. and — in spite of having no architectural license — was recognized as one of the best architects of his day and helped create the "California modern" style.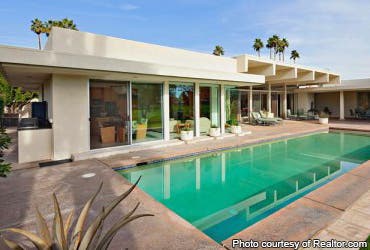 Frank Capra house
Location:

La Quinta, Calif.

Asking price:

$1.575 million
This mid-century modern, near Palm Springs, was designed by A. Quincy Jones.
And he "used all of the views and the light," says Jennie Robinson, a Realtor with Windermere Real Estate, which is listing the house.
Transom windows bring in light and allow glimpses of "the peaks of the mountains and the palm trees, while the whole south side of the house is a wall of glass," she says.
The open living and dining room area — plus a sunken wet bar with a pass-through to the patio — overlooks the pool.
It has 4,221 square feet, with four bedrooms and 3 1/2 baths.
Built in 1960, it's on the 10th fairway of the La Quinta Country Club golf course — one of the courses that hosts the Humana Challenge, says Robinson. The first owner was movie director Frank Capra.
"It's lush, yet uses a lot of the desertscape," says Robinson. "It's efficient as far as using water. The property — just under a third of an acre — has fruit trees and a completely covered loggia. "So you can sit on the loggia and have your morning coffee," she says.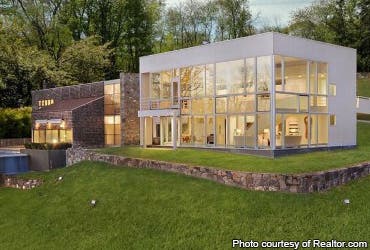 Orchard Hill
Location:

Mount Kisco, N.Y.

Asking price:

$3.495 million
This dramatic contemporary home was designed by Richard Meier.
While Meier is best known for known for public spaces like the Getty Center, the Barcelona Museum of Contemporary Art, and the Paley Center for Media, he also accepted a number of private commissions.
Set on just under 7 acres, it was built in the early 1970s. Enter the house, "and you feel like you're walking into the sky," says Brian Milton, real estate broker with Houlihan Lawrence real estate, which is listing the home.
The first things you see are the trees and the views, he says.
When Meier planned the house, he created an upstairs sleeping loft. "His idea was that you wake up and you have a view of the world," says Milton.
Downstairs, the living room and dining room — with a fireplace between — were designed for entertaining and flow," says Milton.
But Meier's original design has been altered. Subsequent homeowners closed in the space between the home and a cottage on the site — grafting the cottage onto the original house to add more square footage, says Milton.
Currently, the home has four bedrooms, six bathrooms and 6,700 square feet, he says.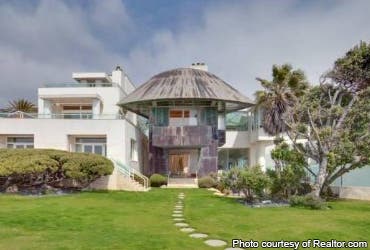 Borman House
Location:

Malibu, Calif.

Asking price:

$57.5 million
This Malibu beach house was designed by Frank Gehry.
Known as the "Borman House," it was built in 1989 and sits on four beachfront lots totaling 1.46 acres, says Jack Pritchett, co-owner of Pritchett-Rapf and Associates, one of two real estate firms sharing the listing.
"It's really an art piece," he says. "It took five years or so to build."
Commissioned by the late Burton Borman, CEO of PennCorp Financial, the tri-level home is 11,413 square feet with limestone floors, vaulted wood ceilings, multiple skylights and walls of glass framing beach views, Pritchett says.
The lower-level outdoor entertaining area overlooking the beach has a built-in fireplace and adjoins an indoor rec room with a full kitchen and private bath.
It has four bedrooms, plus two additional guest suites. The master bedroom has a fireplace, skylight and picture windows that overlook the beach. The master bath features two private bathing areas — one with a multi-head shower; the other with a jetted tub and skylight.
The home also has a multi-level wraparound deck incorporating a tennis court, lap pool and hot tub — plus a stone walkway leading to the beach.