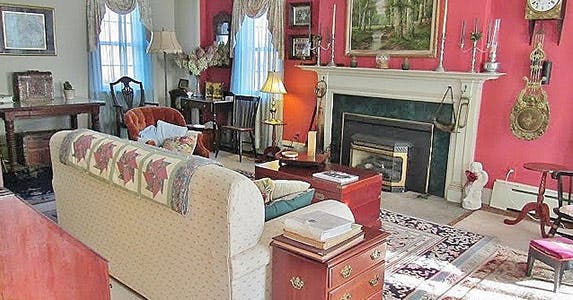 Historic homes for sale
Want to live in a house that had a front-row seat to American history?
Just imagine: Walk the same hardwood floors, look out the same windows and poke around the same attics and basements as some of the men and women who built this country.
Some historic homes even sell for relatively modest prices. But, as anyone who loves these beauties will tell you, be prepared for the upkeep — especially if you want to show them off.
Historic homes have stories and secrets to share. And these four examples have some great tales to tell: The estate of an Irish immigrant and leader in the American Revolution. A fabled but forgotten penthouse of an all-powerful newspaper tycoon. A home purchased by a woman who played an important role in the Revolution and the burgeoning country. And the home of a Yankee abolitionist who aided the Underground Railroad — complete with a hidden staircase.
Whether you want to spend a few hundred thousand or $24 million, here are four homes that served as a backdrop to history.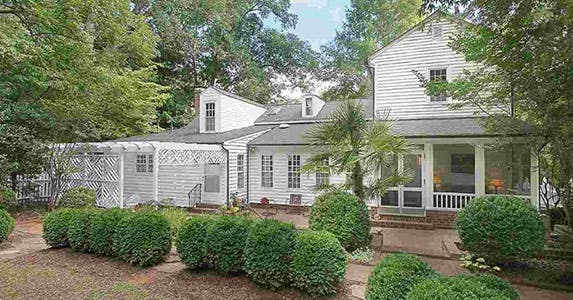 'Heartsease'
Realtor.com
Hillsborough, North Carolina
$895,000
Built in 1770, "Heartsease" was the home of Irish immigrant Thomas Burke, who served in the first four provincial congresses and was an early supporter of American independence.
During the Revolution, Burke was governor of North Carolina, as well as a prisoner of war, according to information from the North Carolina History Project. He was paroled by the Tories and escaped back to North Carolina, where he resumed his position as governor.
Burke resigned after 10 months in office and died the following year.
Burke's Colonial home has three bedrooms, three full baths and 2,826 square feet, says Beth Louden, broker with Franklin Street Realty.
It features the original heart-of-pine floors, 10-foot ceilings, exposed beams, built-in bookcases and four working fireplaces, and was renovated in 1988, she says.
Sitting on just over an acre, "it has a beautiful front porch that goes across the front of the house, as well as the original front door, windows and shutters," she says.
There's also an English-style garden, complete with a 10-foot boxwood arch, as well as pecan trees, magnolias, dogwoods and oaks, Louden says.
Heartsease is also listed on the National Register of Historic Places.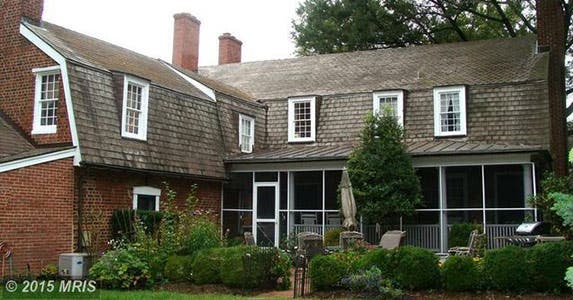 Jonas and Anne Catharine Green House
Realtor.com
Annapolis, Maryland
$1.7 million
Jonas Green was a newspaper publisher, printer and vocal advocate for independence in the decades before the American Revolution.
But when he died in 1767, Anne Catharine Hoof Green, his wife and the mother of his 14 children, took over the business and his role as a voice for liberty.
She ran the Maryland Gazette, printed the official currency for the colony, and even housed the post office in her living room, says Nancy McGuire, founder, owner and broker of Maryland Heritage Properties.
Anne Green is listed in the Maryland Women's Hall of Fame, and her family believes she may have been the country's first female newspaper publisher.
The gabled-roofed house was completed by 1738, but parts of the home are suspected to date to 1695, McGuire says.
It has five bedrooms, 4 1/2 bathrooms and 10 fireplaces, she says. It retains the original pine floors, along with a traditional layout that includes a wide entrance hall, formal parlor, living room and two dining rooms, she says.
A 1991 renovation added air conditioning and a modern kitchen, she says.
On almost a quarter-acre, the home has "a lovely lot with a garden," says McGuire.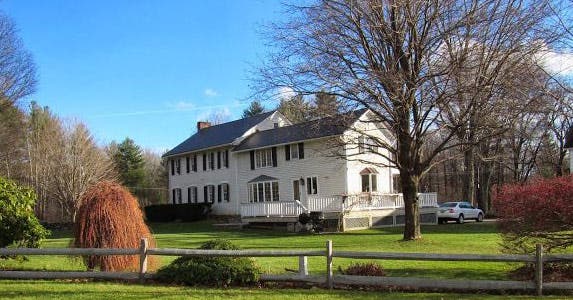 General Uriel Tuttle House
Realtor.com
Torrington, Connecticut
$309,900
Built between 1790 and 1802, this Federal-style house was home to General Uriel Tuttle, a prominent Connecticut abolitionist who assisted the Underground Railroad.
It's rumored that the house and grounds may have been a stopover along the way, says Thomas McGowan, real estate agent with Elyse Harney Real Estate.
The oldest part of the house is brick, while slightly more recent areas are clapboard, McGowan says. "It has a very specific clean-line feel to it."
Flooring throughout is either chestnut or maple, he says. The "windows are all symmetrical, so the lighting is very good," he says.
It has four bedrooms, 2 1/2 bathrooms and two working fireplaces in its 3,168 square feet. The 8-foot ceilings in the cheerful master bedroom — only slightly taller than the living room — were considered high for that period, he says.
The house conceals a hidden stairway from the second floor to a third-floor attic.
The modern kitchen has granite counters, stainless appliances, a center island and lots of cabinet space.
An oversize deck and adjoining slate patio overlook the backyard, which abuts the seventh hole of the Green Woods Country Club, says McGowan. "So it feels like you're on this palatial estate."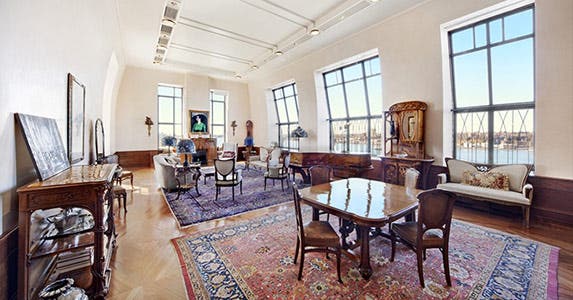 Penthouse owned by Hearst
Corcoran Group
New York City
$24 million
Long before he built Hearst Castle, William Randolph Hearst lived in a luxurious, multistory Manhattan penthouse.
But he lost it to the bank during the Great Depression, and it was shuttered for over 50 years, says Joy Handler, associate broker with the Corcoran Group.
Meanwhile, the rest of the 1906-vintage building, dubbed "the Clarendon," was converted into "simple, beautiful West Side apartments," she says.
Fast-forward to the 1990s: A couple kept hearing rumors about a sumptuous Hearst home nearby. They eventually discovered — and later bought — the long-forgotten penthouse, says Handler. And then they begin one very expensive, six-year renovation.
The result: a 7,000-square-foot art deco showplace with seven bedrooms, 6 1/2 bathrooms, a period elevator and 10,000 square feet of rooftop terraces with views of the Hudson River and Manhattan.
The centerpiece is the 100-foot-long "baronial hall," Handler says. With 17-foot ceilings and windows on two sides that "gently tilt in, it's a very magical place that's sort of suspended over the Hudson," she says. It has a massive fireplace.
Built on a grand scale and finished with a variety of exotic mahoganies, walls of windows and intricately carved details, says Handler, it "is very much a jewel box."