Upgrade Visa® Card with Cash Rewards Review
At Bankrate we strive to help you make smarter financial decisions. While we adhere to strict editorial integrity, this post may contain references to products from our partners. Here's an explanation for how we make money.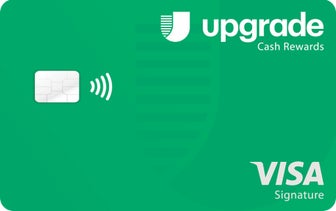 Recommended Credit Score
Fair to Good (580 - 740)

A FICO score/credit score is used to represent the creditworthiness of a person and may be one indicator to the credit type you are eligible for. However, credit score alone does not guarantee or imply approval for any financial product.
Annual Fee:

$0

Purchase Intro APR:

N/A

Regular APR:

8.99% - 29.99% APR
Bankrate Rating
Our writers, editors and industry experts score credit cards based on a variety of factors including card features, bonus offers and independent research. Credit card issuers have no say or influence on how we rate cards.
Best for fixed-rate financing
Rewards rate: Earn 1.5% unlimited cash back on card purchases every time you make a payment
Welcome offer: None
Annual fee: $0
Purchase intro APR: None
Balance transfer intro APR: None
Regular APR: 8.99 percent to 29.99 percent
If you're trying to decide how best to cover large upcoming expenses, the Upgrade Visa® Card with Cash Rewards may be worth a look. Though the card lacks a zero percent intro APR, it could be a useful financing tool if you worry about your ability to manage a repayment plan.
Here's how it works: When you sign up, you're assigned a line of credit, APR and installment terms of 12 to 60 months, based on your credit score. You can use your card to make purchases or have funds transferred directly into your bank account. At the end of each month, your charges or bank draws are automatically put into an installment plan with fixed, equal monthly payments.
While you won't be able to avoid all interest charges, the Upgrade Card's unique blend of a credit card and personal loan could save you money by obligating you to pay off your purchases within a set period. Instead of risking the ballooning balance and high interest charges that come when you only pay the minimum due on a credit card, you'll have a clear payoff schedule to follow.
That said, if you're confident in your ability to pay off your balance on time, a credit card with a zero percent intro APR on purchases will probably be a better fit.
Cash back
The Upgrade Visa card delivers an impressive cash back rate for such a low-fee card available for cardholders with "average" credit or higher (580+ FICO score): unlimited 1.5 percent cash back on all purchases when you pay them back on time. That's a great deal considering the popular Citi® Double Cash Card, which earns up to 2 percent cash back on every purchase (1 percent at purchase and 1 percent upon payment) in a similar fashion, recommends an "excellent" credit score to apply.
Your cash back is added to your account balance after your next scheduled monthly payment as a statement credit.
Benefits
While the Upgrade Card offers next to nothing in the way of cardholder perks, it carries a few key advantages over traditional credit cards. Chief among these is transparency: You'll know exactly what you need to contribute each month to pay off your balance on time. You can also check your credit line and rate before you commit to the card.
Here are a few benefits of the Upgrade Card:
Chance at a very low APR
Depending on your credit history, you could qualify for an APR as low as 8.99 percent. That's nearly half the rate of the current average credit card interest rate.
Of course, if you opted for a card with a zero percent intro APR on purchases, you could avoid interest completely for several months (typically 12 to 15 months). The catch is that when your intro APR period ends, any balance that remains will be subject to the card's standard APR. If you have trouble managing payments and wind up underpaying your balance, you'll soon find yourself drowning in interest charges.
The Upgrade website uses data from Bankrate's credit card interest calculator to show how much you could save by paying off a $10,000 balance with the Upgrade Card instead of paying the minimum due on a traditional credit card (assuming you're assigned an 18 percent APR and a 24-month term, accounting for interest accrued between the charge date and the due date 51 days later):
| | Upgrade Card | Traditional credit card |
| --- | --- | --- |
| Payoff time | 2 years | 28 years |
| Interest paid over time | $2,102.71 | $14,423.16 |
In this (somewhat dramatic) example, using the Upgrade Card would save you over $12,000 and 26 years versus paying the minimum due on a credit card with the same interest rate. Of course, this is still a hefty amount of interest to pay, so you'd want to pay off the balance as soon as you were able.
Keep in mind also that you're not guaranteed a particularly low APR with the Upgrade Card. If you have a thin credit history or middling score, you could wind up with the Upgrade Card's high-end APR of 29.99 percent, which is extremely high, even compared to the rate offered on many credit cards designed for people with bad credit. If that's the case, you may want to try working on your credit score for a few months first to see if you can get better terms.
Potentially large credit line
You also have a chance at a higher credit limit with the Upgrade Card than you're likely to find on a typical credit card. The Upgrade Card offers personal credit lines from $500 to $25,000, depending on your credit history. That rivals some of the best high limit credit cards on the market.
A large credit line could be an especially big help if you need to finance a few big expenses and want to avoid signing up for a deferred interest financing plan (which could end up costing a ton if you have any balance left at the end of the promotional period).
But again, there's no guarantee you'll be offered a high limit. It all depends on your credit history. In fact, Upgrade's card terms state that they actually offer credit lines up to $50,000, however, the terms also say that the majority of credit lines are below $25,000.
Check terms with no hard credit pull
Luckily, you can check your Upgrade Card credit line and APR before you commit to the card. This gives you a chance to see whether it makes sense to move forward, without risking your credit score via a hard credit inquiry. Contrast this with traditional credit cards, which almost always require you to actually apply and face a hard pull before you know what your credit limit and APR will be.
Easy workaround for balance transfers
While the Upgrade Card does not technically support balance transfers, there is an easy workaround: Simply have your funds deposited to your bank account, pay off your existing debt and then pay off your Upgrade Card balance over time according to your account's installment terms.
Given how tough it can be to qualify for a balance transfer card, this could be a decent option. While you won't be able to completely avoid interest charges as you would with a zero percent intro APR, you could still save a ton if the APR you're offered on the Upgrade Card is much lower than the rate on your current credit card.
Rates and fees
As discussed, the Upgrade Card's APR is a bit of a mixed bag: You'll be assigned an APR between 8.99 percent and 29.99 percent, depending on your credit score. While a 29.99 percent APR is very high, an APR of 8.99 percent is rock-bottom — even compared to the lowest-interest credit cards on the market. Just keep in mind that the Upgrade Card terms state that you're required to enroll in autopay to be potentially eligible for the lowest rates.
When it comes to fees, though, the Upgrade Card is a clear winner. The card charges no fees of any kind: No annual fee, transfer fee, cash advance fee, late payment fee, or any of the other fees you'll typically find on traditional credit cards.
There's also no prepayment fee, so you can pay your balance off as soon as you're able and save on interest.
How the Upgrade Card compares to zero percent intro APR credit cards
While the Upgrade Card can be a good fit if you need a helping hand as you work to pay down large purchases, you'll have to pay at least some interest. If you opted for a card with a zero percent intro APR on purchases or balance transfers instead, you could chip away at a balance for 12 months or more without paying any interest at all.
Card
Rewards rate
Intro APR
Regular APR
Other details
Chase Freedom Unlimited®
5% cash back on grocery store purchases (not including Target® or Walmart® purchases) on up to $12,000 spent in the first year; 5% cash back on Lyft purchases (through March 2022); 5% back on travel purchased through Chase Ultimate Reward, 3% back on dining and 3% back on drugstore purchases; 1.5% back on all other purchases
0% intro APR for the first 15 months on purchases (then the regular APR applies)
14.99%-23.74% variable
Earn $200 back if you spend $500 in the first 3 months

Transfer points to a higher-tier Chase travel card and enjoy more value when you redeem for travel through the Ultimate Rewards portal

Blue Cash Everyday® Card from American Express
3% cash back at U.S. supermarkets (on up to $6,000 per year in purchases, then 1%); 2% back at U.S. gas stations and at select U.S. department stores; 1% back on all other purchases
0% intro APR for the first 15 months on purchases (then the regular APR applies)
13.99%-23.99% variable
Earn 20% back on Amazon.com purchases on the Card in the first 6 months of Card membership, up to $150 back.

Plus, earn $100 back after you spend $2,000 in purchases on your new Card within the first 6 months of card membership. You will receive cash back in the form of statement credits.

PenFed Gold Visa® Card
None
0% intro APR for 12 months on balance transfers (must be made before September 30, 2021; 3% balance transfer fee). Afterward, 17.99% ongoing
7.49%-17.99% variable
Earn $100 statement credit when you spend $1,500 in the first 90 days
Best cards to pair with the Upgrade Card
Since the Upgrade Card offers flat-rate rewards, it may be wise to pair it with a credit card that earns a higher cash back rate on specialized categories. This way, you can chip away at the cost of a large expense like a home repair with applicable bonus categories while also earning rewards on the things you purchase every day.
If you don't mind doing a bit of legwork to earn extra rewards on some of your purchases, the Discover it® Cash Back card is worth a look. You'll earn 5 percent cash back in bonus categories that rotate each quarter (upon enrollment, on up to $1,500 in spending per quarter, then 1 percent) and 1 percent back on general purchases. The Discover cash back calendar for 2021 has included grocery stores, gas stations, restaurants, Amazon.com, Walmart.com and more.
Bankrate's Take – Is the Upgrade Card worth it?
The Upgrade Card could offer a predictable and transparent financing alternative for cardholders who struggle with managing credit card balances. By putting your balance into an installment plan, the card could help you minimize interest charges and keep your debt repayment efforts on track while earning cash back on all purchases.
But how much you'll save — and whether you'll save at all — comes down to the Upgrade Card APR you're assigned. If you can't qualify for one of the card's lower-end APRs, it won't be nearly as compelling as a traditional credit card that comes with a zero percent intro APR on purchases and helps you avoid interest completely for 12 months or more. Luckily, though, you can see your credit line and APR before you move forward with your Upgrade Card application.
Pros
Cardholders with excellent credit have a chance at a low APR and high credit limit
No annual fees, setup fees or other fees of any kind
No prepayment fees, so you can pay your balance off early if you're able
Use card anywhere Visa is accepted (cannot be used at an ATM)
Earn 1.5% unlimited cash back on card purchases every time you make a payment
Cons
Can't completely avoid interest charges
Depending on your credit history, your Upgrade Card APR may not be any better than the rate you'd get on a traditional credit card