Brink's Prepaid Mastercard® review
At Bankrate we strive to help you make smarter financial decisions. While we adhere to strict editorial integrity, this post may contain references to products from our partners. Here's an explanation for how we make money.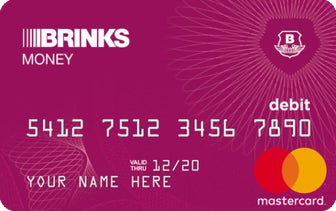 Recommended Credit Score
See Terms

A FICO score/credit score is used to represent the creditworthiness of a person and may be one indicator to the credit type you are eligible for. However, credit score alone does not guarantee or imply approval for any financial product.
Annual Fee:

Variable Monthly Fees

Purchase Intro APR:

N/A

Regular APR:

N/A
Terms and Restrictions Apply
Best prepaid Mastercard for flexibility
Rewards rate: 1X points on signature purchase transactions; additional points on select limited-time merchant offers
Monthly fee: $0 to $9.95 (depending on plan option)
Card purchase fee: $0
Purchase transaction fee: $0 to $1.50 (signature and PIN)
Over-the-Counter cash withdrawal fee: $3 (At network reload locations: 2.75 percent with $4 minimum)
ATM cash withdrawal fee: $2.50 per transaction (50 cents for ATM balance inquiry)
Card reload fee: Up to $3.95
Early direct deposit? Yes (up to two days before payday)
Additional savings account included? Yes (5 percent APY on up to a $1,000 balance)
If you've decided a prepaid credit card is the perfect payment choice but you might not use it often enough to justify a monthly fee, then the Brink's Prepaid Mastercard® and its pay-as-you-go plan could be a great fit.
The Brink's prepaid card is issued by Netspend and carries a nearly identical structure to the Netspend® Visa® Prepaid Card—down to the rewards, fees and most benefits. However, Visa cards tend to offer more perks on base cards than Mastercard credit cards, and the Brinks Prepaid is also missing the Netspend's virtual card number and additional savings account banking options.
While the Brink's Prepaid Mastercard is a solid option, you can find better rewards and fewer fees with other prepaid credit cards or a debit card.
Rewards
The Brink's Prepaid Mastercard delivers the same opt-in Payback Points rewards program as other Netspend prepaid cards, but Brink's program is called Brink's Money Payback Points. The redemption options can be valuable, but the point values and higher-yield reward opportunities are a bit foggy unless you already have an account.
Earning rewards
You'll earn 1 Payback Point per dollar on signature purchase transactions (just select "credit" on the keypad at checkout), minus your purchase fees. However, you may be able to earn bonus points at a higher rate if you take advantage of additional limited-time, merchant-specific offers in your Online Account Center. Luckily, these reward opportunities can easily fit into your regular spending since they are personalized around your purchases.
These additional offers are similar to card-linked reward programs, like Amex Offers or Chase Offers.
Along with card spending, your most sizable reward opportunities are unlimited $20 referral bonuses if individuals you refer put at least $40 on their cards.
Redeeming rewards
Points can be redeemed for cash back in the form of account credits, but you must log in to the Online Account Center or mobile app to see your other reward choices.
Fee waivers and merchant offers have also been available in the past, so be sure to check your account every now and then for valuable opportunities.
How much are points worth?
Because the Payback Points program's terms are a bit vague, it's difficult to tell the exact point value. When it comes to rewards cards centered around cash back on everyday purchases, you typically want your points to be worth at least 1 cent apiece for a 1 percent cash return.
It may be worth looking into another prepaid credit card with a more straightforward redemption option, such as cash back. For example, the American Express Serve® Cash Back prepaid card earns unlimited 1 percent cash back on all purchases in exchange for a $7.95 monthly fee.
Benefits
Surprisingly for a security brand, the Brink's card doesn't offer any of the additional account security features you'll find with its Netspend cousins. In fact, it's missing Netspend's virtual card number benefit for safer online shopping. This is worth considering since prepaid cards don't enjoy as many federal protections as debit and credit cards do.
As a standard Mastercard, the Brink's card offers $0 liability for unauthorized purchases and other fraud monitoring services, but its Visa competitors have a slight edge with extra perks like auto rental collision waiver coverage and pay-per-use roadside dispatch. Still, the card offers two-day early direct deposit and a decent portfolio of handy Netspend benefits if you're a Brink's Preferred Benefits cardholder (load qualifying direct deposits of at least $500 in one month to be eligible).
$10 purchase cushion
Prepaid cards operate like debit cards in that you can't spend beyond your card's balance. But if you're a Brink's Preferred Benefits cardholder, the issuer may give you up to a $10 negative balance as a courtesy, offering some wiggle room if you're in a pinch.
Optional savings account (up to 5.00 percent APY)
Brink's Preferred Benefits members may choose to open an optional FDIC-insured savings account with Republic Bank & Trust Company. The account earns a whopping up to 5.00 percent APY, but only up to a tiny $1,000 balance (4.91 percent variable interest rate). Above that, the APY drops to 0.50 percent (0.49 percent variable interest rate), which isn't a terrible rate considering the current average APY.
Personalized prescription discounts
You can receive up to 50 percent discounts on prescriptions with major pharmacies with a printable discount card if you choose to join the medical discount plan provider location service included with your card.
Rates and fees
As far as rates and fees go, the Brink's Prepaid Mastercard is virtually identical to the Netspend Prepaid Visa. If you choose the pay-as-you-go plan, it'll be hard to maneuver without tripping over a fee. Each purchase will cost $1.50, but the $9.95 monthly plan may save you money depending on how often you'll use your card. The best move by far is to accept the reduced monthly plan as a Brink's Preferred Benefit member, which requires $500 in qualifying direct deposits each month. This drops yours monthly plan to $5—a fee similar to other prepaid cards.
Unfortunately, your balance will be constantly nibbled into by the cast of fees that usually come with prepaid cards. There's no upfront card purchase fee, but you'll have to pay up to $3.95 just to reload your card's cash balance. You'll also experience a $3 Over-the-Counter (OTC) cash withdrawal fee at financial institutions like banks or a 2.75 percent fee of the total withdrawal at in-network reload locations (or $4, whichever is greater). Domestic ATMs only charge a $2.50 withdrawal fee.
It's hard to steer clear of these fees, especially considering the list of situational costs like a 4 percent foreign transaction fee, $5.95 90-day inactivity fee and even a $4.95 fee for a custom picture on your card. Unless you're dedicated to a prepaid card, alternative options might be cheaper.
How the Brink's Prepaid card compares to other starter cards
Besides its laundry list of fees, a few other key considerations deserve your attention before choosing the Brink's Prepaid. Other prepaid cards like the Amex Serve Cash Back prepaid card may rake in more rewards and provide lower cost networks. For example, it provides free withdrawals at 30,000+ MoneyPass ATMs ($3.95 at others).
But a debit card is an all-around better (and cheaper) starter card if that's your concern, and there are a few rewards checking accounts like the Discover Cashback Debit Account. Either way you slice it, a credit card is the most beneficial option of the three—there are more security measures, more benefits, better rewards and they build credit. There are also plenty of starter credit cards that can better serve both young credit holders and those with limited credit. You can impose credit limits on secured cards like the Discover it® Secured Credit Card while also establishing a stronger financial foothold.
Card/Account name
Rewards rate
Annual/Monthly fee
Other details
American Express Serve® Cash Back

Unlimited 1 percent cash back on all purchases

$6.95 monthly fee (waived if at least $500 direct deposited in one month)

90-day purchase protection on purchases up to $1,000
Free early direct deposits
$0 online card purchase fee (up to $3.95 at retailers)
$3.95 cash reload fee
$0 withdrawal at MoneyPass ATMs ($2.50 at other ATMs)
$0 to send and receive money

Discover Cashback Debit Account

1% cash back on up to $3,000 in debit card purchases each month

N/A

60,000+ fee-free ATMs across the U.S.
No fee for check orders
No insufficient funds fee
No minimum opening deposit or balance requirement

Discover it® Secured Credit Card

2% cash back at gas stations and restaurants (on up to $1,000 in combined purchases each quarter, then 1%)
1% cash back on all other purchases

$0 annual fee
$200 to $2,500 security deposit (initial credit line matches deposit)

All cash back earned in the first 12 months is matched
Six-month 10.99% intro APR for balance transfers (3% intro balance transfer fee, up to 5% fee on future balance transfers (see terms)*), then 22.99% variable ongoing APR
Automatic monthly credit line reviews starting at eight months for a possible credit line upgrade

No penalty APR
Late payment fee: None the first time you pay late; after that, up to $40
Best cards to pair with the Brink's Prepaid card
Prepaid cards aren't the best rewards pairing material, but co-branded prepaid cards like the Walmart MoneyCard® Visa® with Cashback Rewards might supply you with a higher-grade source of rewards if you frequently shop at specific retailers.
Instead, you might want to focus on earning a higher credit score with your card if you have less-than-perfect credit.
Bankrate's Take—Is the Brink's Prepaid card worth it?
The Brink's Prepaid Mastercard is a solid prepaid credit card that offers a bit more flexibility than some competitors with its pay-as-you-go plan and $10 negative balance cushion. However, its rewards program is confusing, and, like most other prepaid cards, it poses a few fee-harvesting traps. As such, your money may go a bit farther with a debit or credit card.
Pros
Ongoing rewards
130,000+ locations in the Netspend reload network
Pay-as-you-go plan offers flexibility with individual purchase fees instead of monthly fees
Shares valuable Netspend benefits, like a $10 courtesy cushion
Cons
Long list of fees make pay-as-you-go expensive
Nearly identical to the Netspend Visa Prepaid Card
Doesn't build credit and no additional security measures with Brink's