Avant Credit Card review
At Bankrate we strive to help you make smarter financial decisions. While we adhere to strict editorial integrity, this post may contain references to products from our partners. Here's an explanation for how we make money.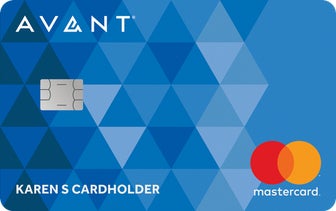 Recommended Credit Score
Fair to Good (580 - 740)

A FICO score/credit score is used to represent the creditworthiness of a person and may be one indicator to the credit type you are eligible for. However, credit score alone does not guarantee or imply approval for any financial product.
Annual Fee:

$59

Purchase Intro APR:

N/A

Regular APR:

24.99%* Variable
Terms and Restrictions Apply
Bankrate Rating
Our writers, editors and industry experts score credit cards based on a variety of factors including card features, bonus offers and independent research. Credit card issuers have no say or influence on how we rate cards.
Best for building credit with an unsecured card
Rewards rate: N/A
Welcome offer: N/A
Annual fee: $59
Purchase intro APR: N/A
Balance transfer intro APR: N/A
Regular APR: 24.99% variable
The Avant Credit Card is an unsecured credit card designed for someone with a fair or average credit score or a limited credit history. While it requires no deposit and can help you build credit with responsible use, it doesn't offer many other benefits.
On the plus side, the Avant card's initial credit limit—though not the highest you'll find on a starter card—beats out the limit found on a number of other unsecured cards for people with less-than-perfect credit. Plus, if you use the card responsibly, you may be able to increase your credit limit over time, which can help your credit utilization. The card also comes with no deposit requirement and its annual fee is reasonable—less than half the fee you'll find on many unsecured credit-building cards. You can even see if you're preapproved for the card without a hard credit inquiry, allowing you to get a sense of your approval odds without negatively impacting your score.
However, cheaper alternatives are out there if you're willing to temporarily tie up money in a security deposit. Indeed, a secured card could give you more control over your credit limit and help you fast-track your credit-building efforts.
All in all, the Avant Credit Card mostly makes sense as a temporary stop-gap while you work on your credit. If you use the card responsibly and manage to boost your score, you can then apply for a more lucrative cash back or rewards card.
Current sign-up bonus
There's no current sign-up bonus or welcome offer with the Avant Credit Card. Although this is the case with most starter or credit-building cards, it's still disappointing considering the card carries an annual fee. While this card has a relatively low initial cost of ownership, requiring no deposit and carrying reasonable fees given it is an unsecured product, a sign-up bonus or ongoing rewards would boost its value considerably.
Sign-up bonuses are not entirely unheard of on cards available at this credit level, either. The Discover it® Secured Credit Card, for example, not only earns 2% cash back at gas stations and restaurants on your first $1,000 in combined spending per quarter and 1% back on everything else, but it also matches all the cash back you've earned at the end of your first year. Since that card charges no annual fee, you could actually make money while building credit with responsible use. The Avant Credit Card offers no such wiggle room, since there's no way to save on purchases to offset the card's annual fee.
Benefits
The Avant Credit Card is designed to help cardholders who have no credit history or a middling credit score build their credit with a credit card, so while it can be useful in that way, you shouldn't expect much in the way of perks and cardholder benefits. That said, the card reports to all three national credit bureaus and charges no foreign transaction fee. Plus, the issuer may take into account more than just your credit score (such as your bank account balance) when evaluating your application.
Reports to major credit bureaus
As cardholders use the Avant Credit Card, their payment history and credit utilization are reported to the major credit bureaus. By keeping credit utilization low and making payments on time and in full, cardholders can potentially boost their credit scores, establish positive credit history and qualify for more lucrative cards down the line. While reporting to all three bureaus is the bare minimum you should expect from a credit-building card, some lower-tier cards only report to one or two bureaus.
No foreign transaction fees
The Avant Credit Card charges no foreign transaction fees, making it a fair choice for cardholders who plan to spend abroad. Many cards charge you a fee that is around 3 percent of each transaction you make overseas, including some of the best credit cards on the market. While it may not be a game-changer if you're on the fence about which credit-building card to go with, it's certainly a tick in favor of the Avant Credit Card.
No security deposit
Unlike secured credit cards, an unsecured card like the Avant card does not require a security deposit upfront. While these deposits are refundable when you close your account, they can be a roadblock if you don't have much cash on hand or would rather avoid tying up money for several months.
Pre-qualify with only a soft pull
You can check if you prequalify for the Avant card without recording a hard credit inquiry on your credit report. While it's no guarantee of approval, preapproval or prequalification allows you to get a sense of your chances before you put your credit score at risk by applying. To see if you have good odds of approval, try out the prequalification tool on Avant's website or use Bankrate's CardMatch tool to see if you are a fit for the card based on your credit profile.
Rates and fees
The variable APR for both purchases and cash advances with the Avant Credit Card is 24.99 percent, which is quite high compared to the average credit card interest rate. You'll definitely want to avoid carrying a balance with the Avant card.
There's an annual fee of $59 with this card, which, though not ideal given there are a few no-annual-fee alternatives like the Petal 2 "Cash Back, No Fees" Visa® Credit Card, is reasonable for an unsecured credit-building card. Some comparable, unsecured credit-building cards charge double or event triple that amount, with many hiking these fees after your first year.
Meanwhile, there's a cash advance fee of 3 percent of the cash advance amount or $10, whichever is greater, and the card carries late fees of up to $39.
How the Avant Credit Card compares to other credit building cards
If you need to build up your credit score and have no credit history or a poor credit history, a secured credit card will often be your best bet. While you'll have to tie up money in a deposit, you can get it refunded when you close or upgrade the account. If you're set on an unsecured card, however, there are a few credit-building options worth considering.
A number of Credit One Bank credit cards are available with a low or middle-of-the-road credit score and offer cash back rewards for everyday purchases, which is a nice perk that can offset card fees. If you're looking for a no-annual-fee credit-building card that comes with a high credit limit, you'll definitely want to take a look at the Petal® 2 "Cash Back, No Fees" Visa® Credit Card, which offers limits of anywhere from $500 to $10,000 depending on your creditworthiness. Like the Avant card, the Petal 2 card's issuer considers more than just your credit score when evaluating applications. Finally, if you have at least fair or average credit, consider the **Jasper Cash Back Mastercard®. Though it's far from the most lucrative cash back card out there, offering just 1 percent back on eligible purchases to start, it charges no annual fee*, no foreign transaction fee and no security deposit and gives you a chance at a credit limit as high as $5,000 (though your limit could also be as low as $100)***.
Card
Rewards rate
Annual fee
Other features
Credit One Bank® Platinum Visa® for Rebuilding Credit

1% cash back on gasoline, grocery store, mobile phone and internet, cable and satellite TV services (terms apply)

$75 first year, then $99 ($8.25 per month)

Comes with a $300 minimum starting credit limit
Available with bad credit or no credit history

Petal® 2 "Cash Back, No Fees" Visa® Credit Card

Up to 1.5% cash back after making 12 on-time monthly payments
1% cash back on eligible purchases right away

$0

Offers credit limits of $500 to $10,000
No foreign transaction fees, late payment fees, or returned payment fees

Jasper Cash Back Mastercard®

1% cash back on eligible purchases
Up to 6% cash back when you refer friends (get an extra 1% for a full year for every friend you bring on board)***

$0*

Offers credit limits of $100 to $5,000
No foreign transaction fees
Includes cellphone protection
Best cards to pair with the Avant Credit Card
If you qualify for other cards, you may be interested in getting a rewards credit card. While they're typically harder to qualify for, there are rewards credit cards that provide cash back or travel points for some or all of your purchases. Since the Avant card carries an annual fee, try to stick to cards that charge no annual fee.
When you apply for credit cards, it can negatively affect your credit score because there's an inquiry into your credit history. Also, opening too many accounts at once may negatively impact your score. If your goal is to build up your credit score with a card, be mindful of how many cards you're applying for at once. You should try to get prequalified before applying to a card you may not qualify for.
Bankrate's Take—Is Avant Credit Card worth it?
Since the Avant Credit Card is designed for those with no credit history or a less-than-ideal score, there's a low barrier of entry for this card. And though it charges an annual fee, this is relatively low compared to many other unsecured cards for someone with damaged credit or no credit history. While it's certainly not the cheapest option (a secured card will almost certainly be a better deal if you can afford to tie up money in a security deposit), the Avant Credit Card is a decent starter card that you can use to build credit with responsible use. Ultimately, though, it should be little more than a stop-gap on your way to lower-cost, more valuable cards.
Pros
Qualify with fair or average credit
Lets you build credit history with responsible use
No foreign transaction fees
No security deposit required
Decent credit limit for an unsecured credit-building card
Offers prequalification
Cons
Charges an annual fee
Offers no rewards program
**The information about the Jasper Cash Back Mastercard® card has been collected independently by Bankrate.com. The card details have not been reviewed or approved by the card issuer.
* Review the Jasper fee schedule
*** Your cash back rate will be increased by 1 percent for 12 months for each referred applicant that activates their card, up to a limit of 6 percent total cash back. To earn 6 percent cash back, you must successfully refer five new cardholders within the same 12-month period. To become eligible to redeem cash back, you must first make three on-time payments. The purchases on which you can earn cash back are limited each billing cycle to an amount equal to your credit limit. Review the Rewards Terms and Conditions.