Advertiser Disclosure: The credit card offers that appear on the website are from companies from which this site receives compensation. This compensation may impact how and where products appear on this site (including, for example, the order in which they appear). This site does not include all credit card companies or available credit card offers.
Information about credit cards and card offers is accurate as of the date of publication.
The American AAdvantage dining program offers a way for consumers to earn additional miles each time they dine out. So, what's the catch? For the most part, this dining program is easy to use and understand. The big caveat is, you must dine (or carry out) at a selection of participating restaurants, bars or clubs that varies based on where you live. In other words, you can't earn miles for dining anywhere you want.
Fortunately, signing up for the American AAdvantage dining program is a piece of cake. Simply head to the dining program home page and click the "Get started" button. From there, you can set up an account by entering your name and the same email address and frequent flyer number you use in the American AAdvantage program. You are also required to link at least one credit or debit card that you plan to use when you dine at participating establishments.
While you'll earn between 1-3 miles for each dollar you spend within the program when you're first starting out, you can earn a welcome bonus of 1,000 bonus miles after spending $25 or more at a participating restaurant, bar or club within 30 days.
How to use the American AAdvantage dining program
Once you've created an account and linked a credit or debit card, taking advantage of the program is easy. All you have to do is:
Find out which establishments in your area participate in the program
Use your linked credit or debit card when you pay
Earn miles for each dollar you spend — including on the tax and tip
The main detail you'll need to get the most out of the program is which restaurants, bars and clubs in your area are included. To help you out, the American AAdvantage dining website makes it easy to search for participating establishments within ½ mile to 30 miles of your home.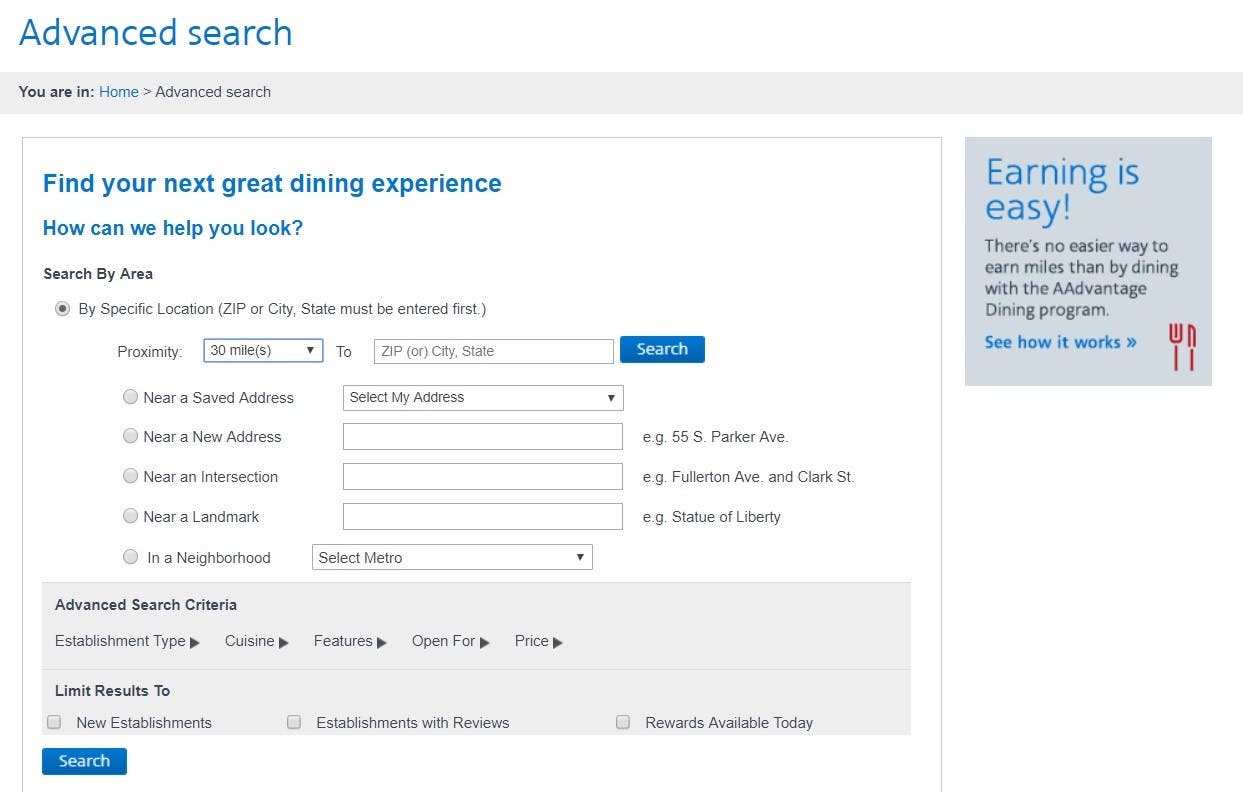 There are three main levels that you can qualify for within the program, each with its own requirements. The different tiers are outlined below:
How to maximize rewardsWhile the American AAdvantage dining program may seem cut and dried (and it is), you can still earn more miles over time with a few simple tips. As an example, the initial welcome bonus offers enormous value for very little effort. All you have to do is create an account and spend $25 or more at a participating restaurant, bar or club within 30 days to earn 3 miles per $1 spent and 1,000 bonus miles. Earning this bonus is easy, so try to take advantage if you can.
Other ways to maximize rewards include:
Working your way up to VIP status. Sign up with a valid email and agree to receive communications then complete 11 meals at a participating establishment within the calendar year. This will qualify you for the highest level of earnings (5 miles/$1 spent) in the program as well as special bonus offers.
Dining mostly at participating restaurants. The more you dine out at participating restaurants, the more miles you can earn.
Linking multiple cards to your profile. Since you earn bonus miles only on cards linked to your account, it's smart to link any card you might use to your American AAdvantage dining profile. You can even link more than one.
Using a travel credit card. If you use a credit card that earns American AAdvantage miles, you can effectively "double dip" each time you dine out at a participating restaurant. Remember that the miles you earn with an airline credit card are doled out on top of the miles you can earn with the American AAdvantage dining program.
Best credit cards to useIf you want to rack up even more miles with the American AAdvantage program, it's smart to use a co-branded airline credit card for dining out and all your other purchases. Here are the best American Airlines credit cards to consider:The bottom lineIf you're on the fence about joining the American AAdvantage dining program, it may be worth considering dining programs offered by other airlines. For example, Southwest Airlines, Delta and United Airlines all offer similar programs with regular earnings and an initial bonus.The key to finding the right dining rewards program for you is deciding which airline you want to accrue miles with the most. And if you want to earn more American AAdvantage miles, American AAdvantage dining is a no-brainer. The program is easy to sign up for and may be lucrative if you dine-in or carry-out at participating establishments often enough. Since the program is free and it offers an initial bonus, if you're willing to give it a try, you have nothing to lose.
| | | | |
| --- | --- | --- | --- |
| | VIP Member | Online Member | Member |
| Requirements | Must agree to receive American AAdvantage dining emails and provide a valid email address; must also have 11 qualified transactions within a calendar year | Must agree to receive American AAdvantage dining emails and provide a valid email address | Anyone who joins without providing a valid email address |
| Earning rate | Earn 5 miles per $1 spent at participating restaurants | Earn 3 miles per $1 spent at participating restaurants | Earn 1 mile per $1 spent at participating restaurants |
| Bonuses | Eligible for VIP-only offers and benefits | Eligible for some bonuses and benefits | Not eligible for bonuses |
| Card | Intro offer | Earning rate | Annual fee |
| Citi® /AAdvantage® Platinum Select® World Elite Mastercard® | Earn 50,000 American Airlines AAdvantage® bonus miles after making $2,500 in purchases within the first 3 months of account opening | Earn 2 miles/$1 with American Airlines, gas stations, and restaurants, and 1 mile per $1 on all other purchases | $99; waived the first year |
| Citi® / AAdvantage® Executive World Elite™ Mastercard® | Earn 50,000 American Airlines AAdvantage® bonus miles after making $5,000 in purchases within the first 3 months of account opening; you also get an Admirals Club membership | Earn 2 miles/$1 with American Airlines US Airways and 1 mile per $1 on all other purchases; earn 10,000 AAdvantage Elite Qualifying miles after spending $40,000 in a calendar year | $450 |
| AAdvantage® Aviator® Red World Elite Mastercard® | Earn 50,000 bonus miles after making a purchase in the first 90 days and paying the annual fee | Earn 2 miles/$1 with American Airlines and 1 mile per $1 on all other purchases | $95 |