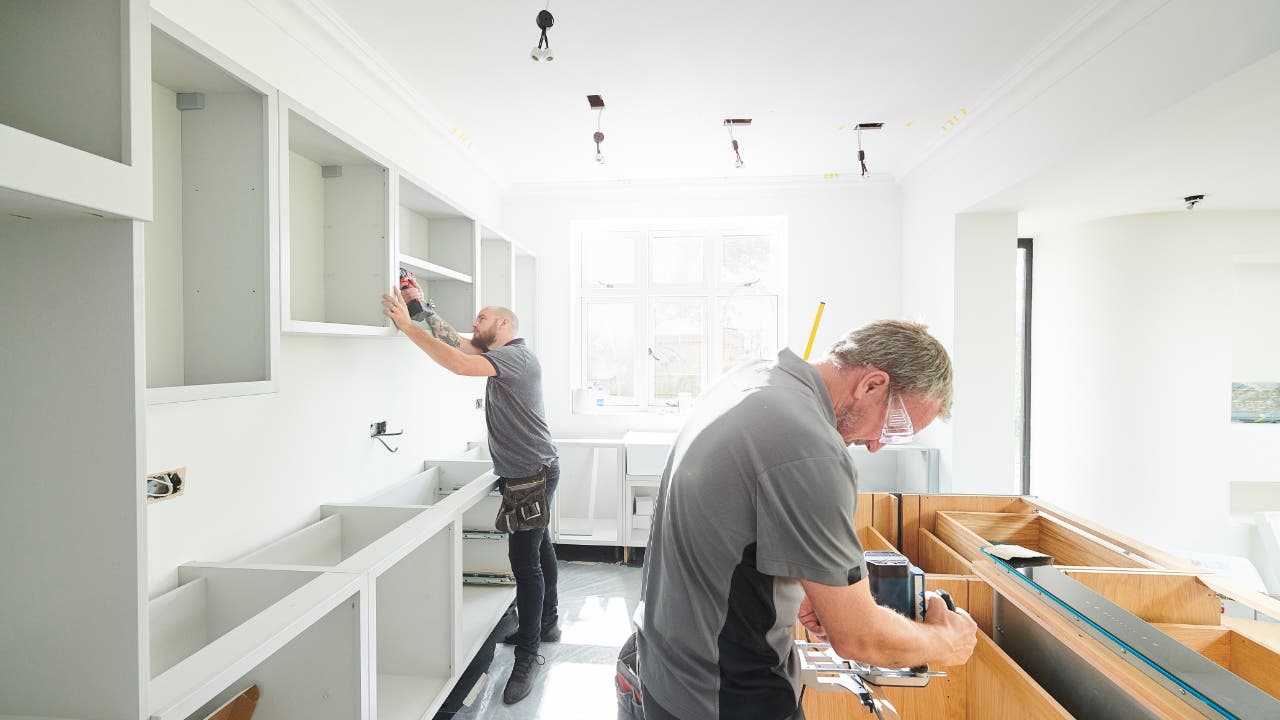 Remodeling a home before listing it can mean a faster sale and potentially netting more at closing. Even if you don't plan to sell, certain home improvement projects you do today can help boost the value of your home over time, plus you get to enjoy them as long as you live in the home.
Before you jump into HGTV mode, though, you want to ensure the projects you take on will be worth the time and money you put into them. You also want to have a plan for how you'll finance a remodel, whether it's a cash-out mortgage refinance, home equity loan or line of credit, or a personal loan.
The good news is you don't have to spend a lot to see a return on your investment. Here are seven home renovations that cost less than $25,000 that can boost the value of your home.
Outdoor living space
Homeowners who have a large backyard patio can increase the value of their property by adding a functional living space. This includes better lighting, speakers, flat screens and water features, such as a fountain, which can also beautify and cover outside noises such as traffic, says Joe Raboine, director of residential hardscapes with Belgard, an Atlanta-based outdoor hardscapes company.
"A well-designed and installed outdoor living space can return close to 100 percent of its investment," Raboine says. "They often don't cost that much to install but can make a significant difference in making your patio feel like a complete outdoor entertaining area."
Another option: add a paver patio. It can enhance the appearance of your backyard, especially if there's grass that doesn't grow well or patches of dirt. Adding an 18-feet-by-16-feet paver patio costs an estimated $7,200, and will net a $5,000 return at resale, according to the National Association of Realtors' 2018 Remodeling Impact Report on outdoor features.
Landscaping
Curb appeal increases the chances your home will be sold sooner and for the price that you're seeking.
Nine out of 10 real estate agents tell homeowners to focus on upgrading the landscaping, which offers an 83 percent return on investment, according to NAR. By adding a walkway of flagstones, along with flowering shrubs, mulch, stone planters and a deciduous tree in the front yard, a homeowner can recoup $5,000 of an estimated $6,000 in costs, NAR found.
Outdoor kitchen
An outdoor kitchen sounds costly and can be a time-consuming project, but adding a few key items can do the trick and keep the expenses under control.
Consider adding a grill island, sink, stainless steel drawers, ice chest and masonry stone countertops for an estimated $14,000. Homeowners can likely recover $10,000 of the value, the NAR report found. Some manufacturers, such as Belgard, offer zero-down, no-interest financing for terms of 90 days up to 18 months.
Bathroom
Updated bathrooms are still a strong selling point for potential homeowners. Even a minor remodeling project can add significant value to a home and entice buyers. Homeowners should consider replacing the flooring, bathtub and sink vanity. While the average bathroom remodel costs an estimated $9,600 to $11,000, it has proven to recoup up to 80 percent of the price in sales value, according to Angie's List.
Some less expensive upgrades, such as a fresh coat of interior paint, can also help raise the purchase price without breaking the bank, says Beatrice de Jong, a Realtor and consumer trends expert for Opendoor, a San Francisco-based iBuying company.
"The most important factor to remember when renovating a home is to stay in line with surrounding properties," she said. "It's important not to go above and beyond on renovations and to keep the age and style of the home in mind. During my five years of experience as a realtor in California, I've found that bathroom remodels are one of the most effective ways to increase a home's resale value."
"The most important factor when renovating a home is to stay in line with the surrounding homes," de Jong says. "It's important not to go above and beyond on renovations. It's also important to keep the style and age of the home in mind."
Kitchen
A kitchen remodel doesn't have to break the bank. Even minor upgrades can add new life and value, such as painting, changing the flooring to tile or hardwood, or upgrading to new, energy-efficient appliances.
Creating a modern-looking kitchen is key, says Rose Sklar of The Sklar Team with Coldwell Banker Realty in Weston, Florida.
"On average, you can recoup more than 80 percent of the cost of a minor kitchen remodel," Sklar says.
Sklar recommends refacing cabinets with white, shaker-style wood panels, choosing new countertops and replacing dated cabinet hardware, faucets and the sink.
Renovations should be modest and appeal to the majority of potential buyers, Sklar adds. A homeowner could revamp a kitchen for under $25,000 by simply changing to a white shaker wood cabinet and keeping the existing cabinet bases, changing hardware out, installing new countertops and backsplash, she says. Additionally, you could swap out older appliances for stainless-steel, energy-efficient appliances.
"These small changes can recoup a great return on investment," Sklar says. "All too often, homeowners complete renovations with very large budgets and they over-customize these rooms to fit their needs."
Garage door
After many years of use, especially in states where temperatures are extreme, garage doors may need to be replaced. Garage doors act as extensions of the home, and adding a new door can increase the value of your house easily for little cost.
You'll recoup most of the money you spend on a garage door, too. A new garage door costs an average of $3,611, but homeowners earn back $3,250 in resale value, according to the Remodeling 2019 Cost vs. Value Report, which compares average costs and return on investment for remodeling projects.
Stone veneer
Instead of just painting the exterior of your home, consider adding stone veneers. The veneers can add depth and an updated look on the outside of the house. By spending $8,907, a homeowner can recoup $8,449, based on the Cost vs. Value Report.
View home equity rates
Tap into the value you have in your home to get the funds you need.
How to pay for home improvements on a tight budget
If you don't have money saved for a home improvement project, here are three ways you can finance the upgrades.
1. Cash-out refinancing
One option to consider for renovations is to apply for a cash-out refinance. A cash-out refinance is when a consumer refinances an existing mortgage into a new one with a higher loan amount, then withdraws the difference in cash. To qualify for a cash-out refinance, homeowners need at least 20 percent in equity. If your home's value has risen in recent years, this is a worthwhile option to consider because mortgage rates are still low.
"With the recent plunge in mortgage rates generating a surge of refinancing activity, taking extra cash out is an attractive option for those that are already looking to refinance the mortgage," says Greg McBride, CFA, Bankrate's chief financial analyst. "But given the costs involved, this isn't a route to take if you wouldn't save money on the existing mortgage."
2. Home equity loan or home equity line of credit
Both a home equity loan or home equity line of credit, or HELOC, allow homeowners to tap into the equity of their home to make renovations. Determine the amount of equity you have by subtracting what you owe on your loan from the market value of your house. The difference is the amount of equity you have in the house, which can be used as collateral for the loan.
"While home equity loans provide the certainty of a fixed interest rate and monthly payment for a defined term, lump-sum borrowing might not be ideal for remodeling costs that are incurred in stages," McBride says.
However, a HELOC offers more flexibility for consumers because it acts like a credit card with a revolving line that you can use as often as you want, when you want. The biggest perk: you pay interest only on what you use, he says.
"You can borrow funds as needed and tailor repayment according to your fluctuating monthly income," McBride says.
3. Personal loans
Personal loans are another option to finance a remodeling project. The advantage of a personal loan is that you can apply for one from a bank, credit union or an online lender, and use it for any purpose. Shopping around will help you get the lowest interest rate and best terms.
"For consumers with good credit, this may prove to be your best option with rates comparable to a HELOC, the certainty of fixed monthly payments and receiving funds in a couple of days instead of the drawn out mortgage or home equity application process," McBride says.
Learn more: