Look for July grocery bargains
July means parades, cookouts and fireworks, plus a lot of sales aimed at making summer living even more enjoyable.
The month brings deals on everything from fresh corn and juicy tomatoes to the best of the year's berries.
If you've got a craving for something grilled, you'll find discounts on salmon, shrimp and burgers.
And if you're hunting for bargains outside the grocery store, you'll also find deals on back-to-school supplies and dorm decor, as well as clearance prices on the last of spring and summer clothes.
Looking to kick back? Patio furniture and video games are on sale this month.
Here are more than a dozen items that will be on sale in July.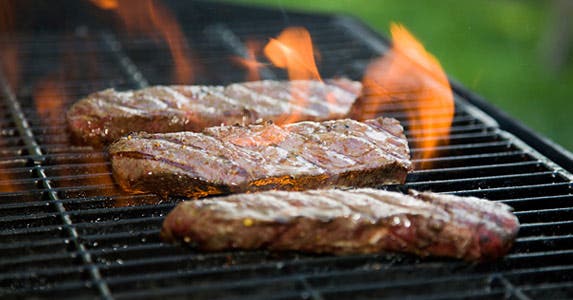 Find good prices on grilling favorites
No surprise to anyone who likes meat: Beef prices have been going up. But if you want a couple of treats for that summer barbecue, there are a few affordable options this month.
Looking for a nice piece of beef for your grill? Try a top round steak, says Stanley Lobel, president of the butcher shop Lobel's of New York. It sells for $5 to $5.50 per pound.
And if you want to get the best buy, get a 2 1/2- to 3-inch "first cut," which will be the most tender, he says. With 2 1/2 to 3 pounds, it will feed seven to nine people, Lobel says. "It's perfect for a barbecue buffet," he says.
Or try cheesesteak burgers.
To make them, take two quarter-pound burgers, put cheese between them and "squeeze all the edges around the burger so the cheese is embedded in the two burgers," he says. "The cheese is going to melt in the meat, rather than on the meat."
Before you seal the burgers together, you can include whatever flavors you like, from garlic to hot peppers to anchovies, he says.
Ground chuck is about $4 to $4.50, and this is "a different way of serving a hamburger, and it's very, very reasonable," he says.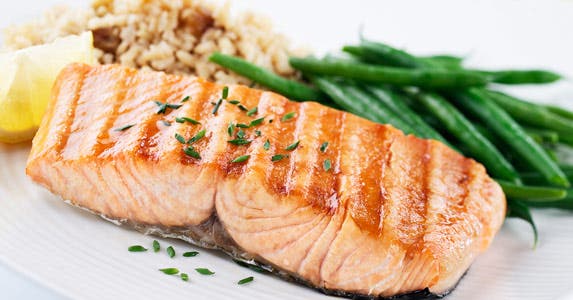 Salmon and shrimp prices come down
Want another healthy, delicious option for the grill this month?
"July is all about wild salmon," says McKinzey Crossland, spokeswoman for Whole Foods Market.
"Fresh Alaskan salmon is at its peak," she says. That means some of the best fish and the best prices of the year.
During the first part of the month, look for deals on sockeye salmon, with coho salmon coming on strong later in the month, she says.
"Prices on both will likely be down more than 25 percent," Crossland says. You'll also find similar deals on king salmon this month, she says.
And July brings price cuts on large wild shrimp, which are great on the grill.
This will be the first major month when shrimp comes in a count of 16/20, meaning 16 to 20 shrimp per pound, she says. You might even find some with a count of 10/15 per pound on sale this month, she says.
And just how much they'll be discounted will vary, because the global shrimp market is fluctuating, Crossland says.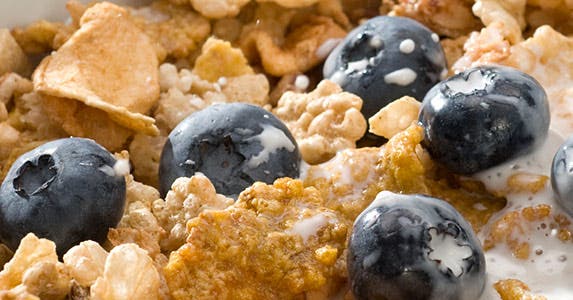 Summer fruit available at a discount
Craving those juicy summer blueberries and strawberries? You're in luck.
Whether you're looking to top your cereal, bake a cobbler or eat them straight out of the container, all of your favorites are on sale this month.
You'll find blueberry prices down about $1 per pint from June, along with fruit that is "some of the best of the year, by far," says Chris Romano, a global produce procurement coordinator for Whole Foods Market.
With a lot of local farms harvesting strawberries, prices will be "as low as $1.50 for a pound container," he says. "It's a good time to eat strawberries."
What you might not know: Strawberries are great on the grill, Romano says.
Also, look for spot deals and discounts on honeydew melons and cantaloupes, he says. The exact amount you'll save? That will depend on the weather at harvest, he says.
But if last year's crop is any indication, "the flavor will be spectacular," Romano says.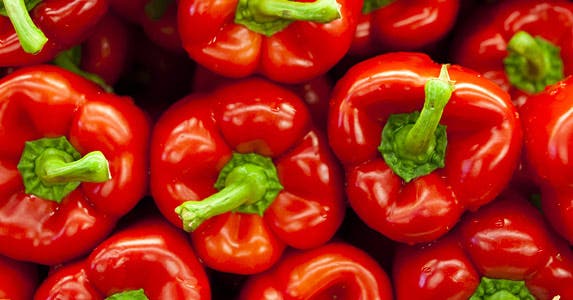 Summer vegetables at a low cost
If you're looking for a taste of summer, all your favorites, from zesty peppers to juicy tomatoes, are on sale this month.
Zucchini will be just over half of its offseason price this month, says Romano. Look for prices around $1.50 per pound, he says.
Red and yellow peppers — a favorite for summer salads, as well as on the grill — will be $1.50 to $2 per pound, Romano says. And green varieties "will be as low as $1 a pound," he says.
You'll also find many varieties of eggplant — great for grilling — with prices as low as $1.49 per pound, he says.
Fresh corn will be three or four for a $1, and "it's a great time to have corn," Romano says.
And everybody's summer favorite — tomatoes — are on sale and delicious. "July is definitely the start of the peak, from great little cherry tomatoes, all the way up to colorful heirlooms," he says.
Those heirlooms — varieties that have been passed down from gardener to gardener — will be about $2 per pound cheaper, while Romas, or plum tomatoes, will be down about 50 cents per pound. Cherry tomatoes will be discounted 50 cents to $1 per pint, Romano says.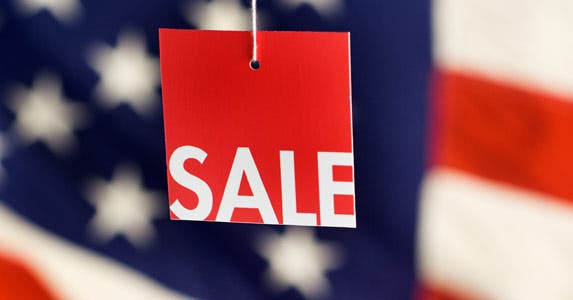 Celebrate July 4th with great deals
With July Fourth on a Saturday, many sales will start on Thursday and run through Monday, says Hillary Mendelsohn, author of "thepurplebook: The Definitive Guide to Exceptional Online Shopping."
You'll find up to 60 percent off summer clothing, and 20 to 40 percent off small kitchen electronics, like blenders and food processors, she says.
And the sales on summer clothing will continue until the merchandise is gone, says Dan Butler, senior adviser to the National Retail Federation.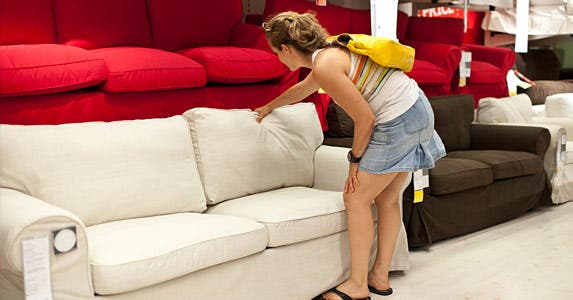 Retail items on sale in July
These products are on sale throughout the month.
Furniture: Many department stores get new shipments in August and September, so clearance sales start now, Mendelsohn says. Look for 30 to 60 percent off, plus free delivery, she says.
Video games and accessories: zero to 30 percent off, she says.
Patio furniture: discounts of 20 to 40 percent, Mendelsohn says.
Men's summer-weight suits: 20 to 60 percent off, and "buy one, get one free" deals, she says.
As August approaches, these items will fall in price.
School supplies: You'll see deals on school supplies during the second half of the month, when bulk-buy discounts "can be as much as 50 percent off," Butler says.
Dorm decor: There will be sales on items like mini-refrigerators, and twin bedding will be up to 50 percent off as college kids prepare to head to campus, he says.