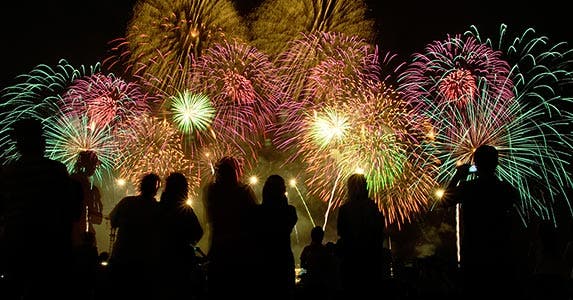 In a small town on the 4th of July
Although the huge fireworks display in New York City and other big cities across America are amazing, there's a lot to be said for small-town Fourth of July celebrations, where the local scout troops parade by and local veterans wave to friends and family. This year, try something different: Visit the country's best small-town July Fourth festivities and enjoy a bit of Independence Day revelry. It certainly will save you money.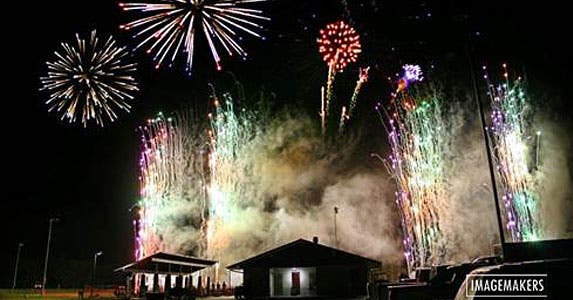 Wamego, Kansas
The town triples in population during Fourth of July celebrations, which start June 30. The celebration has been a town staple for 143 years. "Our fireworks were voted No. 1 in Kansas," says Kara Holle, a Wamego Chamber of Commerce assistant.
Population: 4,246
Parade features: At the early evening parade, look for veterans groups, politicians, bands, community floats and antique cars. You might even see Miss Kansas Teen USA at the state's longest running Independence Day parade.
Other July Fourth festivities: As part of the festivities, Wamego visitors take part in the auto, antique engine, truck and tractor show, ice cream social, community band concert, infantry division band concert, and church-sponsored pork sandwich and homemade pie dinner. Take time for the Ferris wheel and other rides or try your hand at a game of chance.
Lodging: One lodging option is the locally owned Wamego Inn and Suites, starting at $63. Also consider the Simmer Motel, starting at $45 per night.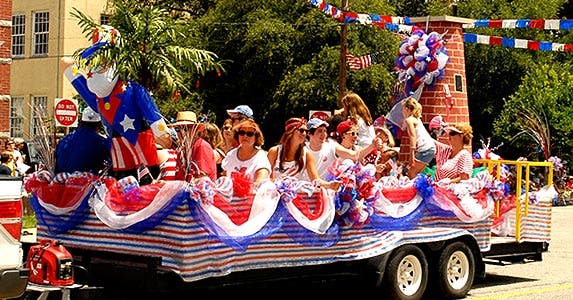 Southport, North Carolina
"If Normal Rockwell were still painting, he'd paint Southport. It's an all-family, real American kind of a festival," says Karen Sphar, festival administrator. This small town expands to 50,000 people during the celebration. Southport's big party started in 1795, when ships shot off cannons all day, town officials made toasts and ladies dressed in white marched in the street, honoring the nation's independence.
Population: 3,023
Parade features: More than 120 parade entrants include military groups and World War II veterans, invited to ride on the honorary marshal float. There's a lighter side, too: clowns, classic cars and Miss North Carolina.
Other July Fourth festivities: At this weeklong celebration, new citizens are minted at a beach-side naturalization ceremony, visitors hear a Declaration of Independence reading, flags are officially retired and veterans are formally recognized.
Sailors participate in sailboat regattas, and landlubbers compete in sandcastle competitions, beach volleyball and shag dancing. And there are children's games like watermelon rolling. "It's a throwback to your childhood memories," Sphar says.
Lodging: Try the Inn at River Oaks, downtown and locally owned, starting at $80 per night in summer. Or, go the bed-and-breakfast route at the Southport North Carolina Bed and Breakfast. Rooms in this 1894 inn start at $114 per night in summer.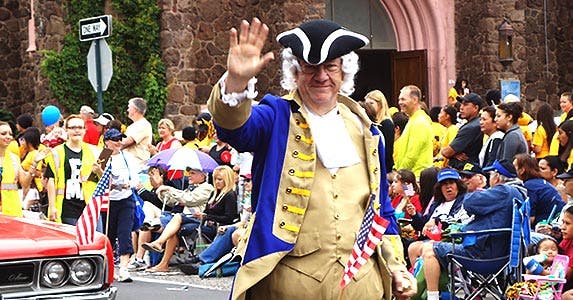 Flagstaff, Arizona
Photo courtesy of Flagstaff Convention & Visitors Bureau
"The town is popping and full of people" for Flagstaff's annual Fourth of July parade, says Carly Strauss, an employee at the historic Weatherford Hotel on the parade route. "The entire town of Flagstaff definitely comes out for it."
Population: 65,870
Parade features: More than 100 floats wend their way through downtown, just off Route 66. The parade, in its 18th year, features the Northern Arizona University marching band, politicians (often including the Arizona governor), Boy Scouts and Girl Scouts, stroller-pushing moms, Toys for Tots, Native American dancers, the fire department and local businesses.
Other July Fourth festivities: Nearby Wheeler Park hosts craft vendors, fry-bread stands and bounce houses. And this year, the date coincides with the First Friday ArtWalk, with downtown galleries open to the public for a festive evening of music, treats and free performances at Heritage Square. Weather permitting, visitors are treated to a fireworks show that night.
Lodging: Stay downtown in one of the 11 rooms (thought to be haunted) of the Weatherford Hotel, opened in 1900. Rooms run $49 to $139. But even the reservations staff warned that it can be loud — nearby bars close at 2 a.m. Famous guests include President Teddy Roosevelt, William Randolph Hearst and Clint Eastwood. Another option: the DuBeau Route 66 International Hostel, $26 for shared room bunk or $68 for private quarters.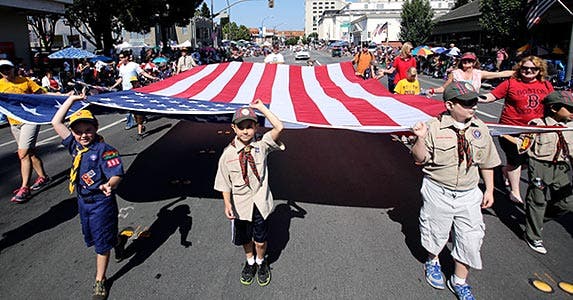 Redwood City, California
Photo courtesy of Peninsula Celebration Association
As the largest Fourth of July parade in Northern California, this volunteer-run community celebration has been going strong since 1939, says Robert Slusser, event coordinator.
Population: 76,815
Parade features: The parade's strict guidelines insist that "to be chosen you must be entertaining! You must be something that people would not see any day on the street." Participants might include Miss California, the U.S. Naval Sea Cadets Band of the West, the Santa Clara Valley Thunderbirds club, the Samba Mundial troupe and the Daughters of the American Revolution. "Our parade entries come from many places outside of Redwood City," Slusser says.
Other July Fourth festivities: The fun starts with a pancake breakfast at the fire station and a 5K fun run and walk. You'll traverse the parade route, so wave to the spectators staking out prime float-watching spots. The celebration later moves to the festival, with art and handcrafted items, food booths (mostly run by nonprofits) and a huge kids' area with entertainment and face-painting. Catch a magic show at the kids' stage or battle of the bands on the main stage. Cap off the Fourth of July with evening fireworks.
Lodging: The parade route is right outside the Pacific Euro Hotel. Running around $77, the recently remodeled hotel has compact but comfortable rooms.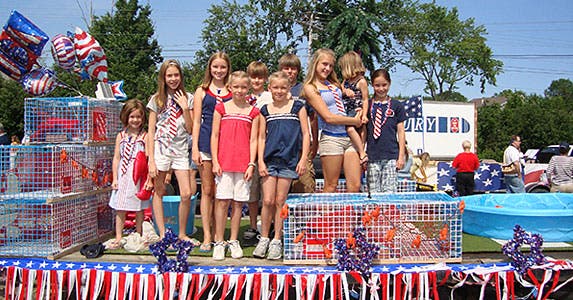 Thomaston, Maine
Photo by Janelle Brooks
What makes the Thomaston, Maine, Fourth of July celebration special? "It's a family day," says Julie Russo, the celebration's committee chair. An estimated 8,000 people pour into town for the festivities.
Population: 1,875
Parade features: At this year's parade, you might see bagpipe players, a kids' bike brigade, Maine-themed floats showing fishermen, lighthouses and giant lobsters, the high school drama club, peewee cheerleaders and the Lawn Chair Drill Team. "One guy just drives his lawn tractor pulling a little trailer. He almost always wins for the funniest," Russo says.
Other July Fourth festivities: Start the day with a pancake breakfast and 5K race. The pet parade comes early, too. Don't miss the opening ceremony with local dignitaries, when they introduce Mr. and Mrs. Fourth of July. After the parade, the craft tents and carnival opens, with barbecue chicken stands, dunk tanks, bounce houses and games of chance. Other options: a horseshoe tournament, hot dog eating contest, summer historical house tour and live entertainment. And get your glow-in-the-dark jewelry to wear before the fireworks.
Lodging: Nearby Rockland is known for its bed-and-breakfasts, Russo says. One option is the locally owned Claddagh Motel and Suites, which serves a breakfast of scones and Irish tea. Rooms start at $124.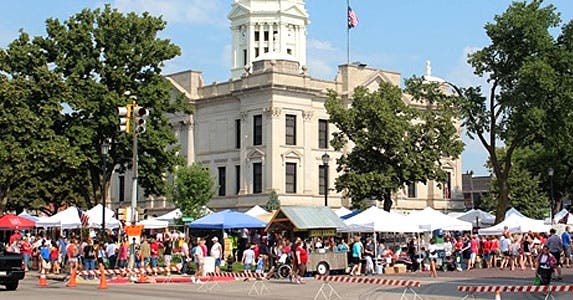 Seward, Nebraska
Photo courtesy of Seward Area Chamber of Commerce
Calling itself "America's Fourth of July City — Small Town USA," the celebration started here in 1868, a year after the town's founding. The town draws up to 40,000 people, organizer Clark Kolterman says.
Population: 6,964
Parade features: All festivities halt for the 4 p.m. parade, where you'll see beauty queens, the local karate club, 4-H Club, class reunions, vintage tractors, Mr. Firecracker and Miss Independence (fourth-grade essay contest winners), soldiers, politicians, draft horses and floats by local businesses.
Other July Fourth festivities: The list of activities is long. The celebration starts with an anvil firing, and includes 2-mile and 10K Freedom Runs, a 51-mile bike ride, pole vault competition, bed race, bubble-gum-blowing contest, fireman's water fight, pet parade and horseshoe contest. Competitors bend over tables covered with apple pies to see who could finish theirs first.
"Some enter just to get their piece of pie," Kolterman says, adding that the sole baker can't bring herself to watch. The celebration ends with fireworks.
Lodging: The Liberty House B&B, just blocks from downtown, offers rooms for $65 a night. And the owner runs an antique store there as well.