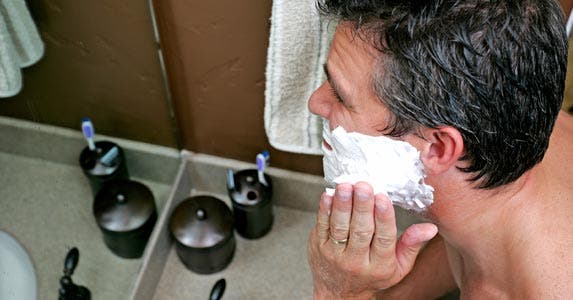 My amazing shaving adventure
As one gets older, glorifying the past gives the ability to forget a big portion of it.
As a child, I watched my father use a safety razor when he was getting ready for work. But I never used one myself until recently. This was the way a man shaved during the era of Sean Connery as James Bond.
I'm sharing my story about my recent experiences with a safety razor and how it might help guys like me cut a few bucks off their personal care budget. This is about going "old school" with shaving and, dare I say, the "price" that I paid.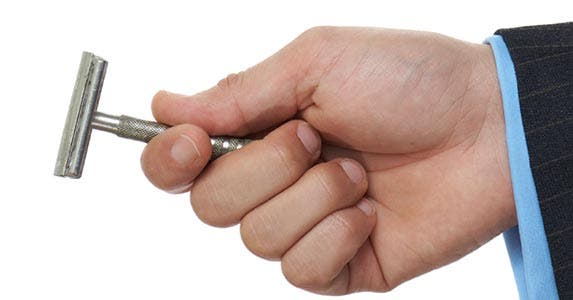 A 'professional shaver'
I've shared a couple of other experiences about making my own shaving oil and how the new subscription razor businesses worked.
I had a follow-up message from a reader who asked me to give the old-fashioned safety razor a try. If you haven't seen one yourself, or had reason to try one, the handles preceded the more expensive, heavily advertised razors that come with 2, 3, 4 or even 5 blades working. Safety razors are 2-sided with very sharp blades dropped into the top of the handle. One twists the bottom of the device to close it up and lock the blades inside.
In the houses where I grew up, medicine cabinets had mystical slots where the used blades were dropped, never to be seen again. It was a kind of purgatory for steel that resided in the walls of the house. I could envision all kinds of horrible things happening down there.
As safety razors fell by the wayside, so did those handy medicine cabinet slots. That means one has to be careful about disposing of these nasty used blades. They are "razor-sharp," after all.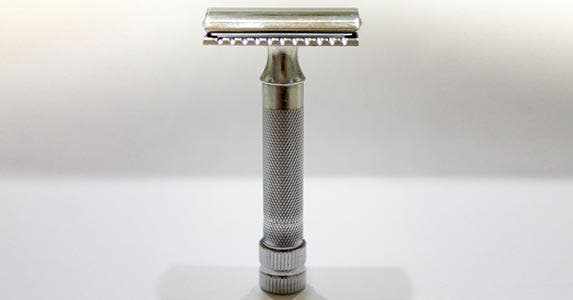 Safety razor handle
What about the cost of the basic handle? I picked up a nice chrome-handled safety razor at a local drugstore for $20. It looks sharp. Sorry. It also came with 5 blades.
Searching around, I found some locations, including a store at the mall selling basically the same device for $70 or $100 or more. How many suckers can there be in the world? I guess they figure there are enough folks who want to buy a nice gift for a loved one or enough well-to-do guys who don't shop around to keep the business going.
But we're all about saving money here. You can find something similar online to what I bought at the store for about the same $20 price.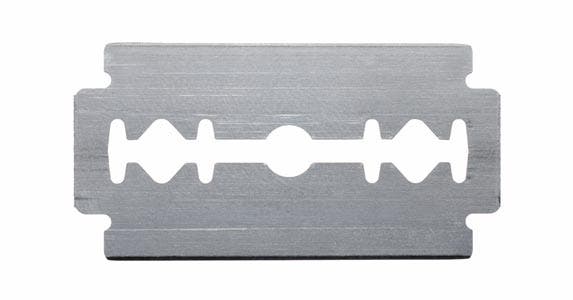 The blades
While some stores will look to charge you 50 cents to $1 per blade, I found plenty of blades online, including on Amazon.com, for about a penny apiece. Yes, that's not a misprint. We're talking about 100 blades for $1. Now, 100 blades should last a long time. I found that a blade easily lasted a week or more.
Of course, you don't need to buy 100 blades to start. But if you decide you've committed to going old-school with your shaving routine, blades aren't going to cost you very much.
If you stick with more modern products, you are probably going to pay about $3 to $15 a month just for the razor blades and handle alone. With the safety razor, the initial financial commitment involves the handle because the blades are cheap.
But the plot thickens, as they say.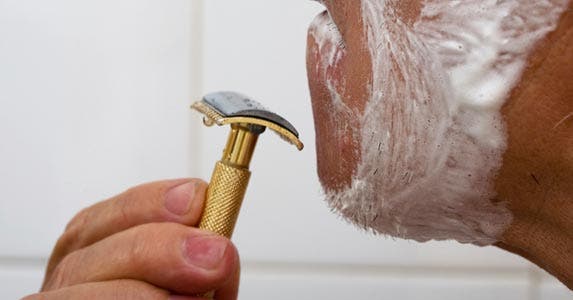 Rated 'R' for violence
Coming into my experiment with the safety razor, I was a little queasy. Would I cut up my face or neck? How much blood would be involved? I thought I could seriously hurt myself given my lack of natural athletic ability and grace in general. The truth is that the 1st week or so went pretty well.
Then came a Monday morning, when I was a little tired and in a rush. Here's the point where they'd say, "This story contains scenes that some viewers may find disturbing." OK, no pictures, but my neck looked like a dermatological war zone when I was finished. It had several cuts and I failed to arm myself with the universal tool to stop bleeding when shaving: the legendary styptic pencil. It really works like a miracle to stop minor cuts from bleeding.
I got in my car and drove to the office hoping that no one would see me, or at least, that they wouldn't take a close look.
Before the morning was over, I went to the nearby drugstore and bought a styptic pencil and stuff to calm the burning of my skin. That set me back another $10 or so.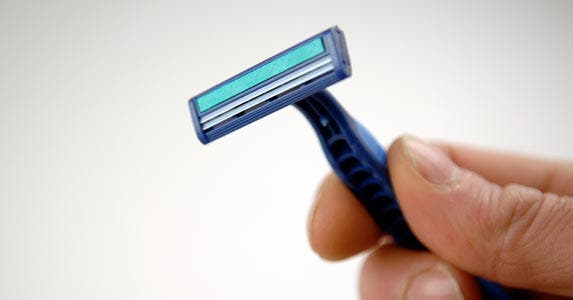 Shaving tight spaces on the face
Even when getting a largely blood-free shave using the safety razor, I haven't figured out how to get the space between the nose and the upper lip where a large blade and handle don't quite fit.
Confession: I did reach into my cabinet to grab a twin-blade device to overcome this facial navigation challenge. Does that make me a bad person?
This problem might be something that I never quite figure out, but I can live with that.
By the way, my reduced confidence in my ability to use the safety razor makes me choose an electric shaver on the mornings when I expect to be seen by more people. I'd rather that every conversation with another person not start with something like, "What happened to you?"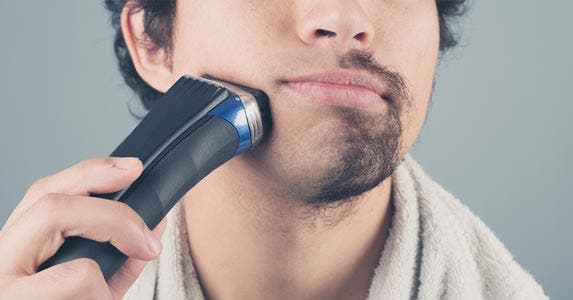 My conclusion
Despite my nostalgia for the shaving past, I'm not sure I can remain invested in the safety razor.
First, given my experience, the name seems like a lie to me. I know guys used to get shaves using an even more primitive straight razor. Perhaps compared with those weapon-like tools, what I tried out might rise to some standard of "safety."
Yes, the blades can cost as little as a penny each. But maybe this is a perfect demonstration of the law of supply and demand.
Most of the rest of the world got smart and stopped using safety razors years ago. For what I might save on blades, I could spend all of the savings and more on first aid. And I don't want to scare little children.
When it comes to saving, I need to go back to the future.