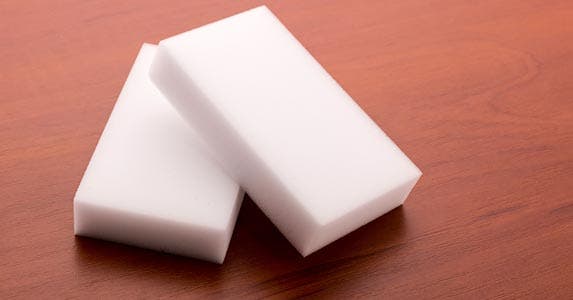 Buy melamine sponges in bulk
Editor's note: Each week, a Bankrate personal finance reporter will write about a new way to save and chronicle the savings journey. This week, I investigated how much money I could save by purchasing Magic Erasers in bulk. See what happened.
Until this challenge presented itself, I had never even heard of melamine sponges. In fact, I still pause when it comes to the spelling of that word, m-e-l-a-m-i-n-e.
Melamine sponges are designed to completely erase crayon, Magic Marker and grease from painted walls and wood finishing; plastic-adhering paints from treated wooden tables; and adhesive residue and grime from hubcaps. I've been lied to by marketers before, so I tested this before buying in bulk.
Here's what I discovered.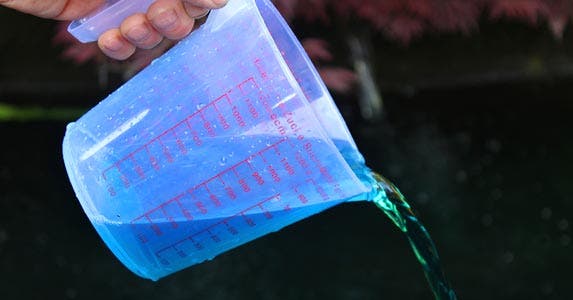 What are melamine sponges?
Melamine foam is a foam-like material made up of these key ingredients:
Formaldehyde.
Sodium bisulfite.
Melamine.
Don't freak out! Yes, formaldehyde is that gross-smelling liquid used to preserve dead animals, but when mixed with melamine, it becomes a tough resin that neutralizes those toxic effects.
What on earth is sodium bisulfate? It's a dry granular product that you can safely ship and store. It's also an acid salt. (Feel free to look up this super-sciencey word, but the more in-depth definition will confuse you and has nothing to do with why you should or shouldn't buy melamine sponges.).
Melamine is an organic base in the form of crystals that can join with other compounds to become plush foam with a texture similar to sandpaper. Fun fact: It has a high nitrogen content, which makes it a handy flame retardant. Just don't use melamine on delicate or glossy exteriors.
In normal-person speak, that means these normal-feeling sponges are actually super-fine sandpaper that can get into small spaces.
Melamine sponges promise to remove crayon, Magic Marker and grease. But do they really?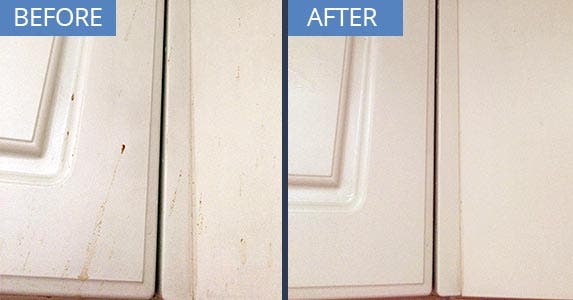 Testing the waters
I decided to first purchase only a few melamine sponges, in the form of the original Mr. Clean Magic Eraser from Target. The sponges came in a box with 4 pads.
I'll admit, parts of this experiment were disappointing, while other aspects were very successful. As promised, this product really does erase grease and crayons. However, I had minimal success with Magic Marker messes. It faded the black marker I tested, but it certainly didn't make it disappear.
The other downside is that the sponge started to fall apart after a while. (I tested it out on several kitchen and hallway surfaces.)
My decision: I love this product for the good it does, but I would have to buy the sponges in bulk if I don't want to run out immediately. The question: Would that be worthwhile?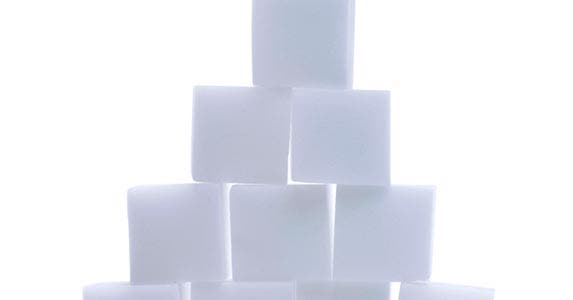 Reasons not to buy in bulk
Tiffany Aliche, founder of TheBudgetnista.com, likes the product but recommends against buying melamine sponges in bulk. She suggests cutting them in half, instead, to get more use out of them.
"I find that most things you buy in bulk end up getting 'lost' and then you re-buy them versus looking for them," she says. "There's no real need to buy a large quantity when you can double them easily."
Twitter user @MisophonicSpree did not share Aliche's opinion on the sponges. "I tried them on a textured plastic shower pan," she says. "I can't say it worked at all, though it was advertised to work on those," she said in response to the question I tweeted her.
When I relayed that Mr. Clean's Magic Erasers failed me in the Magic Marker department, she revealed why. "Yes, the fine print says that the Magic Eraser only works on non-magic stains," she tweeted back.
Tricky, tricky. Is it just me, or is it ironic that a product with "magic" in the name doesn't work on Magic Marker stains?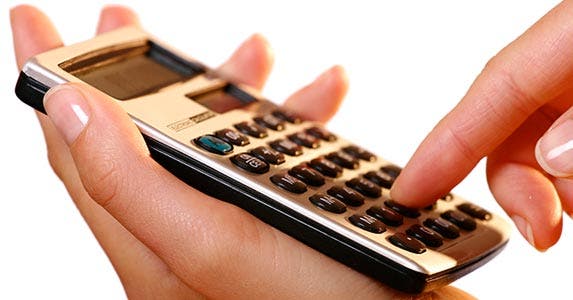 Doing the math
The 4 Mr. Clean Magic Erasers cost $3.49, or 87 cents per sponge. Online, I found several fantastic deals for generic melamine sponges:
200 sponges for $13.53 (7 cents each, with a savings of 80 cents per sponge).
100 sponges for $11.98 (12 cents each, with a savings of 75 cents per sponge).
50 sponges for $3.93 (8 cents each, with a savings of 79 cents per sponge).
The clear winner here is the 200 sponges for $13.53. Buying Mr. Clean Magic Erasers in store costs $3.49 for 4 sponges. If I were to buy those same sponges at those same in-store Target prices, it would cost $174.50. Therefore, I saved $160.97 by buying 200 generic sponges online.
Why would you even need 200, though? Well, therein lies one of the catches to these melamine sponges: They wear out easily. However, I decided to do it, and I'm very happy with my decision, even if it means not eliminating all other sponges from my life.
Pros and cons of melamine sponges
Pros:
Just add water.
Remove crayon and grease effortlessly.
Easy to find great deals online.
Cons:
Wear out easily.
If you use the product to clean a surface that isn't hard enough, the melamine material can leave fine scratches.
Leaves behind a slight residue, which can be easily rinsed off.
Source: Mr. Clean Magic Eraser box