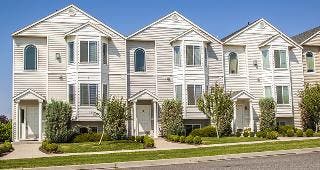 Dear Dr. Don,
My question involves refinancing my current mortgage. I have a 30-year fixed-rate mortgage on a condo with a rate of 4.375 percent. It's been three years since I purchased the property and area home prices have risen since. The unit is worth about $250,000. I borrowed $125,000 and the loan balance is $83,000.
We are currently living in the condo but don't expect it to be our primary residence for the future. When I applied for the loan, my credit score was not the best. Over the past three years, I have been monitoring my credit score and it has improved quite a bit.
Here's what I'd like to know:
Does it make sense to refinance into a 10- or 15-year fixed-rate mortgage? I have seen some rates around 3 percent for a 10-year fixed-rate mortgage.
Would making extra payments be better than refinancing, or at least the same?
Since I am thinking of selling in three to five years, would it make more sense to apply extra payments toward the current mortgage than to refinance when considering equity and taxes?
Please let me know your thoughts.
Thank you for your advice,
— Kiran Considers
View today's best refinance rates and lower your monthly payments
Dear Kiran,
Your goal should be to minimize after-tax interest expense on the unit. If you're going to sell the unit in the time frame you mentioned, then you need to recoup the closing costs on the refinancing and get some interest savings to make it work.
Switching from a 30-year fixed-rate loan to a 10-year fixed-rate loan while reducing your interest rate from 4.375 percent to 3 percent will generate interest savings and work to reduce your loan balance. That's something you've already been working on with an $83,000 loan balance after three years on the original $125,000 mortgage. I estimate you're averaging $925 a month in additional principal payments.
Making additional principal payments reduces total interest expense, but it doesn't reduce your interest rate. While refinancing reduces your interest rate, you'll have closing costs on a new loan.
The table below approximates your situation and the refinance results:
Current standing
New loan
Difference
Loan amount:
$83,020.10
$83,020.10
Interest rate:
4.375%
3%
Loan term (months):
120
Loan payment:
$624.11
$801.65
Additional principal payments:
$925
$747.46
Monthly mortgage payment:
$1,549.11
$1,549.11
Loan balance 5 years from now:
$0
$0
Total interest expense (pretax):
$9,519.64
$6,226.07
$3,293.57
Loan payoff date:
July 2019
May 2019
Total payments
$92,539.74
$89,246.17
Closing costs:
$0
$2,400
$2,400
Pretax savings:
$893.57
Regarding additional principal payments on a new loan: If you can afford them with the existing loan, you can afford them with a new one. It appears to be a close call whether there would be enough savings to justify refinancing, especially if you're not sure how long you'd own the next home.
Key questions include whether you fully utilize the interest deduction on your income taxes and the final closing costs on the refinancing. For the table on this page, I used Bankrate's mortgage payment calculator and amortization schedule. If you take full advantage of the mortgage interest deduction and are in the 20 percent income tax bracket, pretax interest savings of $3,293.57 is reduced to $2,634.86 after tax. That translates to after-tax savings of $234.86 from refinancing.
Deciding to convert this to rental property may help decide whether you want to make additional principal payments on the loan or start saving toward a down payment on a new primary residence. Without additional principal payments, the decision to refinance appears to improve as an option.
Get more news, money-saving tips and expert advice by signing up for a free Bankrate newsletter.
Ask the adviser
To ask a question of Dr. Don, go to the "Ask the Experts" page and select one of these topics: "Financing a home," "Saving & Investing" or "Money." Read more Dr. Don columns for additional personal finance advice.
Bankrate's content, including the guidance of its advice-and-expert columns and this website, is intended only to assist you with financial decisions. The content is broad in scope and does not consider your personal financial situation. Bankrate recommends that you seek the advice of advisers who are fully aware of your individual circumstances before making any final decisions or implementing any financial strategy. Please remember that your use of this website is governed by Bankrate's Terms of Use.