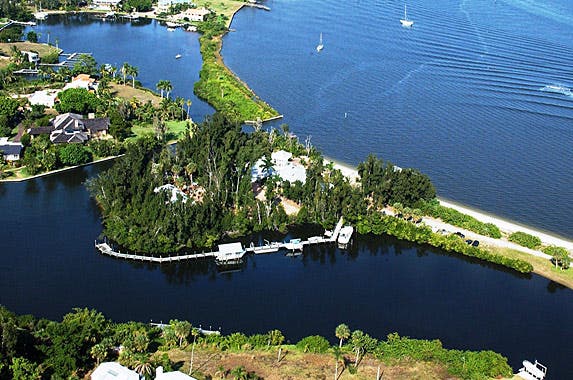 Let's buy an island!
Who doesn't dream of owning an island?
Whatever your tastes, buying an island takes financial savvy and commitment, says Chris Krolow, CEO of Private Islands Inc. and executive producer and host of HGTV's "Island Hunters."
Look up today's lowest mortgage rates
When getting a mortgage for that island, banks and insurance companies sometimes "have issues," he says. Because many islands are small, one-of-a-kind properties, you may not have comparable properties to guide you, he adds.
But that private island of your dreams may also be less expensive than you imagine, Krolow says. "I think a lot of people think a private island is beyond their means. But $500,000 is entry level with a dwelling."
Dreaming of your own isle in the sun? Here are eight islands for sale.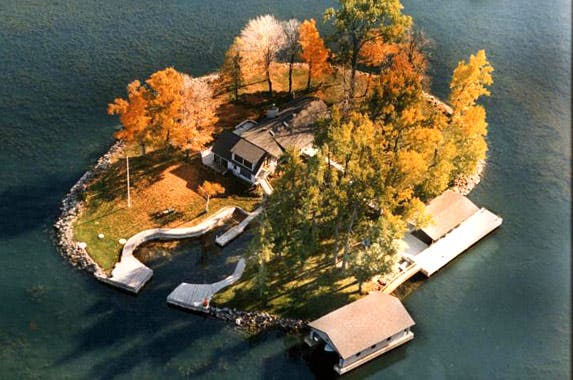 Belle Island, New York
Price: $1,395,000
House features
Built in 1988
Open floor plan
5 bedrooms/3 baths
Every room has a water view
Multiple docks
Even in a crowd, Belle Island stands out.
Nestled among New York's famous Thousand Islands, this 1.2-acre isle was created in the early 20th century, says Richard Pietrafesa Jr., one of the island's owners. Because of that, "ours is the only flat island among the 1,500 or so," he says.
In the morning, fishing boats anchor offshore, and the beaches offer great swimming, Pietrafesa says.
The island's house, built in 1988, has an open floor plan, with five bedrooms and three bathrooms. Every room has a water view, Pietrafesa says.
Belle Island has a number of docks, including one that can accommodate an 80-foot yacht, and a covered dock that can handle multiple boats, he says.
Located on the St. Lawrence Seaway, which often ices over during cold months, the island's season is April through September. At the end of the season, Pietrafesa says, "you can turn the key and leave."
LOAN SEARCH: Use Bankrate's LoanMatch Tool to Find the Lowest Personal Loan Rates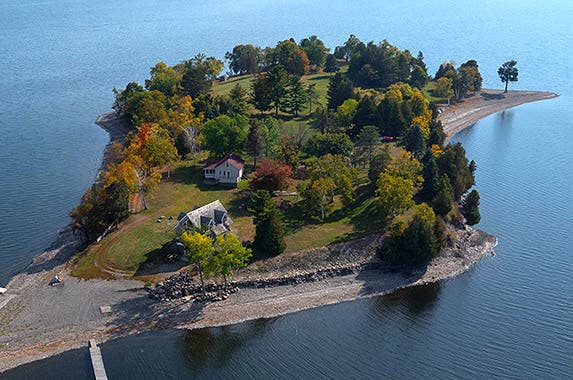 Fish Bladder Island, Vermont
Photo courtesy of Kathy O'Brien, Four Seasons Sotheby's International Realty
Price: $1,595,000
House features
Built in 2000
2 bedrooms/2 baths
Sleeping loft, great room
Caretaker's bungalow
Has generator, purified water
Forget the name — this sylvan island has a historic past.
In the 1940s, one previous owner planted more than 340 varieties of trees, "so in the middle of the lake is this island that looks like a park," says Kathy O'Brien, senior broker for Four Seasons Sotheby's International Realty.
Rumors say Teddy Roosevelt stayed at the island's original lodge.
Sitting in Lake Champlain, the island has big views, rolling lawns and trails to secret beaches, O'Brien says.
The lake-style house has two bedrooms, a sleeping loft, two baths and a great room with pine floors and walls of glass overlooking the water. Built in 2000, it has a two-story cathedral ceiling shaped like an inverted boat, she says.
A 1-bedroom, 1-bath, renovated caretaker's bungalow was built in the 1920s, O'Brien says.
The island has a generator and pulls water from the lake through a purification system, she says. It's a brief boat ride from the mainland. It's peaceful and quiet, O'Brien says. "It's a special spot."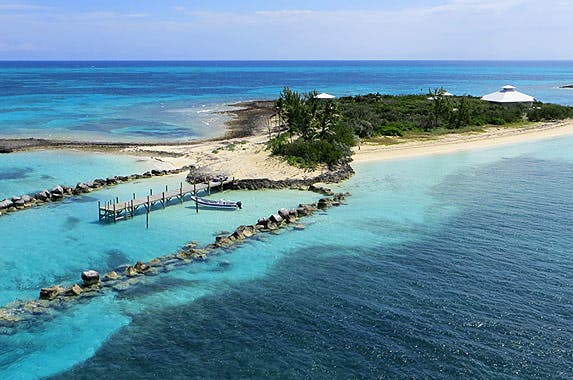 Johnny's Cay, Bahamas
Photo courtesy of John Christie, HG Christie
Price: $5,995,000
House features
Built in the 1970s
2 bedrooms/2 baths
Open, vaulted living/kitchen area
Deck around the house
2-bedroom/2-bath guesthouse
If you dream of living on a tropical island amid swaying palms, what you picture looks like Johnny's Cay.
Surrounded by turquoise water and sugar-sand beaches, the cay forms part of the Abacos chain in the Bahamas. While it feels secluded, "you can take your boat and go shopping or go to lunch — you're not out in the middle of nowhere," says John Christie, CEO of HG Christie.
The Caribbean-style beach house, built in the 1970s, has 2 bedrooms, 2 bathrooms and an open, vaulted living/kitchen area with windows — and water vistas — on all sides, he says. The "deck wraps around the house so you have beautiful views." A guesthouse adds 2 more bedrooms and a bathroom, plus its own kitchenette.
The almost 4 1/2-acre cay has 2 beaches, plus a protected marina that can accommodate boats of up to 40 feet, he says.
It's a 10-minute boat ride to the larger islands, and electricity and water are piped in from nearby Elbow Cay, he says. Thanks to the warm weather, says Christie, "you could live there year-round."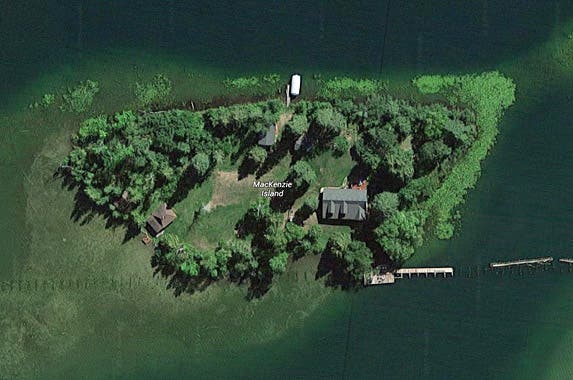 MacKenzie Island, Minnesota
Imagery © Digital Globe, Map data © 2015 Google
Price: $575,000
House features
Built in 2001
2 bedrooms/1 bath
Covered front porch
Family sun deck
Open living area
Looking for a summer getaway with old-fashioned style?
This former turn-of-the-century resort island has a 2-bedroom, 1-bath main house built in 2001, plus 3 of the resort's original (and updated) camping cabins, says Dave Ritter, broker/owner of MN Lakeshore & Up North Properties.
The main house, built to resemble the vintage cabins, has a covered front porch, a family sun deck and a massive stone fireplace in the timbered great room, he says. The open living area features a kitchen with a breakfast bar and a dining area that overlooks the boat dock.
Almost 2 acres, MacKenzie Island sits in Minnesota's Turtle Lake and can be reached by boat or a footbridge, Ritter says. The 2,100-acre lake is known for boating, swimming and fishing — the Department of Natural Resources stocks the lake with walleye, he says.
The island has a workshop along with the island's original boathouse, and mainland parking is included in the price, he says.
Because of the location, the island could be used year-round, Ritter says.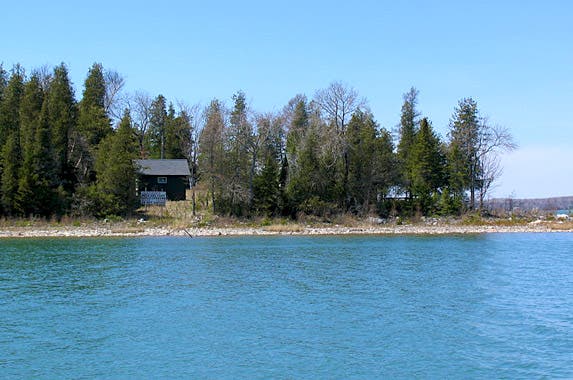 Picnic Island, Michigan
Photo courtesy of Rik Lobenherz, Berkshire Hathaway Home Services
Price: $325,000
House features
Built in early 1990s
2 bedrooms/1 bath
Chalet-style cabin
Sleeping loft
Full kitchen
The island "got its name because it was a great spot to go and get away from everything and have a picnic," says Rik Lobenherz, principal with Berkshire Hathaway Home Services.
But these days, Picnic Island can accommodate more than just a simple sack lunch. It now hosts a 2-bedroom, 1-bath chalet-style cabin with a sleeping loft and full kitchen, he says.
The bungalow was built in the early '90s, and the 5 1/2-acre island has an outbuilding for tools and vehicles and a boat launch on the island's south side, he says. The mainland marina is about 1 1/2 miles by boat, he adds.
Situated just off Drummond Island in the North Channel of Lake Huron, the island sits near the Canadian border.
Lobenherz says the lake has crystal waters that offer phenomenal fishing. "Just about any freshwater fish you want, including salmon, lake trout, bass and perch."
While summer may be the best time to visit, the chalet has electricity via underwater cable, making it suitable for year-round living, Lobenherz says.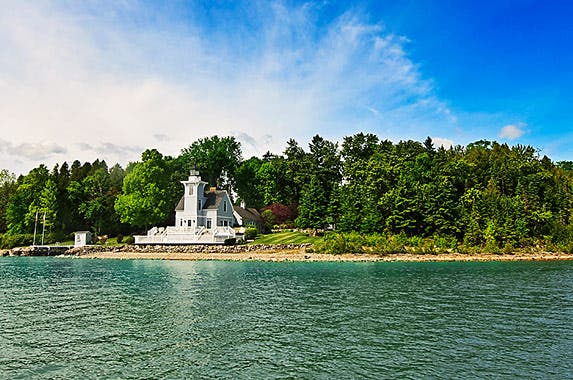 Round Island, Michigan
Photo courtesy of Mark Snyder, Pat O'Brien & Associates Real Estate
Price: $1,995,000
House features
2,000 square feet
3 bedrooms/2 baths
Oak floors
Round Island used to be a working lighthouse.
"What makes it so unique is that they took a historic building and converted it into a very comfortable home," says Mark Snyder, associate broker with Pat O'Brien & Associates Real Estate.
While the lighthouse no longer has its original lens, the picturesque tower still offers the best vantage point on the island. But not the only one.
"The wraparound deck looks out onto the St. Mary's Channel, just a few hundred yards away," Snyder says. "You literally see ships from around the world."
The island's owners extended the footprint of the wooden lighthouse to create a 2,000-square-foot, 3-bedroom, 2-bath home, but kept it all in the original style — right down to matching the oak floors, he says.
The 7-acre island is a 10-minute boat ride from the shore, and it comes with a 3 1/2-acre mainland parcel with a storage building, a small office and a golf cart, Snyder says.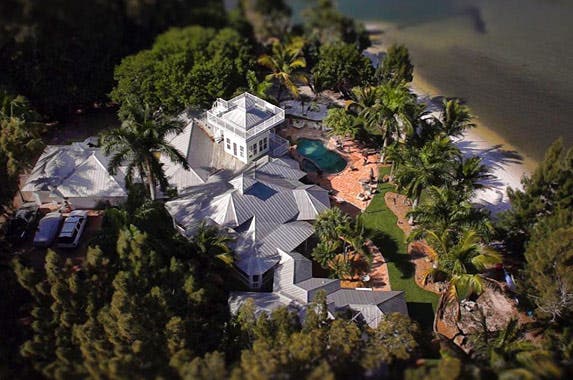 Twichell Island, Florida
Photo courtesy of Sandy Olson
Price: $5,900,000
House features
Built in 1998
6 bedrooms/5 baths
Lagoon-shaped pool with waterfall
Hot tub
Gas-fueled tiki torches on the patio
If you're pining for a lush, tropical island that doesn't require boarding a boat or plane, this could be it.
Thanks to a narrow land bridge, Twichell Island — a 2 1/2-acre man-made island off Florida's Treasure Coast — can be reached by car, says Larry Olson, one of the island's owners.
The 6-bedroom, 5-bath, Key West-style home was built in 1998. A collection of 2-foot portholes, reclaimed from World War II Liberty ships, add windows throughout the house, Olson says.
The house has a lagoon-shaped pool with a waterfall and hot tub — surrounded by a brick patio and gas-fueled tiki torches that go on with the flip of a switch, says Sandy Olson, a co-owner.
Twichell Island regularly hosts pelicans, ospreys, egrets and great blue heron, she says. Manatees frequent the protected side of the island.
The island also has a 1-room log cabin.
Twichell Island boasts "excellent" saltwater fishing, says Larry Olson. It has 3 docks — including an open-air bungalow on stilts.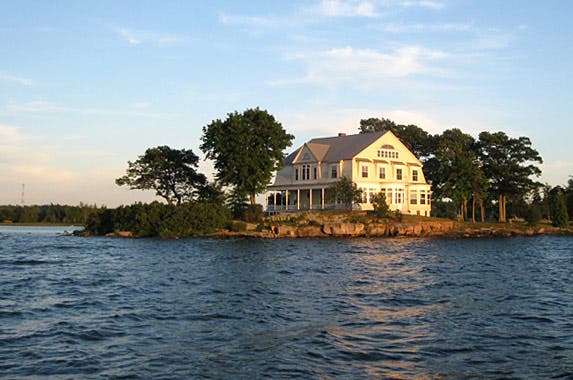 Watch Island, New York
Photo courtesy of Ron Strine, Yor-Way Realty
Price: $1,399,000
House features
Built in 1895, fully restored
10 bedrooms/4 baths
Original dark oak
Updated wiring, plumbing
Heat and A/C
This island could be a movie backdrop.
On a rocky outcrop in the middle of the deep blue St. Lawrence Seaway sits an immense, white-clapboard Victorian summer house surrounded by shade trees. Just add your favorite movie stars.
But this 1.3-acre island is designed more for large family get-togethers, says Ron Strine, broker/owner of Yor-Way Realty and co-owner of Watch Island.
The house has 10 bedrooms and 4 bathrooms, with so much space that you can take a crowd to the island and still have plenty of solitude, he says. The island sits just a few hundred yards from the mainland.
When Strine and his sister bought Watch Island 17 years ago, the 1895 house needed some work, he says. They masterminded the lengthy restoration, retaining period details like double-hung windows and all the original dark oak, while updating the wiring and plumbing, Strine says. It also has heat and air conditioning.
The area is known for fishing — especially muskie, pike and bass. While someone could live there year-round, the season "realistically runs from April to October," says Strine.